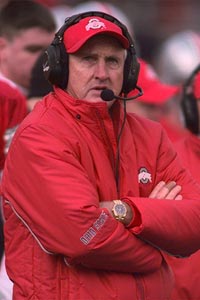 Coach John Cooper had a tumultuous career as the head man at Ohio State. It began with a rocky 4-6-1 season in 1988, punctuated by accusations of not being "an Ohio guy" and criticism for doing too many commercials. The 1989 season went much better, but there was still a perception that his team had won only the games they "should win", and not risen much above what any other guy could have done in the same position. In his third season in 1990, it was time for Cooper to show that his leadership could make a real difference, and the team could achieve what most fans clamored for: a Big Ten title and trip to the Rose Bowl.
The team returned several starters on defense, including LB Steve Tovar, DE Alonzo Spellman, and DB's Vinnie Clark and Mark "Bo" Pelini. But the offense lost most of the starting line, plus RB Carlos Snow would miss the entire season after surgery to remove a tumor from his hip. The offense did return starting QB Greg Frey and receivers Jeff Graham and Bobby Olive, and there was much hope that promising redshirt freshman Raymont Harris and true freshman Robert Smith could jump-start the running game. However, it appeared that the defense would have to carry the team for a while before the offense got into full gear.
The season began with a less-than-satisfying 17-10 victory over Texas Tech. It was the first game played on the new natural grass field at Ohio Stadium (they had just replaced the old artificial turf that summer) and the team appeared to be slow and plodding. One player who stood out was Smith, who burst on the scene with a 2-yard touchdown run around the right side in the 3rd quarter. Smith later admitted that he was so nervous after the TD that he actually threw up on the sideline. But the run tied the score at 10-10 and the freshman would finish with 188 total yards on the day.
Smith continued to shine in a 31-10 victory at Boston College, rushing for over 100 yards for the first time as a Buckeye. But back to back home losses to USC and Illinois put a damper on what was an encouraging start. A tie on the road at Indiana added to the pain, and suddenly Cooper was facing the wrath of fans who were calling for his head. Fortunately, the team rattled off 4 straight Big Ten victories, the last of which was a hard-fought come-from-behind thriller at Iowa. In that one, Greg Frey had hit Bobby Olive with the game-winning TD pass with only 1 second remaining in the game. Going into another road trip to Wisconsin, the team was on a roll and filled with confidence.
Playing at Camp Randall Stadium has traditionally been a tough task for Ohio State. Cooper's predecessor Earle Bruce had lost there 3 times in 9 years, with turnovers always playing a big role. But on this day the Badgers did not put up much of a fight. Barry Alvarez was in his first season as head coach at Wisconsin, and there was much work to do to get the team back to competitiveness after the late 80's decline. Less than 45,000 fans showed up for the game, and they watched the Buckeyes roll over UW 35-10. Smith rushed for 171 yards, breaking Archie Griffin's school record for rushing yards as a freshman and becoming the first freshman in Ohio State history to rush for more than 1000 yards. Jeff Graham returned a punt 81 yards for OSU's final touchdown. 
The 5-game winning streak enabled Cooper to get back into the good graces of fans and alumni, but that was short-lived. The season finale at home against Michigan ended in a 16-13 loss, as OSU squandered a 13-6 2nd half lead. With the game tied 13-13 and less than 2 minutes remaining, Cooper elected to go for it on 4th down, only to see UM stop Greg Frey on an option pitch and take over at the OSU 29. From there, they kicked the winning field goal, thus ending the Rose Bowl quest and earning the ire of fans once again. Two years later in a similar situation, Cooper would elect to punt the ball away and Ohio State settled for a 13-13 tie against their rivals. Cooper justified the decision after the game with comments about how fans "want to gamble with my chips". No doubt the coach had 1990 in mind.
The team would finish 1990 in 5th place in the Big Ten and ended up playing in the Liberty Bowl against Air Force. A lackluster effort ended with a 23-11 loss, and Cooper would endure the scorn of fans for another off-season. Overall the team finished the season 7-4-1, despite outscoring their opponents 349-220. Robert Smith would quit the football team for one season (citing academic concerns), but then returned in 1992 and had an outstanding year. He left after his junior season and went on to have an excellent, albeit short, career in the NFL. Smith, along with teammate Cris Carter, was one of the first former Buckeyes to use the now-famous "THE Ohio State University" declaration when being introduced as part of the starting line-up for the Vikings. He now works as an analyst for ESPN.
Cooper would go on to coach for 13 seasons at Ohio State before being fired after the 2000 season. Despite his well-documented troubles with Michigan, Cooper had no problems with Wisconsin, finishing with a record of 8-2-1 against the Badgers, with 6 of those wins coming against Alvarez. Wisconsin finished 1-10 in 1990, but Alvarez soon turned the program around, finishing 5-6 the next two years before going 10-1-1 in 1993 including a Rose Bowl victory.