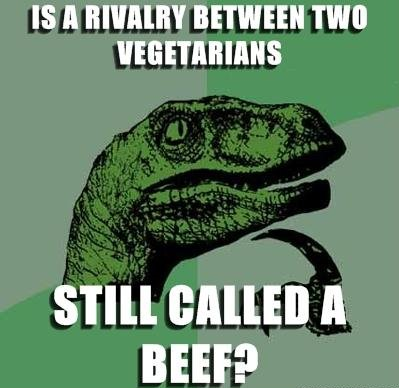 Sometimes I like to think about deep, philosophical questions during my daily meditations. What is the meaning of life? Why is the McRib seasonal? Whatever happened to that Zach de la Rocha solo album he left Rage Against The Machine almost a decade ago to make?
Today I've been mulling what exactly it was in me that led me to a nearly 75% success rate against the spread last year. What is 'it'? Did I ever really have 'it'? Man, 'IT' was a freaky movie, am I right?
If you like to approach statistics from an SEC state of mind, we're certainly looking at a trend: after going 5-2-1 a week prior, I knocked out a stuntastic 5-3 mark in a week marred by upsets. That brings the season long tally to a grand total of 31-32-1, or just narrowly under .500. I'm coming for you 'toss of a coin'. Week 9 should offer its own fair share of potential surprises. Will a #1 (in some capacity at least) lose yet another one? Will Auburn finally stumble against Ole Miss? Will anyone anywhere watch Purdue/Illinois? We shall soon find out.
National Games
#6 Missouri at #14 Nebraska (-7.5), 3:30 - ABC/ESPN (HD) (Regional)
One week removed from arguably the biggest win in the school's modern era and Mizzou's reward? A date with the 7.5-point Vegas favorite Nebraska Cornhuskers. Bo Pelini's bunch showed their offense weren't nearly inept as they looked against a surprisingly closer to our expectations Texas Longhorn defense a week prior by T-Magic'ing Okie State to the tune of half a century. Missouri's defense should be a considerable upgrade, but the interesting matchup may actually be Mizzou quarterback Blaine Gabbert against the Nebraskas secondary; Prince Amukamara and co. ain't nothing to mess with (and besides, he's royalty y'all). I can't pretend my line of thinking doesn't fall in line with the experts: while 7.5 may be a lot to ask from an inconsistent offense, a touchdown and change would do it. Go Big Red (and all his nightmare fuel'y powers), 31-21.
#2 Auburn at Ole Miss (+7), 6:00 - ESPN2 (HD)
Cam Newton is good at the football. If you were of the variety that opted to root against the Badgers versus Iowa Instead of watching LSU/Auburn (and you lack the perquisite single status to opt for a second TV in your living room), you missed Newton essentially firmly establishing himself as Denard Robinson, except against legitimate flesh and blood defenses (and the Heisman front runner in the process). This week he, Gene Chizik, and Gus Malzahn head to the Grove to face Houston Nutt's wildly inconsistent Ole Miss bunch (LOL Jacksonville State). The 7 point spread speaks more to the "OMG SEC every week's a challenge" sentiment, but more so than that, going on the road anywhere as the prohibitive favorite is often a tall order. While I'd love to pick the Tigers to go off the tracks here, I think they've got a few more weeks of false hope to go before Alabama ruins their dreams of an SEC title. Take Auburn and the points, 38-27.
#25 Baylor at Texas (-7), 7:00 - FSN (HD)
It's confessional time. Living in Austin for my third consecutive year since moving from Columbus, I've buddied up with my fair share of Texas alums (and current students). This year, in order to get my college football fix (aside from "Eat Too, Brutus", of course), I elected to buy one of their student Texas season tickets. It cost less than half as much as my cheapest Ohio State student ticket, and unlike the Bucks, actually incorporated *ALL* of the home games. While there were the obvious trepidations going in that Texas and Ohio State could overlap and I'd have some difficult decisions to make in terms of go to the game/watch the Ohio State one, in the previous two years, I'd only missed one Texas game due to an Ohio State conflict. Fast forward 9 weeks later and I've been to a grand total of zero Texas games. While I'd love this one to be the exception, Ohio State-Minnesota is at 7 CST. Go go wise investments, but I digress; Robert Griffin III's Baylor side head into Austin as the best positioned Bears team to dethrone a Longhorns team in over a decade. Texas, on the other hand, comes off arguably the worst conference loss in Mack Brown's tenure with the school. I'd say ordinarily this would mean the pain train for the Bears, but there are few teams more bi-polar nationally than the Horns. Regardless, I still have an awful hard time seeing the Horns dropping a conference home game in consecutive weeks. Take Texas: seems like the week their 'good' personality shows up, 31-21.
#1 Oregon at #24 USC (+6.5), 8:00 - ABC/ESPN (HD) (Regional)
Oregon, to anyone who's happened to catch them through the almost halfway point of the 2K10 season, has been high flying, dynamic, and frankly, pretty fitting of the #1 team to this point (even in a season where there are many good teams but few if any truly great ones). The principle question associated with them being 'what will happen when they face an actually legitimate defense?'. That question won't be answered this week as Kiffykin's bunch rolls in with a defense ranked squarely around the bottom 25% of the country. None the less, the Trojans do play host to Oregon with a Matt Barkley led offense that may be the first the Ducks have seen that can actually keep up the scoring pace and get their all intents and purposes 'Annie Get Your Gun' on. 6.5 is definitely an interesting spread and lord knows it would ruffle quite a few Kiffin-haters's feathers across the country if SC pulled this one out. With a few too many favorites on the books already, let's go contrarian: SC 48 – Oregon 45.
Big Ten Games
Northwestern at Indiana (+3), 12:00 - Big Ten Network (HD)
(JUST) NORTHWESTERN! INDIANA! TWO TEAMS ENTER! ONE TEAM… DOESN'T LOSE. Just a week removed from blowing a 17 point lead at home, the "mediocre" Wildcats (hey, some Vegas insider's words; not mine) head on the road to Bloomington to take on Pistol Bill (© Luke/11W, 2K10) and the Hoosiers. A week prior, Ben Chappell continued his tour of mediocrity against conference foes completing just 26/48 of his passes (only 54%) and throwing 3 picks on the afternoon with just one TD to his name. This may get slightly easier with the 'Cats coming to town, though on the flip side, Dan Persa has to be licking his lips at the secondary he's been seeing on tape all week. Perhaps the real surprise in this one is that coming off a horribly one sided clinic at the hands of the FIghtin' Zooks, IU enters this one as but 3 point dogs. Take jNWU, 34 – 17.
Purdue at Illinois (-17), 12:00 ESPN2 - (HD)
If injuries were stocks, Purdue would be getting some kind of obnoxious bull sound effect on Mad Money right about now (Ohio State too, to be fair). The banged up Boilers head into Champagne one week after taking their medicine from malevolent Dr. Jim 'Evil' Tressel as seventeen point Vegas 'dogs. SEVENTEEN. With second team quarterback Rob Henry joining the ranks of the walking wounded, the untested Sean Robinson may get the go against Ron Zook's defense. Nathan Scheelhaase and co.'s only real objective should be to not shoot themselves in the foot repatedly, and they should leave with the W. The obvious question becomes can they get that lofty cover. With Purdue's state of mind mighty fragile these days, error on the side of Paul Petrino and co. having their way with the Boilers. U of I 31 – Purdue more than 17 less.
#5 Michigan State at #18 Iowa (-6.5), 3:30 - ABC/ESPN (HD) (Regional Coverage)
If last week's game was any indication, I'd be interested to hear how Mark Dantonio's personal physician feels about him heading into 'The IC' to play cards with Kirk Ferentz-Miles. Another game, another "Michigan State is going to lose solely because they're Michigan State and that what's they do." Clearly Iowa is no Northwestern; this defense becomes easily the best the Spartans have played (and will probably play all year) and should give Kirk Cousins and Don Treadwell their fair share of fits. That being said, am I that off my rocker for after having watched both still thinking Michigan State is the better team? Michigan State's defense aren't exactly paltry in and of themselves and should have Richard Stanzi, American Patriot, feeling plenty of pressure all afternoon. I could very easily be wrong (and boy have I early and often this year), but 6.5 feels almost too easy, even if you like Iowa to spring the upset. Take the Spartans, 31-28.
Michigan at Penn State (+3), 8:00 - ESPN (HD)
Oh, Michigan: kings of September and #1 in our collective hearts. The Chad Henne/Michael Robinson duals of yesteryear cry tears of mehness at this 2010 iteration, but at the very least, Denard Robinson and co. benefit from catching Penn State during probably the most opportune year conceivable. A baby Nittany Lions team will also benefit from catching a Greg Robinson coached 3-3-5 also at their peak timing (that timing being ever, of course). Penn State at three point dogs is a bit curious; this matchup honestly feels as though either team is capable of winning by roughly a similar margin. With little left to be said (aside from maybe flip a coin or throw a dart), let's throw Rich Rod a rope and acquiesce it may be possible they win in a sloppy shootout of some kind, UM 41 – PSU 35.