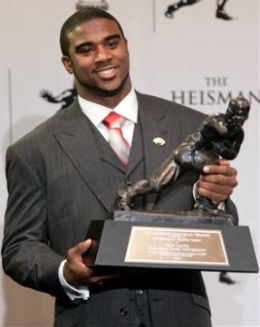 There's a good chance everyone is still high flying after the big win against the Hurricanes on Saturday afternoon, but it is now Monday and time to come down a little bit to the ground. Remember it is still extremely early in the college football season and anything can happen, but that certainly won't stop people around the nation discussing the early beginnings of the 2010 college football season and everything that has surrounded it thus far. That buzz includes who's hot, who's not, various predictions of division, conference, and national championships, and of course the coveted Heisman Trophy.
While the Heisman is generally awarded based on an entire season of work, and even more so often decided based on late-season and big game performances, writers, analysts, and fans everywhere are focused on the candidates months before the season even begins. As we previously mentioned, it is only week two and a ton can happen each and every week, but with two games in the book now seems like a good time to take an early look at where the early favorites to bring him the golden statue in December currently stand. 
Please keep in mind this list is based solely on the early-season hype these players received and more importantly, their performances over the first two weeks. By no means is this our prediction of the final winner of the award and the list of the top ten has been created in no particular order.
TERRELLE PRYOR
Pryor looked a little shaky early on against Miami, but found his groove in the second half, accumulating 346 total yards of offense and two touchdowns in a 36-24 win over the #12 Hurricanes. For the season Pryor has completed 56% of his passes for 480 yards and 4 touchdowns against 0 interceptions. He has run for 130 yards on 20 carries (4.64 avg.) with a score as well. Expect big performances out of TP the next two weeks against Ohio and Eastern Michigan before the Bucks start Big Ten play.
DENARD ROBINSON
It kills me to say this, but right now Shoelace is your Heisman favorite. The sophomore has beaten Notre Dame and UConn, two respectable opponents, through the air and the ground. While I still think he has a lot to prove in the passing game, there is no questioning his ability to run the ball. He really reminds me of Josh Cribbs and I think one day he will be a very solid wide receiver, kick returner, and wildcat quarterback in the NFL, that is if he makes it through three more years in the Big Ten without breaking all of his ribs. That being said, Robinson is your frontrunner after compiling 502 total yards against the Irish this weekend, brining his season totals to 430 yards passing, 455 yards rushing, and 5 total touchdowns. UM plays UMass and Bowling Green the next two weeks so the Heisman hype will grow for Denard, but Michigan fans don't get too excited. Remember last year when you all were chanting "Tate for Heisman"?
KELLEN MOORE
Many think Boise State's win against Va Tech means less now that the Hokies loss to FCS James Madison, but nobody is thinking twice about Moore's ability to make the big play when it matters most. The Broncos had a bye this week, but Moore's performance of 215 yards and 3 touchdowns against a top ten opponent in what was a virtual road game will keep at the top of the Heisman race for now. I will predict Moore at least ends up in New York as a finalist for the award, but unless Boise State is in the championship game I think it will be hard for him to actually take home the hardware.
RYAN MALLETT
Arkansas has played nobody yet (Tennessee Tech and La. Monroe), but Mallett has done work, gathering 701 yards passing and 6 touchdowns through the air in the first two games. He also has a rushing score to pad the stats, but the real judgement of this former Wolverine will take place in the next few weeks when the Hogs take on Georgia in Athens, Alabama at home, Texas A&M in College Station, and Auburn in Jordan-Hare Stadium . Bobby Petrino's passing attack is a great fit for Mallett to play in, but how will things play out in this very tough four game stretch?
MATT BARKLEY
Barkley and USC also have not faced stiff competition in Hawaii and Virginia, but the golden child has taken care of business. Barkley has completed 65.5% of his passes for 459 yards and 7 touchdowns in his first two games, and should continue to air it out with great success throughout the rest of the season. USC may not be able to make a bowl game the next two seasons, but when it's all said and done Barkley may be the first Heisman winner from USC to go to the NFL with just one bowl game appearance. I don't think he will make it to New York this year, but he is working hard to prove me wrong as of today.
JEFF DEMPS
This Florida speedster is the fastest man in college football. If a career in the NFL doesn't work out, Demps can likely head to the Olympic Games and sprint his way to success like he has for the Gators so far this season. He had a career high 139 yards against USF this past weekend, helping UF escape some early game struggles to go on to a 38-14 victory. On the season he has 237 rushing yards, 25 receiving yards, 160 return yards, and 2 touchdowns. I think he is a long shot to win the award and even get an invite to the ceremony, but watch out for Demps to make big moves, especially if Urban Meyer can't get the passing game together soon.
RYAN BROYLES
Broyles, along with Demps, is another dark horse on this list, but his first two games have been spectacular. The junior has caught 21 passes for 266 yards and 3 scores against Utah State and Florida State and is on his way to becoming a household name around the nation. As Landry Jones continues to grow as a quarterback, watch out for Broyles to further his Heisman hopes and get recognized around the country as a legitimate candidate for the position.
LANDRY JONES
Another Sooner, Jones became a man this past weekend against the Seminoles, completing 30 of 40 passes for 380 yards and 4 touchdowns against 0 interceptions. Jones has 597 yards and 6 touchdown passes on the year and his confidence has probably never been higher. It may have been a blessing in disguise last year for Oklahoma that Sam Bradford got hurt because Jones was able to get on the field and learn on the job. He will still have some growing pains, but now has the mental part of the game down and we will see if he is for real the next couple weeks with games at Cincinnati and against Texas in the Red River Shoot Out Rivalry.
DeMARCO MURRAY
It's all Boomer Sooner in here today, but when you dismantle a top 25 team by a score of 47-17 you're going to get some notoriety. Out of the three Sooners, Murray is probably the most well-known and best NFL prospect and he has compiled nice stats so far. I say nice stats, because he has totaled 259 yards rushing, 52 yards receiving, and 4 touchdowns in 2010, but struggled last week with an FSU defense that held him to just 51 yards on 16 carries. He did score two times against the Seminoles though so his production on that end was fine. Murray will be a candidate talked about throughout the entire season, so don't expect him to go away any time soon.
DANIEL THOMAS
It was a tough pick between John Clay and Thomas to finish up this week's list, but the lesser known Thomas gets the nod. He has 371 rushing yards and 4 touchdowns in two wins against UCLA and Missouri State, but will have to prove he can be consistent when the Wildcats face Iowa State, UCF, Nebraska, Kansas, Baylor, Oklahoma State, Texas, and Missouri in their next eight games. If he can produce the same output after that tough stretch, I think you will start to hear his name mentioned for an invite to New York. There is pretty much zero chance he wins the Heisman, but if you can average 185+ yards a game like he has so far in 2010, you're going to get a good, long look.