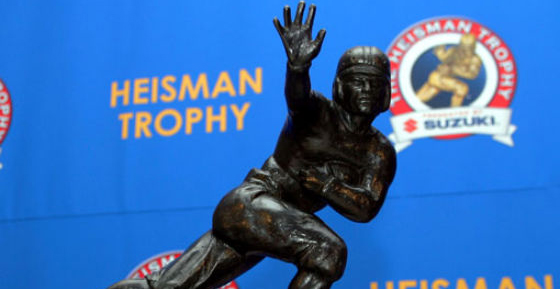 Week three is in the books and as conference play approaches and we can start to get a feel for who are the contenders and who are the pretenders. The Buckeyes are sitting pretty at 3-0 and should have another cupcake tune-up in hand this week as Eastern Michigan (0-12 last year) comes to Columbus to get their $1 million beat down. Terrelle Pryor continued his strong bid towards a Heisman trophy last weekend, despite throwing two interceptions and many of the players to make last week's list held up solid once again. It's now that time to check-in with the Heisman front-runners and see who's stock is up, who's stock is down, and who is coming into the picture as the season begins to unfold.
TERRELLE PRYOR
Pryor looked really good for most of the 43-7 win against Ohio, even completing a school record 16 straight passes. Pryor finished 22-29 for 235 yards and 2 touchdowns through the air, while rushing for 35 yards and a score on the ground. He did throw two interceptions when the game was already out of hand which became his first two of the season and the first two turnovers for Ohio State as a team in 2010. For the year, TP is 51-81 (63%) for 715 yards and 6 TDs passing and 165 yards and 2 TDs rushing. We will know more about Pryor's Heisman hopes come Big Ten season, but for now he remains high on the list.
DENARD ROBINSON
Denard did it again and TSUN needed every yard he produced as they narrowly escaped FCS UMass 42-37. Robinson was 10-14 for 241 yards and 2 touchdowns against 1 interception through the air and also added 104 yards and a touchdown on 17 carries on the ground. Season to date, Shoelace has 1,230 total yards and 8 touchdowns, but the question still remains if he will be able to do it against more physical defenses. Michigan has Bowling Green next week so expect another huge output from #16 in week four.
KELLEN MOORE
Boise was back in action this week and Moore had an outstanding game. The junior was 20-30 for 370 yards and 2 touchdowns against 1 interception on the road against Wyoming and continued to lead the Broncos towards a legitimate shot at a MNC appearance. Boise State takes on Oregon State on "The Smurf Turf" in week four so we will get to see once again if both the Broncos and Moore are for real.
RYAN MALLETT
Mallett may have made the biggest case for the Heisman this week as the Razorbacks went down to Georgia this weekend and handed the Bulldogs a 31-24 loss. Mallett not only threw the game winning score to end the game, but went 21-33 for 380 yards and 3 touchdowns with no turnovers in the hyped-up SEC showdown. The former Michigan quarterback now has 1,080 yards and 9 passing touchdowns (against 2 interceptions) on the season. He may have the most deadly aerial assault out of any of the Heisman-contending quarterbacks and Bobby Petrino's system should keep him on pace for a trip to New York in December.
Taylor martinez
The Cornhusker's freshman takes Matt Barkley's place on the list this week as he lead Nebraska into Washington and came out with a 56-21 victory. Martinez was 7-11 for 150 yards and a touchdown through the air and rushed for 137 yards and 3 TDs on 19 carries. For the season the freshman has 813 total yards and 9 touchdowns and his ability to run and pass make him a dark horse for an invite to New York. Even if his presence on this list only lasts one week, at least you now know a name to watch out for in the Big Ten the next three seasons. 
Andrew Luck
Luck makes his first appearance on our Heisman list and it is well-deserved after the Cardinal beat Wake Forest by the impressive score of 68-24. Luck was 17-23 for 207 yards and 4 TDs, bringing his season totals to 674 yards passing and 10 aerial scores against 0 interceptions. Luck also has 140 yards and a score rushing on just 13 carries, good for a 10.8 yard per carry average. Luck is competing with Mallett to be the first pick in the 2011 NFL Draft and right now, I'd have to say I want my team to take a hard look at Luck for the rest of 2010.
RYAN BROYLES
Broyles had another big game in the Sooners' 27-24 win over Air Force. The junior caught 10 passes for 116 yards and now has 321 yards and 3 TDs on the 2010 season. While I do think Broyles could be the nation's best overall receiver, I'm not sure if his numbers are eye-popping enough for him to even be in the top five for Heisman voting. I do know that if he continues to average 107 yards and a TD per game that he will project to have about 1,391 and 13 TDs after the Big 12 Championship game and I'm not sure numbers like that can be ignored. Keep an eye on Broyles.
LANDRY JONES
Landry Jones stays on this list with a 254 yard and 1 TD performance against Air Force, but he needs to take over games more if he wants OU to stay undefeated and if he wants a shot at the bronze statue. Jones has a total of 851 yards and 7 touchdowns passing, but games against Cincinnati on the road and against Texas on neutral turf will really show if he is Heisman-talk worthy. Keep your tabs on Jones and see if in the next two weeks he can remain on the Heisman list.
DEMARCO MURRAY
Murray played hero and star in the Sooners' victory this week. He rushed for 110 yards and 2 touchdowns on 26 carries, while also catching 5 passes for 38 yards and a touchdown. Murray has shown he can be a workhorse for Bob Stoops week in and week out and he now has 459 total yards and 7 touchdowns in 2010. Murray will be the key to Oklahoma's season and with Trent Richardson and Mark Ingram sharing the workload in Tuscaloosa, I can see DM7 being the only back to get the call to New York later this fall.
DANIEL THOMAS
Thomas continued his tear against Iowa State, rushing for 181 yards and 2 TDs on 34 carries this past weekend. He now leads all running backs with 552 yards in 2010 and has 6 touchdowns to go with his ability to scoot. The 6-2/228 senior is playing himself into a first-round pick, but the real test will come in two weeks when the Wildcats take on Nebraska in Lincioln. If Thomas can produce in that game and give KSU a chance to win, expect his Heisman hopes to shoot through the roof.
HONORABLE MENTION: CB/KR Patrick Peterson (LSU), QB Cameron Newton (Auburn), QB Matt Barkley (USC), QB Russell Wilson (NC State), RB Kendall Hunter (OK State), WR Justin Blackmon (OK State), RB LaMichael James (Oregon), QB Nick Foles (Arizona), RB Ronnie Hillman (San Diego State)