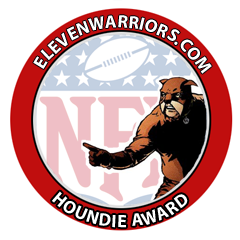 The Houndie is an award formerly known as the Buckeye NFLer of the Week.  After 2 years of existence, we searched for a catchier name, so with the help of a well placed typo and the ensuing 11W comments, the current title was created.
After taking a few months off from 11W to take care of my real job, I Brett Farve'd out of retirement to help with the 2010 Houndie Award. Unfortunately, it was a slow opening week for the Buckeye alum, as some of the top names were injured or didn't play, while others simply had a Hurricaine Hangover and didn't perform up to par.
Beanie Wells was on the shelf with a knee injury, but should return this week and Brian Hartline didn't record any stats, so it was left up to 3 young wideouts to bring some offensive Buckeye Glory to Week 1 of the NFL season, as Santonio continues his 4 game suspension.
Last year's season ending injury may have really hurt Gonzo coming into 2010, as he caught only 1 of Manning's 40 completions, accounting for 12 of the Colt's 433 passing yards, in the Colts 24-34 loss to the Texans.  He was the 6th leading receiver and may be relegated to spot duty as Pierre Garcon and Austin Collie have developed into prime Manning targets.
Meanwhile, Teddy Ginn also caught just 1 ball for 12 yards in his 49ers debut, while returning 2 punts for 27 and 3 kickoffs for 54 yards. San Fransico got their butt's whipped by Seattle 31-6 and Teddy did himself no good by putting up lackluster numbers. Meanwhile, one of the bright spots of Browns camp was suppossed to be the play of Robo, but he also struggled in week 1, catching 1 ball for 6 yards in Cleveland's 17-14 loss at Tampa.
For starters on defense, A.J. Hawk's days maybe numbered in Green Bay, as he didn't see any defensive snaps, giving way to Clay Matthews' 7 tackles, 2 sacks and a FF in Green Bay's 27-20 win over Philly. The 5th pick in the 2006 draft was held to 1 solo stop on special teams, while his former college teammate Bobby Carpenter found himself in Miami for week one after being cut by St. Louis and was credited with 2 solo tackles in Miami's 15-10 win over Buffalo.
The defending Super Bowl champs got the season started last Thursday, as Malcolm Jenkins and Will Smith were each credited with a solo stop and an assist. Jenkins made his mark in the secondary with a bone crushing hit on Minnesota's TE and a near pick along the sidelines, as the Saints beat the Vikings 14-9. Also in that game, Antoine Winfield had 7 solo tackles and 2 assists, proving once again he is still pound for pound one of the game's best tacklers.
In other secondary play, Chris Gamble had 3 stops in Carolina's 31-18 loss to the Giants, in a game that featured 9 turnovers and 16 penalties. Nate Clements was credited with 3 total tackles and an INT in the 49ers loss, while Donte Whitner had 4 solos and 5 assists in Buffalo's loss. Kurt Coleman made his NFL debut with the Eagles, getting credit for 1 tackle, but was seen on the field quite a bit. And in Monday's action, Donald Washington had an assists, while Mike Vrabel had 4 total tackles in KC's upset win over San Diego.
And before we hand out this week's award, a special mention goes out to Mike Nugent, who is finally healthy again and connected on a 54 yard FG, while also going 3 for 3 on extra points in Cincinnati's loss at New England.
As most of you know, the St. Louis Rams have a Buckeye flavored linebacking corps, with Na'il Diggs, Little Animal and Larry Grant. While the Rams aren't expected to be that good again, they gave the Cardinals all they could handle in week one, losing 17-14. Diggs was credited with 3 stops and Laurainitis had 5, but this week's award goes to Larry Grant, who had 4 solo stops and forced 2 fumbles, recovering 1 of them. Both fumbles were forced in the second half as St. Louis tried to pull off the upset. Though we try to give the award to a winning performance, we just couldn't pass over Grant this week, as he looks to have finally found a home in St. Louis and we wish him nothing but continued success.