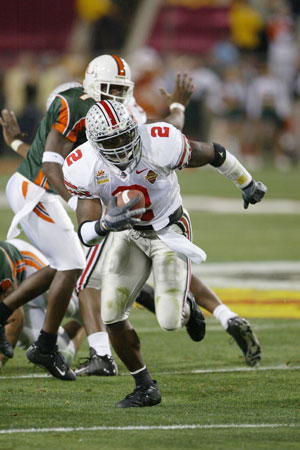 A nerdy quarterback who was yanked from his last game for ineffectiveness; a true freshman running back from the mean streets of Youngstown with a nose for trouble as much as for the end zone; a skinny receiver from Ft. Lauderdale with a voice higher than that of Mike Tyson; a high school safety who is playing cornerback for the first time; a linebacker who played cornerback the previous season and who was more known for his singing than for his tackling; this does not seem like the makings of a championship team. But this was no ordinary group of players and 2002 was no ordinary year for Ohio State football.
In 2002, Ohio State became the first team in college football history to finish 14-0, winning the Big Ten outright and beating the University of Miami (Fla.) 31-24 in the BCS Championship game. The game was deemed an instant classic, full of twists and turns, turnovers and lead changes, tragedy, drama, and controversy. Some have called it the greatest college football game ever. Without a doubt, it is a game worth watching again and again (if you are an Ohio State fan that is).
The season was going to be an odd one for Ohio State no matter how it turned out. For the first time in the school's history, they were scheduled to play 13 regular season games. The NCAA had recently decided to increase the number of games from 11 to 12, and in addtion to that Ohio State had agreed to host the 13th (and final) Pigskin Classic, an annual contest at the beginning of the season.
Beginning with a 45-21 victory over Texas Tech in that game, Ohio State marched through the regular season undefeated, culminating in a thrilling 14-9 home victory over arch-rival Michigan. The win solidified OSU's #2 ranking and set up a confrontation in the BCS Championship game with defending champion Miami.  Miami had also gone undefeated that season, with their only close call being a 28-27 squeaker over Florida State. Second year coach (and former Ohio State assistant) Larry Coker had yet to lose a game as head coach of the Hurricanes, and the school was gunning for their 35th straight win overall.
Ohio State's many close calls during the season had earned them the nickname "Luckeyes" from critics and pundits, and they were installed as 14-point underdogs for the game. The Buckeyes had won 6 games by 7 points or less, including the "Holy Buckeye" thriller against Purdue and an overtime win at Illinois. ESPN writer Gene Wojciechowski actually wrote a column prior to the game citing "20 reasons why Miami will beat Ohio State". But much like the 1986 Miami team that lost a National Championship against Penn State, this Miami team team was coming to the Fiesta Bowl a bit overconfident.
OSU began the game in an inauspicious manner by going 3-and-out on their first possession. But their defense served notice on the first play from scrimmage that things were not going to be easy for the Hurricanes. As Miami QB Ken Dorsey dropped back to pass, Buckeye DE Will Smith raced around left tackle and sacked Dorsey with one hand. On the next play, Miami's All-American RB Willis McGahee was dropped for a 2-yard loss. It was clear that any yardage that the Hurricanes gained on this night would have to be earned.
On their 2nd possession, Miami scored when Dorsey hit Roscoe Parrish on a 25-yard touchdown strike. It looked like the Miami offense was finally starting to get in gear. But on their next possession they were forced to punt, and then they turned it over on the next 3 times they had the ball. The first of those turnovers was an interception by cornerback Dustin Fox. The former safety returned it 12 yards but OSU stalled and the field goal unit came out. Ohio State coach Jim Tressell reached into his bag of tricks and called for a fake FG, but apparently not everyone got the call and the fake was unsuccessful. Undaunted, the Buckeyes got an interception from senior safety Mike Doss and he returned it all the way to the Miami 17 yard line. From there, OSU drove to a score as QB Craig Krenzel kept for a touchdown on a 4th-and-1 play from the 2-yard line.
On Miami's first play after getting the ball back, Dorsey dropped back to pass and was sacked by OSU DT Darrion Scott. On the tackle, Dorsey fumbled and Scott recovered, giving the Buckeyes ball back at Miami's 14-yard line. Aided by an offside penalty, Ohio State hit pay-dirt again on a 7-yard TD run by freshman RB Maurice Clarett. The score put OSU up 14-7 and completely changed the momentum of the game going into halftime.  
Miami got the ball to start the 3rd quarter, but they went 3-and-out and Krenzel and Co. took over at their own 27. Clarett began to make some progress on the ground, and then Krenzel unleashed a 57-yard bomb down the left sideline caught by WR Chris Gamble. Gamble had begun the season playing receiver only, but had shown so much defensive talent in practice that he eventually took over the primary CB position. Having kept Miami's star receiver Andre Johnson under wraps for much of the game, now Gamble was putting major pressure on the Hurricane DB's. The long pass set the Buckeyes up with a first and goal at Miami's 6-yard line.
At this point, it appeared that OSU was about to break things open. But on first down, Krenzel tossed an ill-advised pass into the end zone intended for TE Ben Hartsock. The pass was intercepted by Miami safety Sean Taylor and Taylor returned it 28 yards before being tackled by Clarett. What Taylor didn't realize was that Clarett was stripping him of the ball on the tackle, and Ohio State regained possession at the Miami 28. From there, they were unable to move the ball and K Mike Nugent booted a 44-yard field goal to put the Buckeyes up 17-7.
Miami went 3-and-out on their next possession, but then their defense rose up and forced OSU to punt, which gave the Hurricanes excellent field position at their own 45. A pair of good rushes from McGahee and a trio of Dorsey completions to TE Kellen Winslow, Jr. gave Miami a first-and-goal at the OSU 9.  From there, McGahee swept around right end for a TD and the Hurricanes closed the gap to 17-14 going into the 4th quarter. Ohio State failed to move the ball, and the subsequent punt set Miami up at their own 24. From there, the Hurricane ground game began to move as McGahee found room to run. Three first downs moved the ball to the OSU 36, but then Dorsey went to the air with no success, missing on 1st and 2nd downs. On 3rd down, Dorsey connected with McGahee on a swing pass to the right side, but as the Heisman Trophy finalist turned to go upfield, OSU safety Will Allen came crashing into McGahee, sending him to the ground for a 2-yard loss. On the play, McGahee tore 3 ligaments in his knee and was out for the remainder of the game (watch, if you can take it). Miami's Todd Siever's attempted a 54-yard field goal on 4th down, but it was no good.
Getting the ball back at their own 37, Ohio State drove to Miami's 25 but stalled there, and Mike Nugent pushed a 42-yard field goal wide left. Miami then mounted a drive of their own but it ended when Roscoe Parrish fumbled the ball away to Will Allen after hauling in a 16-yard pass from Dorsey. OSU now had the ball at their own 26 with 5:08 remaining in the game. They managed to gain a first down and run some time off the clock, but on a 3rd down pass Chris Gamble caught the ball out of bounds (maybe) and Ohio State was forced to punt. Unfortunately, there was a coverage breakdown and Parrish returned the ball 50 yards to the OSU 25. From there, Miami drove to a tying FG to send the game into overtime. 
The first overtime began with Miami driving to a touchdown on Dorsey's 7-yard pass to Winslow over the middle (note: OSU was called for pass interference on the play, which Miami declined). Ohio State then drove down to the Miami 5 (after converting a 4th-and-14 on a 17-yard completion from Krenzel to WR Michael Jenkins), and faced a 4th-and-3 from there. Krenzel dropped back and threw to Gamble on the right side. As Gamble came off the line, Miami CB Glen Sharpe grabbed him with both arms and held up his pattern. Gamble turned inside to try and catch the ball, but Sharpe face-guarded him. As the ball bounced off of Gamble's arms and fell incomplete, the Miami players stormed the field, thinking they had won. In fact, Field Judge Terry Porter had thrown his flag late and he signaled pass interference on Sharpe. With new life and a 1st down at the 2-yard line, Ohio State punched it in on Krenzel's 1-yard keeper. With the score tied at 24, the game went to a second overtime. To this day, many Miami fans (undoubtedly fueled by commentator Dan Fouts' infamous "Bad call! Bad call!") still claim that there was no interference on the play, but the claim is utter nonsense.
In the 2nd overtime, OSU quickly drove for a touchdown, with Clarett taking it the final 5 yards in his final play as a Buckeye. Miami got the ball back for another chance, but on 4th and goal from the 2 Dorsey was harassed by Cie Grant and forced to throw wildly into the end zone. The ball fell harmlessly at the feet of OSU safety Donnie Nickey and the game ended with the Buckeyes winning their first national championship since 1968.
As the final play ended, Ohio State players stormed the field and fireworks went off not only in Tempe but also two doors down from my house as my neighbors celebrated. I stayed up half the night watching post-game commentary and at work the next day most of the office where I worked was abuzz with talk of the game. There was nothing else going on in the world that was really worth talking about at that moment. The game was one for the ages, and will live on for many years as a collectors item in the homes of many OSU fans all over the world.