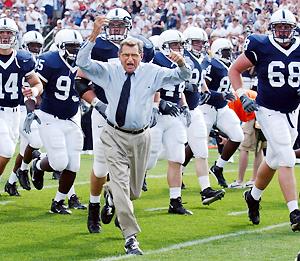 Week 3 of the 2010 season found almost the entire Big Ten in some sort of unholy early-season funk. That's a shame, because cupcakes for Ohio State, Penn State and Michigan aside, this was a big week nationally for the Big Ten, as Iowa, Wisconsin and Minnesota all took on BCS OOC competition. Said funk meant bad things for some of the Big Ten's better teams. You know what happened in the "Battle of Ohio", and now you're going to get educated on what else happened around the conference.
Penn State 24, Kent State 0
The unmitigated snoozer-of-the-week featured the Penn State Nittany Lions taking on an utterly overmatched Kent State team. The Lions averaged just 3.9 yards/carry against a team that finished 51st in rush D last season, with senior Evan Royster racking up 38 yards on 11 carries. I didn't see much of this game, as it was also a noon start, but what little I saw led me to conclude that Penn State's OL is doubleplus ungood and will cost them at least three games this season. I threw out the Bama game because it's Bama, but Kent State is a team the Lions should be pushing all over the field, and they really just couldn't blow the MAC front off the ball. Robert Bolden threw for a touchdown, ran for another and tossed two picks in another uneven game for the true freshman. The MACrificies continue to roll in for Joe Pa as the Nits take on Temple next week.
Michigan 42, UMass 37
This was 17-7 at one point with Michigan on the ropes, but the Wolverines stormed back on a 66-yard catch-and-run by Darryl Stonum, followed by a turnover and another Stonum touchdown that would put Michigan permanently in the lead. As you can likely see by the 37-point effort for the Minutemen, this was also Michigan's worst defensive performance of the season, giving up 210 yards rushing on 43 carries to UMass' top two running backs, as well as 200 yards passing to UMass signal caller Kyle Havens. The Wolverines have all sorts of work to do on defense, but on offense, they finally got someone other than Denard Robinson over 100 yards rushing: Mike Shaw had 115 yards on just 9 carries. Bowling Green comes to town next week, and it's not looking like a given that the Wolverines will walk away with a W.
 Purdue 24, Ball State 13
In their first game without star receiver Keith Smith, the Purdue offense registered a thorough "hmm, okay, I guess" against a Ball State team that lost to Liberty last week. The Boilers totaled 404 yards of offense and notched three passing touchdowns, two by Robert Marve and a third by back-up Rob Henry, off a miraculous tipped catch by Cortez Smith that went 76 yards. That was essentially the only highlight-reel worthy play of the entire day, and the Boilers have some worries going forward: Robert Marve was banged up for the second half, while the Ball State offense managed 150 yards on the ground. Purdue was last in the conference in rush D in '09, and it looks like another long year barring a major turnaround for the Boiler front seven. Toledo will provide more cannon fodder Danny Hope's team next week, but don't be surprised if they struggle yet again.
Illinois 28, Northern Illinois 22
In what appears to be a recurring gag among Big Ten teams this week, the Illini too massively underperformed against a team it should have handled easily, but there were a couple good takeaways for Ron Zook's team: redshirt freshman Nathan Scheelhaase QB and RB Mikel LeShoure racked up 295 yards rushing against the Huskies, and didn't commit any turnovers. This might be the only way forward for this team, as Scheelhase remains lost in the passing game, going 8 of 16 for just 80 yards against a porous UNI secondary. Good luck sustaining those rushing totals, though: the Illini get a bye before the Buckeyes travel to Champaign on October 2nd.
Indiana 38, Western Kentucky 21 
Indiana's obsession with clubbing college football's baby seals continued as they carpet-bombed the Western Kentucky Hilltoppers in Bowling Green (Kentucky, of course) this week. QB Ben Chappell threw for 366 yards and 3 touchdowns as the Hoosiers totaled nearly 500 yards of offense. Nothing much else needs said here, other than that the Hilltopper D held Indiana to 3.2 YPC on the ground, and Indiana won't be winning many Big Ten games at all if it can't run the football. The Hoosiers host miserable Akron next Saturday.
Northwestern 30, Rice 13
Northwestern was never really threatened by an impotent Rice offensive effort in the first half, which allowed the Wildcats to build a 10-point cushion they would never relinquish. Dan Persa was again the competent, if largely unspectacular Northwestern QB in completing 24 of his 32 passes for 307 yards and a touchdown. Defensively, NW struggled in the second half, but ultimately only surrendered one late fourth quarter touchdown in garbage time. The Wildcats are 3-0 and get Central Michigan - who upset Michigan State on the road last year - in Evanston next week.
USC 32, Minnesota 21
Minnesota hung tough for a half and then some, but USC eventually woke up and pulled away. The Gophers held a surprising 14-13 lead early in the third quarter before surrendering a 97-yard TD return on the ensuing kickoff to Robert Woods. The Trojans then scored on their next two possessions to put the game on ice. It's doubtful that Minnesota's performance was enough to save Tim Brewster's job, as evidenced by the torrent of boos unleashed late in the 2nd quarter, when Minnesota decided to not let turnover-prone Eric Weber sling the ball downfield with less than a minute to go, opting instead to kneel and attempt to run the clock out. It was probably the smart call, but Gopher fans didn't care: they wanted points, and as sloppy as USC was playing, they were probably expecting the win. The Gophers get Northern Illinois at home next week.
Wisconsin 20, Arizona State 19
The Badgers got 246 yards passing out of Scott Tolzien, to go with 123 yards yards on the ground for John Clay, and they needed every single one of those yards to outlast Arizona State. Wisky, whose special teams channeled the Buckeyes', surrendered two massive first half kick-off returns - one for a touchdown, the other ending at the 3-yard line just before half-time. Still, on the back of a 19-yard John Clay touchdown run, Wisconsin nursed a 20-13 lead before surrendering a late 4th quarter touchdown to the Sun Devils. Fortunately for Brett Bielema, the kick was blocked by Johnny's favorite human being Jay Valai, and the Badgers were able to run out the clock. I'm not sure exactly what Wisconsin can take away from this game. Arizona State is debuting a new Air Raid offense, which directly attacks the Badgers' biggest weakness: the secondary. So perhaps Wisconsin is no worse than expected, but I doubt the Badger staff thought they'd need to block an extra point to beat a team that went 5-7 a year ago. Back to tin cans next week, when Austin Peay comes to Madison.
Michigan State 34, Notre Dame 31
Mark Dantonio has onions. Down 28-31 in overtime against Michigan State and needing a 46-yard field goal to tie, he opts for the fake field goal, and if that isn't crazy enough, the senior punter completes it for a 29-yard touchdown to win the game. I won't lie in saying that I just finished watching this game about five minutes before writing this and thus recency bias might be a problem, but it was definitely the best non-Buckeye play I've seen this season. Michigan State's defense has been gashed by Notre Dame for most of the night, with Irish QB Dayne Crist throwing for 369 yards and 4 touchdowns, but Kirk Cousins mostly answered the call, throwing for 250 yards and a couple scores himself. I'm not sure Dantonio will ever be able to work his magic with MSU's defense, but I'm still kinda pulling for him after all these years. The Spartans will take on Northern Colorado next week.
Iowa 27, Arizona 34
In what was just a sloppy, ugly (though mostly winning) day for Big Ten teams across the board, Iowa topped just about everyone in the nightcap by getting a punt blocked on their first possession, tossing a pick-six on the next, then giving up yet another kick return TD for a Big Ten special teams unit, all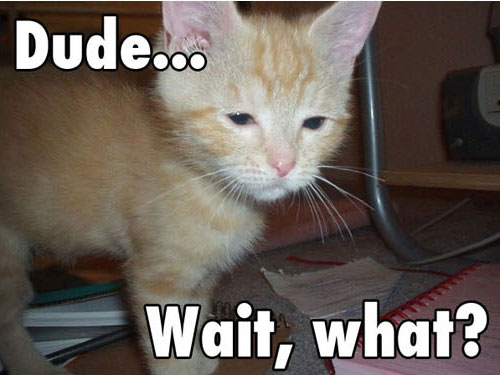 in the first half. If you're keeping track, that's Minnesota, Iowa, and Wisconsin each allowing a kick return touchdown, along with the Buckeyes being a block in the back away from giving up one of their own. Arizona was the beneficiary of an extremely short field TD following the block, two non-offensive touchdowns, and totaled two field goals on genuine offensive drives. Pictured at right: a cat watching Iowa play in the first half.
Then... the second half happened. Iowa scored on a long touchdown pass in the third, watched Arizona fumble a punt away in the fourth, and then then scored on another long pass to McNutt to close the gap to 27-21. Arizona, apparently pooping its pants in yet another potential program-defining win, watched QB Nick Foles respond to all the pressure in the world by throwing a pick-six to a Hawkeye defensive end to make it 27-27. Naturally, Iowa missed the extra point, because this game just wasn't bananas enough for them. Foles then led 'Zona's first legit touchdown drive of the night, and Iowa couldn't respond (four sacks in a row? Even Ohio State's starting O-Line against Florida are shaking their heads). Thus, one of the Big Ten championship favorites gives the conference its first major black eye against a BCS foe this season. I look forward to Cam Heyward, Nate Williams et al. having their way with the Hawkeye offensive line in November.