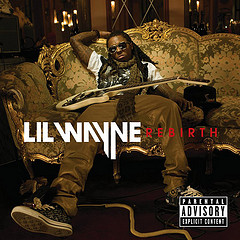 Welcome back my friends to the show that never ends. It's time for yet another season of Weekend Update, which profiles a handful of games to keep your eyes on (as well as some friendly random guesses as to what may go down with respect to the ol' Vegas line). Yours truly served up a bowl of awesome last season (albeit in an abbreviated slate) going 58-19-1 for the regular season and 20-11-1 in the post-season. Despite that being 71%, we repeat as always: your child's college savings fund is more important than the uber-improbable 4-team parlay. P.S.: There is no way the 2010 college football season is anywhere near as bad as the album depicted to the right. None.
National Games
Washington at BYU (-2.5) 7:00 p.m. - CBSCS
Jake Locker and trendy buzz pick Washington head to Provo to take on the recently declared independent women 25-year olds of Brigham Young. BYU coach Bronco Mendenhall says he plans to play 2 QBs against the Huskies to try and make up for the departure of all-Mountain West selection Max Hall while UDub DC Nick Holt (late of the 2008 SC squad that brought the paintrain to Todd Boeckman and co.) plans on bringing an aggressive attack to keep both on their toes. After Utah's win yesterday evening it would certainly seem easy to keep riding the MWC waves, but take Washington and the points, 27-24.
Cincinnati at Fresno State (-2.5) 10:00 p.m. - ESPN2
New Cincy coach Butch Jones (late of Central Michigan) makes his UC debut as the Bearcats travel west to take on Pat Hill and the Fresno State Bulldogs. Anywhere, anytime = a return trip by the Bearcats in this instance. New Cincy QB Zach Collaros looked brilliant in small stretches last season and Fresno State loses 1st round running back Ryan Matthews. Despite the home field advantage and the first game of the season sloppiness sure to ensue, take the road dogs (outright if you must) 30-21.
SMU at Texas Tech (-13.5) 3:30 p.m. (Sunday) - ESPN
What do you get when you combine an Air Raid (for now) club and a Run n Shoot in a bizarre Sunday afternoon opener? The recipe for offenses that are anything but crisp. Fortunately for new Tech coach Tommy Tuberville and SMU headman June Jones, neither of these defenses bring much to the table either. Expect these 2 to get out of the gates slowly but ultimately find their rhythm and make things watchable. Tech wins, but SMU makes gamblor happy 35-28.
#3 Boise State vs. #8 Virginia Tech (+2) 8:00 p.m. (Monday) - ESPN
In the game fo the weekend, Boise State travels across country to Landover Maryland to take on Virginia Tech in their Tron pro combat gear. Virginia Tech has lingering questions at safety (which against a Boise arial attack could prove doom) but does bring a vaunted rushing assault that could make all the defense. Boise State could make a statement even in a loss but bet on their national title hopes coming to a premature, crashing start as VT holds on 38-28.
Big Ten Games
Connecticut at Michigan (-2.5) 3:30 p.m. - ABC
What could be the final voyage of the S.S. Rich Rodriguez faces highly regarded (and potential future UM coaching candidate?) Randy Edsall and the Connecticut Huskies. Michigan enters the game as slight favorites, but as to what actually transpires in this one is anyone's guess. Edsall's team will be disciplined, focused, Michigan will be... Well we'll see. Michigan has to be better, right? Right?! Maybe it's the optimist in me that wants The Game to ring true again, but I'll give Michigan the benefit of a doubt. UM takes it 17-14.
Illinois vs. Missouri (-12) 12:30 p.m. - FSN
A "rivalry" so heralded their own fan bases sing its praises from the mountain tops, the Fightin' Zooks (yes, he's still employed) take on border rivals Mizzou. Missouri brings in potentially the highest profile quarterback in the Big XII in Blaine Gabbert and Illinois brings in a surplus of Zookery. 12 is an awful lot, but given last year's debacles, I'm inclined to give it: go Mizzou 30-14.
Purdue at Notre Dame (-11) 3:30 p.m. - NBC
The Fightin' Moustache Rides travel upstate to Touchdown Jesus Land to take on the Irish. Brian Kelly makes his ND coaching display and does so with great applomb. Very rarely do you see first year head coaches get the courtesy of 11 points in their debuts. Assuming Kelly goes ham the same way his two predecessors did the coach that proceeded them's players, it's not out of the question for the high octane Irish to light up Purdue. With Ralph Bolden sideline for the year, it'll be up to transfer Robert Marve to make his presence known and in a big way. Despite Purdue arguably having more continuity, take the talent and the points: ND 31 - Purdue 17
#13 Wisconsin at UNLV (+20.5) 11:00 p.m. - Versus
Bucky Badger goes to Vegas to take on former Montana coach Bobby Hauck in his Nevada-Las vegas debut. Rebels QB Omar Clayton is a natural fit for Hauck's spreadtastic attack but Wisconsin rolls into town with arguably the best offensive line in the country. Despite being the considerably better side, expecting Team Jump Around to roll by almost 3 touchdowns is a bit much. Wisconsin wins, but UNLV steals the cover 42-24.