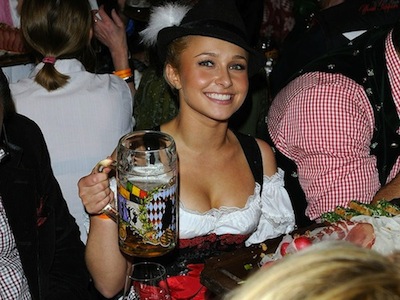 Guten tag! It's a celebration, y'all. Oktoberfests internationally are a foot, and as such, we're kicking things off right. We're also having a New Orleans funeral marking the end of my reign as anything remotely resembling a picking-college-football-games-against-the-spread guru. After racking up a nearly 72% success rate against the spread last year, your boy is crawling punch drunk around .500. Last week was no better, when for the second time in as many weeks, I put together a turbo underwhelming 3-5 effort. Our little (for entertainment purposes only, of course) exercise is now exactly 16-16 on the season. We may be bowl eligible, but we're flirting dangerously with Shreveport at this point. However, like any good degenerate gambler will tell you, the only way to get out of a hole is to bet your way out. Ein, zwei, drei, prost!
National Games
#16. Miami at Clemson (+3.5) 12:00 - ESPN2 (HD) & ESPN 3D
It seems like Miami is running into a litmus test game week in-week out these days. The 'Canes face another potentially season definer heading to Death Valley to take on Dabo. DABO. DABO!. Kyle Parker and the Clemson offense are still looking to make amends with the football gods for failing to convert on that third down in overtime that would've won them the Auburn game. Despite my looking every bit the chump I've been in picking games in 2K10 by taking the Wannstache a week back, I can't not pick against a Miami team I still think is very mortal (even in lieu of the SOS consequences it would have on the Bucks). Clemson 24 - Miami 21. *gulp*
#8. Oklahoma vs #23. Texas (+3.5), from Dallas, TX 3:30 - ABC (HD) / ESPN (HD) (Regional)
The Red River Rivalry takes a bit of a somber tone following a terrifying incident on Texas' campus this past Monday. The game also comes on the heels of Texas laying the early front runner for egg of the year on the season against Pistol Rick's UCLA Bruins and Oklahoma letting an evidently mediocre Cincinnati side hang around for 4 quarters. The spread speaks to OU being the better team (which as an Austin resident and tangential ancillary Horns supporter have been preaching from the mountain top all season long; to much applause believe me), but Texas should find the rivalry mojo necessary to make this one interesting. Texas' offense may ultimately keep the Horns from being able to win this one, but OU's proclivity to cough up the rock in their own could make this one a bit of a tickle fight. Despite Texas' D being the better of the two (and usually the tie breaker in these sorts of situations), I can't in good conscience overlook how anemic the Texas offense has looked all season. Take OU, 27-21.
Virginia Tech at #24. North Carolina State (+4) 3:30 - ABC (HD) (Regional)
My zombie love affair with VT rages on as the Hokies travel to Raleigh to do it up with Russell Wilson and the 'Pack. Tom O'Brien engaged in a game with Bud Foster could very easily turn into a Penn State-Ohio State 2008 style game, but Russell Wilson may just be too skilled to keep this one too low scoring. Vegas knows their stuff as per usual though, and VT, despite the egg laid against JMU and the tough defeat against Boise, enter this one as four point favorites. To boot, NC State's win streak has seemingly come on borrowed time, so take the back-from-the-grave Hokies, 17-10.
#7. Florida at #1. Alabama (-8) 8:00 - CBS (HD)
OMG ESSS-EEEEEE-CCCCEEE speeeeeed. Florida finally looked like many thought they'd look last week against Kentucky, but will have to prove that wasn't merely the result of going against, well, Kentucky. Trey Burton appears to have something of a baby Tebow game, but it's not going to come nearly as easily in a road night affair with the Tide. Alabama's D, while talented, is still fairly green in the grand scheme of things in terms of experience. While there's next to no chance Florida curtails Alabama's rushing attack, they may be able to put together a game plan that at least allows them to keep the Tide honest and try to coerce QB Greg McElroy into mistakes (which he's been virtually free of in the early goings). While my head says Bama, it also said UF was the better, more complete team going into the season. Plus, Pirate Cap'n Mike Leach likes the Gators. Live dangerously: UF 33 - Alabama 30.
#9. Stanford at #3. Oregon (-7) 8:00 - ABC (HD) / ESPN2 (HD)
OMG Pac Teeeeen speeeeeed. The Pac-10/12-to-be's definitely made their claim to being the nation's premiere football conference through Week 5 and now we'll get a chance to see as two of the more compelling teams in the country get to go head to head in the same time slot as two SEC juggernauts. While it's pretty unlikely folks in the deep south (or northeast/midwest for that matter) get up for and tune in a Cardinal/Ducks contest over a UF/Bama one, this has every bit the potential to be the more compelling of the two. Stanford will bring their Michigan-in-1986 act against Oregon's WHOOOOOOOOOOOO-ffense in what should be one heck of a watch. While Oregon should have enough to get the W, I'm thinking this one stays close. Oregon wins, 34-31.
Big Ten Games
#13. Wisconsin at #22. Michigan State (+2) 3:30 - ABC (HD) / ESPN (HD) (Regional)
In Mark Dantonio's return to coaching, Bret Bielema brings arguably the best offensive line in the country to East Lansing. While Sparty is presently allowing 253 passing yards per game, it'll be up to Scott Tolzien to take advantage of Nick Toon and the rest of the options around him. If the Badgers elect to turn this into an old school Big Ten game, the Spartans may not have quite the grit to grind this one out. While MSU definitely wins the QB battle with Kirk Cousins, Wisconsin should have the road hustle to make this one go their way. Take the Badgers, 20-17.
#17. Michigan at Indiana (+10) 3:30 - ESPNU (HD)
In a contrast of styles, Michigan, Shoelaceless Joenard Robinson, and Michigan's high octane offense face Big Ten opposition for the first time on the season going against Bill Lynch's pistolwhipfense and QB Ben Chappell. While Chappell is not even in the same universe as an athlete as D-Rob, he is effective enough of a game manager to continuously put the Hoosiers in position to put up points on the Wolverines and keep this potentially closer than the experts are projecting. While it's still impossible to know what we have in Michigan until we see them against (at least) the likes of a Penn State or Northwestern, their bevvy of undersized 3-stars should be enough to outlast Indiana's warchest of 1 and 2's. Take the Wolverines to win (and cover), 38-24.
#25. Penn State at #18. Iowa (-7) 8:00 - ESPN (HD)
PSU's young QB Rob Bolden enter this one inexplicably having only been sacked once all year. However, this Iowa d-line could rival, if not surpass, Alabama's in terms of the quality of opposition (and Alabama was without star DT Marcell Dareus). If Iowa can find a way to get pressure on Bolden and force him into rookie mistakes, this thing could get ugly. Evan Royster finally elected to show up for the first time all season last week and if Penn State can get anything going in terms of runningthe ball they may be able to keep this one within grasp. While an upset would do a lot for the Baby Nittany Lions, expect Iowa to be too much this early in their development. Put your duckets on the Hawkeyes, 27-17.