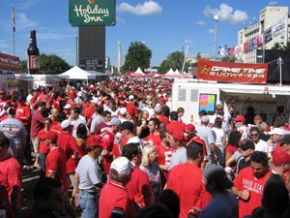 The 2010 football season is upon us, and while many of us in the Eleven Warriors world have taken to the awesomeness of being in Ohio Stadium for a Buckeye game, there are plenty of fans out there who have yet to witness the greatest thing known to the human race. On any given OSU website you can find the forum post "This is my first time in Columbus. I'm coming for the (insert team here) game and want to know, what is the best place to go for (insert activity) while I'm in town?". After reading countless responses from Buckeye fans all over the nation, we here at 11W figured why not provide a visitor's guide for all the fans coming in. Like all posts here on the site, we'd love for reader input to give first-timers even more options when they come to campus this fall. Everyone has different tastes when it comes to where they want to go out, where they want to eat, where they want to watch the game, and the many other activities to take part in when coming to the 614. We hope this list will serve as a guideline giving any individual the best options that fit to the best of their liking, but we'd love some reader participation to help fill in any gaps we may miss. If you want to enter into awesomeness, follow the jump and endulge in the best Columbus and The Ohio State University has to offer for you and your family when you come to the capitol city of the great state of Ohio for some Buckeye madness.
BEST PLACE TO TAILGATE
If you're lucky enough to have a parking pass for the lots in French Field House or an RV pass for the lots by Bill Davis Stadium (site of the 11W Tailgate), then you are set. If not you can try crashing one of those parties, or hit Lane Avenue for Hineygate (although not as good as the original), the timeless Varsity Club, or Little Bar. All of these provide a great atmosphere and plenty of Buckeye fans enjoying good food, adult beverages, and great conversation.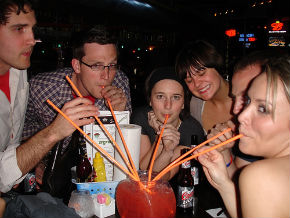 BEST PLACE TO GO OUT ON CAMPUS
The Varsity Club on gameday is packed with people of all ages and is always an option to have some good fun. Little Bar is a party all day and night long, and football players tend to frequent here the night after the game. If you are looking for some great times at night, you may also want to check out Out-R-Inn on Frambes and High, The "O" Patio on 15th and High (for you younger party people), Ugly Tuna Saloona in the South Campus Gateway, or Lucky's or The Bier Stub for a more "chill" scene. McFadden's and Mad Mex in the Gateway, as well as Hendoc's north of campus are options as well.
BEST PLACE TO GO OUT DOWNTOWN
The Arena District is king for bars downtown and pretty much any bar down there is sure to be a good time on a game weekend. Brother's, Park Street Patio, the new Park Street Cantina and Park Street Saloon, and The Big Bang piano bar are all favorites. Bar 23 is a good option for the "working professional" crowd and is a little bit more of an upscale/NYC style bar. You can't go wrong with Gaswerks, Callahan's, Bar Louie, Frog Bear and Wild Boar (A Laurinaitis favorite), and Lodge Bar, as all are options that are sure to provide some good times.
BEST PLACE TO EAT ON CAMPUS
Eddie George's 27 Grille on Chittenden and High is awesome and very affordable. Buffalo Wild Wings on Lane and High is the largest in the country and is good if you want some wings and plenty of televisions. Tommy's Pizza on Lane and Neil is a campus classic, and is a great place to relive old college days. Other options are Penn Station Subs, Mad Mex, and another classic, Buckeye Donuts.
BEST PLACE TO EAT DOWNTOWN
Cameron Mitchell has some good options in Martini Modern Italian (my personal favorite) and Marcella's. Lindey's in German Village and Hyde Park in the Short North Cap are pricey, but provide the most delicious steaks you may ever sink your teeth into. Dirty Frank's on 4th street is a hidden secret, while The North Market is a must-hit if you're craving some lunch. Thurman Cafe in German Village (a little preview of the Thurman Burger here) is arguable the most popular restaurant in Columbus and if you want a burger, there is no match. The Elevator, Columbus Brewing Company, Barley's, and Sushi Rock are all good places to look into as well.
BEST PLACE TO EAT, PERIOD
Mentioned above, Lindey's and Hyde Park top this list. In Dublin, Tucci's is a fan favorite and Montgomery Inn provides a Cincinnati flavor in capitol city, along with the most delicious ribs you'll ever have. The Refectory, Schmidt's Sausage Haus, Columbus Fish Market, G. Michael's Bistro, Handke's, and Rigsby's Kitchen are all very good and could top this list, depending on what you're in the mood for.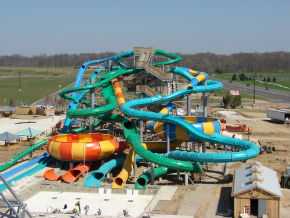 BEST PLACE TO BRING THE FAMILY
When talking activity, the Columbus Zoo/Zoombezi Bay Water Park, COSI, Easton and Polaris shopping centers, Magic Mountain, and a Blue Jackets game (if they're in season) are great things to do with the family and shouldn't run you too much money. As for restaurants, BD's Mongolian Grill at Easton or in the Arena District, BJ's Brewhouse at Polaris, Cap City Diner (on Olentangy River Rd.), or the Rusty Bucket (Shoppes on Lane) are great choices. Overall Columbus is a pretty family-friendly city and there is plenty of options for activity or dining. If you're ever finding yourself with a gap of free time, it's always nice to walk campus and take in the beautiful scenery OSU has to offer.
BEST PLACE TO WATCH THE GAME IF YOU'RE NOT GOING
On campus, look to hit up Buffalo Wild Wings, The Varsity Club, or Eddie George's. For those wanting to stay off-campus, Brewsky's on Kenny Road is highly recommended and a sure hit. We suggest if you're in town trying to scalp a ticket to the game last minute, but if you can't make it or afford it any of the aforementioned should be good, as well as basically any spot with big screen televisions.
BEST PLACE TO BUY BUCKEYE GEAR
Campus is filled with plenty of stores and vendors that sell Buckeye shwag on gameday, but if you want the ultimate selection, head to Buckeye Corner. The closest one to campus is west of the stadium on Lane Avenue and is just a 5 minute ride from The 'Shoe. Barnes and Noble in the Gateway has a solid stock as well (a bit pricey though), but if you're really feeling generous, you might want to check out the Eleven Warriors Shop (with some new additions coming soon for the 2010 season!).
BEST PLACE TO PARK FOR THE GAME
I personally think trying to find a fraternity or other house on campus selling parking for $10-$20 is the best option, as it is affordable and close enough where you can walk to the stadium in 15 minutes. Other options include the Fair Grounds, Ackerman Lots, and the Agricultural Education Building Lot. The latter, on Woody Hayes Drive (right across from Coffey Road Park), allows you to park there for free starting at 6 AM. It's a pain in the rear end to wake up that early, but well worth it if you can get someone to follow you there, drop your car off, and go back to your hotel to sleep for a couple more hourse. Or you can just start the party at 6 AM and get a head start on everyone else!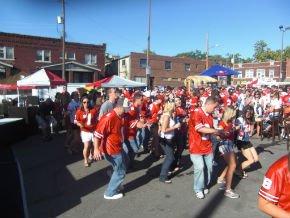 BEST PLACE TO GO AFTER THE GAME
The Varsity Club is awesome, but is usually too packed to get in to unless you leave the game early (don't tell us if you do). The Little Bar is more accessible and a great option if you want to continue to "get your Goose on". Brazenhead is a good spot if you want to go off-campus, as are any of the Arena District bars. For a hidden gem, check out Too's Spirits Under High (between 15th and 16th) on High Street. They usually have some great drink specials and a good crowd following the games.
MUST DOs IF YOU'RE A FIRST TIMER
Finally, there is a list of "musts" if you are a first-timer to Columbus on game day. Skull Session is held in Saint John Arena two hours before kick-off and features the band playing their music, as well as a walk-through by the team, and a speech by Jim Tressel. It fills up fast, so get there early, or get a spot in line outside between the arena and the stadium to see the team walk through. The Buckeye Grove, featuring trees planted and plaques for each All-American at OSU, is located south of the stadium between the tennis courts and Morrill and Lincoln Towers. It's pretty cool to walk through there and see all of the history. Seeing Script Ohio by the band is a must as well, so make sure you're in the stadium about 30 minutes before kick-off. If you're curious about the best student tradition in the world, take a walk by Mirror Lake, the scene of epic madness the Thursday night (well, maybe Tuesday night this year) before the Michigan game. Finally, if you have time, swing by the Woody Hayes Athletic Center on Olentangy River Road. You can't go into most of the facility, but the public section features all of the Heisman Trophies, conference championship and national championship rings, the 2002 National Championship Trophy, and more. It's definitely cool to check out where all the action happens and be sure to get a peek of the new Harmon Family Practice Facility out back.