Do you hate things that are good? Great, me too! We have so much in common. In fact, our friends at Nike have taken it upon themselves to market to folks just like us, people with (or without!) disposable income who enjoy kitsch, tasteless things.
As such, the university announced Tuesday that for a second straight year, the slow and steady commercialization of The Game will evidently proceed accordingly. This season, Ohio State is widely expected to take the field in a scarlet variety of the same faux-throwback-to-the-future-OMGboomstyle-backs the team rocked in conquering the rebel occupied forest moon of Endor Ann-Arbor last November.
Last year's look was said to be inspired by and meant to honor the 1954 national championship team. Would it be asking too much to request they honor the 2002 national champs and wear something remotely resembling discerning taste?
Whether the uniforms pay homage to a forgotten era of Ohio State football (perhaps the 1899 squad that went unbeaten; brown leather helmets for some, miniature American flags for others!) or one that never even happened, I'd say the vast majority of us will be pretty dissatisfied, regardless of how tastefully the actual look is executed. Another large majority of us will probably scowl initially disapprovingly, spend roughly 2/3 of our work day when the uniforms are revealed September 1st staring judgmentally at the clusterfudge, then slowly but surely come around when we finally see them on actual flesh-and-blood football players the Saturday of Thanksgiving weekend dashing past hapless cornerback Tate Forcier for 6 (though we will never admit this to anyone, even under penalty of death).
To reiterate the agenda: The Game moved from third Saturday to Thanksgiving Saturday? Check. Uniforms switched from traditional home/away's to some sort of perverse Nike-Adidas proxy turf war? Double check. Teams to be split into rival divisions so that The Game can be superficially staged in consecutive weekends in years to come to ensure Woody and Bo alike barrel roll their ways to the center of the Earth? TBD. But I guess it was completely out of bounds for the two schools to even possibly consider selling the naming rights to such a hallowed sporting rivalry, eh?
A Funny Thing Happened On The Way To Losing To UConn
Make no mistake about it, Brian Cook is an absolute (inter)national treasure. To loosely paraphrase a scholar far more eloquent than I'll ever dream of professing to be, in ordinary circumstances, MGoBlog is arguably the best single team college football blog on the internet; when Michigan faces Jobian adversity, it's one of the best sites on the internet period.
The loss of (only competent defensive back on their painstakingly thin roster) Troy Woolfolk Tuesday put the site into a rarified air that essentially means even if you're the most staunchly partisan Buckeye who rejects all the advantages of learning the in's and out's of your biggest rival (and reaping the benefits of reading an absurdly good blog), you can enjoy endless schaudengiggles while the getting is good. I could probably spend another two or three paragraphs link dumping essentially the entire site, but if you're not already reading/rss aggregating/sleeping-with-iPads-on-your-head-to-absorb-via-osmosis MGoBlog, what's wrong with you? Enough slobbering though; we'll let New York Jets special teams coach Mike Westhoff return things back to their natural order:
MWC/WAC Engage In Record Earliest Game of Yankee Swap Ever
It started out with a kiss (perhaps now a Judas one?) but how did it end up like this? Make no mistake about it, Mountain West commissioner Craig Thompson was rocking out in full Brandon Flowers regalia and makeup last night in Las Vegas after the Mountain West turned BYU's potential departure into the net gain of Nevada and Fresno State. While both are persistent low interest bowl game participants and hardly of the stature of departing Utah, the two in association with the addition of Boise State add value to the league. The potential for UNLV-Nevada and Fresno State-San Diego State rivalry games will certainly help a league hovering around 20K per game improve their regional branding, while the additions also help preserve the recent history of Boise State-Nevada (you laugh; they're occasionally great games).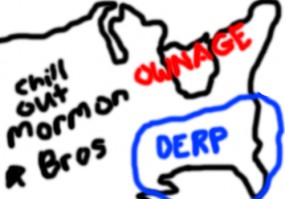 Perhaps more than anything, the move forces BYU to consider sticking around and possibly help lift the league to the desired Automatic Qualifier status they so sorely covet. Others feel it may be possible for a more private/religious low key non-money sport league like the WCC to make in-roads if BYU go ahead with football independence as planned. Obviously questions remain, like is the MWC done? And perhaps more importantly, what's BYU really up to? If anyone knows, Commissioner Thompson would like to hear about it. No, seriously.