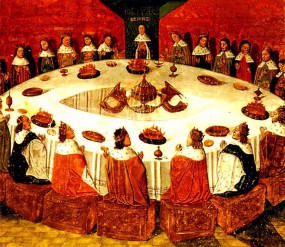 Fall Camp is but a distant memory and we've now entered the seat-backs-and-tray-tables-in-their-upright-and-locked-positions portion of the off-season. In less than one calendar week, Marshall-Ohio State underneath the lights in the 'Shoe will be a reality. To end things the right way, we brought (almost) the entire 11Dub crew together for an impromptu roundtable to hash out what to expect from the secondary, an unusually green special teams unit, and when to start worrying as a Buckeye fan in 2K10.
Luke: Arguably the biggest lingering question mark going into the 2010 season amongst the starters is the Ohio State secondary. While Jermale Hines has more than his fair share of experience, can the combination of C.J. Barnett/Orhian Johnson/Ty Moeller/et al and the starting corner duo of Chekwa/Torrence quell your fears when they go toe to toe with the elite receivers and tight ends across the country? If one of the starting corners went down, could this secondary dig deep enough to maintain their effectiveness?
Corey: I think the Bucks have serviceable players in the secondary that won't be forced to cover for more than a couple of split seconds. The D-Line is so deep and even the newbies along the front are getting plenty of rave early reviews. Ultimately teams will have to use a quick passing attack to move the ball, and if that happens, Heacock will go to his famed zone and keep everything in front. Even If Chekwa or Torrence went down, one of the youngsters should be able to rise up.
Johnny: Yeah, I'm with Corey on this. Heacock is more than smart enough to figure out how to move our personnel around to minimize any damage that losing a corner might do, and truthfully, the only teams that I would be worried about are those with a consistent deep passing threat (and we don't play many of those). Heacock gets criticized sometimes (and sometimes by me) for having a passive defense, but the Buckeye secondary gives up very few long passing plays. As long as they can stick to their assignments and stay in position, the cornerbacks will really only have to be merely competent and we should be fine. Orhian, Moeller, Rolle, all of those dudes are capable cover guys and should be able to free up the other DBs to do their thing.
Joe: I'm excited about seeing Moeller back on the field and that is definitely bad news for opposing runners and receivers. I'm also looking to see how the young guys like Howard, Clarke, Barnett and Evege progress.
Luke: Barnett's importance increases significantly with yesterday's news he may be the guy at strong safety. Moving along, the other primary potential pain point for the Buckeyes this year is likely to the special teams. While it almost feels unnatural to say that about a Jim Tressel coached team, we're headed into the final stretch of the off-season and there are still plenty of questions in that area. Newcomer Ben Buchanan is said to be more than capable at the punter position but does the idea of DeVier Posey at primary punt returner or perhaps Drew Basil at kick off specialist worry you in the least? Will the special teams be consistently good enough to help get this team to Arizona?
Alex:I like Devin Barclay's in-game experience, as he clearly has been in high pressure situations and come through. I am confident in his ability to hit kicks under 40-yards, but beyond that, I don't know. I guess I'm kind of hoping the offense can be a juggernaut a la 2006, but in Jim Tressel's world field goals are a reality more often than not. I'd love to redshirt Basil, but if we need him and he can handle the pressure, go ahead and put him in. I guess I just hope Barclay steps up and can be the full-time guy and if needed, perhaps maybe even have Buchanan boot a 50+ yarder from time to time? Buchanan worries me at punter a bit due to his inconsistency. I thought he did a decent job when filling in for Thoma last year, but remember this guy was really recruited as a kicker. I think the flip-flopping the first two years in Columbus between kicker and punter definitely stunted his growth at one or the other and now he is finally getting a chance to grow into one slot. We'll see how that works out.
Sam: I know I don't want to see Posey getting blasted by the opposing team's head hunter on punt returns, and this development makes me wonder whether the young speedsters (Corey "Philly" Brown, James Jackson, James Louis) have hands to go with their innate athletic ability. Catching punts and kicks is different from receiving (unless it's an ARM PUNT OMG LOL), but I'd still rather have a guy who can consistently field a fair catch than one who can take it to the house but muffs the punt every other possession. Most of all though, I'm still worried about our kick coverage; we gave up plenty of long returns to Oregon, and while some of that has to do with Kenjon Barner being one of the better returners in the country, a lot of it had to do with players not staying in their lanes and a surprising lack of discipline for Tress' special teams. And let's not forget the Iowa KR that got the Hawks back in the game when it looked over.
Keith: I'm comfortable with Barclay and Buchanan and I feel like each has earned their spot to this point. A bigger concern with special teams is the notion there might be a rotation based on field goal distance. I'm not a fan of that strategy. I'd much prefer the staff award the job to one person and go with him the entire season unless it's painfully clear a change needs made. Posey as a punt returner would actually be my first choice. He has plenty of wheels and he's been reliable. We've used other stars in past seasons as returners (Santonio, TGII) so I don't see this as much of a concern.
Luke: Good stuff gentlemen. We wrap things up the only way i know how, by focusing on our darkest, most inward fears. Perhaps the only truly potential nightmare scenario for 2010 would likely be an injury to Posey and/or Dane Sanzenbacher. Sure, Chris Fields and Philly Brown have had flashes of brilliance alike, but do any of y'all really think a T-Wash/Fields/Brown receiving corp is capable of leading TP to where this team needs to go? Are the backups better than advertised, or will the team struggle in lieu of a catastrophic injury?
Joe: Injuries to receivers is always a risk, especially in the same league with guys like Jay Valai and Tyler Sash. I'll never forget how much it hurt us to lose Joey Galloway back in 1992 (ask Herbie how much he missed him). I have confidence that the younger guys will step up in the receiving game but Sanzenbacher does the little things and it would be a big loss if he went down. As for the younger guys, I'm definitely excited about the potential of guys like Fields and Brown.
Jason: I have to be the last guy on earth thinking this, but I continue to hold out hope that Taurian Washington will finally have a season worth remembering. You hear about him catching bombs in practice all of the time (as well as some drops here and there) and he will get the first crack at becoming the team's third receiver. Should he falter, there's no doubt someone else will step up. This is Ohio State. Someone always does.
Alex: I think T-Wash is fine as a receiver. He won't make any spectacular plays for you, but I think he will finally be able to catch a ball in a game and be serviceable to this team. Fields and Philly Brown (along with James Louis) could grow as the season wares on and eventually take on the third receiver role if they prove to be worthy, but I think a guy to keep an eye out for is Grant Schwartz. This guy has stood out to me in every practice that I've been to and I think he might be a kind of Sanzenbacher-lite player. Overall, I think as long as Posey and Dane are healthy, this unit should be fine. Jake Stoneburner should serve as almost a defacto 3rd wide receiver and I think you could see him lined up in the slot at times this season. Those three will be TP's main targets and the rest of the receivers, running backs, and Zach Boren will be more than enough to fill in the rest of the work.