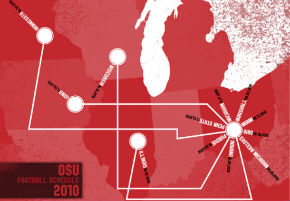 While some feel the Buckeyes are playing an extremely weak 2010 schedule, there are many, including us here at Eleven Warriors, that feel this season's schedule could serve as quite a challenge for this Ohio State group. Three of the Four out of conference opponents played in bowl games last year, the two toughest conference games are on the road, and the team faces the pressure of trying to be the first to six straight conference titles. As fans, we tend to know most of the big name players the Buckeyes will play against in 2010, such as Jacory Harris, Adrian Clayborn, and John Clay, but little do many of us know about the opponent's tendencies, role players, strengths, weaknesses, and other interesting tidbits that we'll soon find out as each week of the season unfolds. This next segment of our season preview focuses on Ohio State's opponents for the upcoming season. We will take a look at who the coaches are, key players on both sides of the football, what their strengths are, what the Buckeyes need to do to get the win and everything else pertinent that you need to know about the enemy.
Marshall Thundering Herd - 9/2 - Columbus
COACH: Doc Holliday
LAST YEAR: 7-6 (4-4)
OFFENSE: Pro Set
DEFENSE: 4-3 flex
Marshall enters the Doc Holliday era this season and already has had to face adversity. Thought to be the favorite to take over the starting QB gig, Clemson transfer Willie Korn has left the team and will play at a Division II school after losing a position battle to senior and 2009 starter Brian Anderson. Anderson was just OK last season, throwing for 2,646 yards and 14 touchdowns against 13 interceptions while completing 58% of his passes. He will have to step his game up for the Thundering Herd to improve on their 6-6 regular season mark, and a big part of that progression will be his rhthym with wide receiver Antavious Wilson. Wilson lead Marshall receivers last year with 60 catches for 724 yards and added 3 scores. He is sure to grab the attention of Paul Haynes and Taver Johnson next week and it will be up to Chimdi Chekwa and Devon Torrence to take him out of the game. Despite any success the Herd may have had through the air, they are going to have to pick their ground game up. Marshall ran for just 142.7 yards per game last season, but are going to need that number to go up if they want to keep teams off balance with their potential in the aerial game. On defense, Mario "Thumper" Harvey is a star at linebacker and brings with him 117 tackles and 7 sacks from an excellent 2009 season. Fellow linebacker Kellen Harris (71 tackles) and defensive end Vinny Curry (59 tackles, 3.5 sacks) will provide Harvey with some experience and talent that will allow Marshall to hold one of the better defenses in Conference USA. The unit will have to improve off the -4 turnover margin it faced last season, and these defensive playmakers are a great start. Other players whose name you may hear called next week include DT Michael Janac, CB Ahmed Shakoor, and S Omar Brown. Overall this team should be better than the 7-6 squad of last season, but with games at OSU, home against West Virginia, at Southern Miss, and at East Carolina, it will certainly be a tough road. The Herd will likely play the Buckeyes too close for comfort in the first half of the game next week, but expect the Silver Bullets to prevail with a dominant second half.
Miami Hurricanes - 9/11 - Columbus
COACH: Randy Shannon
LAST YEAR: 9-4 (5-3)
OFFENSE: Power-I
DEFENSE: 4-3 base
Miami is a team that reminds me a lot of the 2005 Ohio State Buckeyes. I say that because I think this team is filled with talent and on the verge of breaking through to the top of college football, but I think they will face some road bumps along the way this season. Much like that Buckeye team that lost at home to Texas in a heartbreaker and at Penn State (Tamba Hali still gives me nightmares), I can see Miami stumbling late in the game in Columbus and tripping up in another game or two during their tough ACC stretch. At the end of the year this team may very well be one worthy of the top 10, but they have a lot of work to do to get there. On offense Jacory Harris returns for his junior year. Last season he was extremely inconsistent, throwing for an impressive 3,352 yards and 24 touchdowns, but also an abysmal 17 interceptions. For a guy that has tremendous athleticism and speed, Harris really doesn't like to run, and when facing tough defensive lines like he will against Ohio State, UNC, and Virginia Tech, it will be interesting to see how he performs. With Graig Cooper out with a knee injury, Damien Berry becomes the 'Canes first option on the ground and as a back-up last year provided some pretty impressive numbers with 93 carries for 616 yards (6.6 ypc) and 8 touchdowns. Can he do it against top level talent as an every down back? That is yet to be seen. One area of strength for Miami though is their wide receivers. Travis Benjamin, Leonard Hankerson, LaRon Byrd, and Aldarious Johnson make up one of the nation's top groups and could give the Buckeye secondary nightmares. OSU better get some pressure on Harris, otherwise these guys will be sure to burn the Bucks deep a few times on September 11. On defense, Allen Bailey anchors the d-line at end, but Micanor Regis, Marcus Fortson, and Adewale Ojomo will really need to pick it up to play at Bailey's level. At linebacker the 'Canes feature two of the ACC's best in Sean Spence and Colin McCarthy, who will be joined by Kylan Robinson to fill out the corps. Finally, in the secondary are stud corners Brandon Harris and Demarcus Van Dyke, but safety is a only half-solid with Vaughn Telemaque returning as a starter and Jo Jo Nicolas serving as a questionable newcomer. This defense ranked in the top 50 in points allowed, rushing yards, total yards, and pass efficiency, but they struggled with getting off the field, something that showed against the grind-it-out Wisconsin Badgers in bowl season. That could continue to be a problem for Randy Shannon's team this season and it won't matter how good the offense is if the defense can't get off the field.
Ohio Bobcats - 9/18 - Columbus
COACH: Frank Solich
LAST YEAR: 9-4 (7-2)
OFFENSE: Pistol
DEFENSE: 4-3 base
If you watched the way-too-close Buckeye vs. Bobcats game two years ago, you remember Boo Jackson. The athletic quarterback ran at will against the 2008 Buckeye defense and has worked on developing his arm to go along with his smooth moves on the ground. Joining Jackson in the backfield will be running backs Vince Davidson and Donte Harden, both backups in 2009 who won't make any coaches lose sleep this year. Out wide, the Bobcats are lead by LaVon Brazill and Terrance McCrae who combined for 88 receptions, 1,247 yards, and 15 touchdowns last season. This group averaged just 24.8 points and 311.5 yards in 2009, but their +13 turnover margin shows why they had tremendous success in the MAC. If they can see a scoring boost this year and keep their turnover margin favorable, expect OU to challenge for the conference title once again. The defense is lead by DE Dak Notestine and LB Noah Keller. The latter was sixth in the nation with 155 tackles, while the former wasn't too shabby himself, notching 65 tackles and 6.5 sacks. Making up the rest of the defense that allowed just 21.8 points per game in 2009 are DE Stafford Gatling, tackles Marcellis Williamson and Ernie Hodge, linebackers Eric Benjamin and Shannon Ballard, and defensive backs Omar Leftwich, Steven Jackson, Gerald Moore, and Julian Posey (DeVier's brother). Ohio ranked just 92nd in time of possession and 76th in rushing yards allowed, two areas the defense will look to improve on in 2010.
Eastern Michigan Eagles - 9/25 - Columbus
COACH: Ron English
LAST YEAR: 0-12 (0-8)
OFFENSE: Single Back/3-Wide
DEFENSE: 4-3 base
The Eagles will enter 2010 with two quarterbacks from Ohio fighting for the starting gig. Sophomore Alex Gillett started last year as a true freshman, while redshirt freshman Devontae Payne, once thought to be an OSU target, will battle for snaps. Both are dual threats that can use their arms and legs to attempt to win games, something EMU couldn't do even once last season. The other offensive "weapons" Ron English will employ include RB Dwayne Priest (654 yards/4.2 ypc in 2009), wide outs Kinsman Thomas and Tyrone Burke, and TE Ben Thayer (374 yards in '09). Overall this group needs tremendous improvement as they averaged only 16.4 points and 278.6 total yard per game in their winless 2009 campaign. On defense, the bright spot lies with safety Martavius Caldwell (105 tackles, 2 sacks in 2009). Caldwell gets very little help from linebackers Marcus English and Tim Fort, along with cornerback Arrington Hicks and Louisville transfer Latarrius Thomas at safety. This unit allowed 38.3 points and 426.9 yards per game last season and should provide the Buckeyes with a field day right before the Big Ten season begins.
Illinois Fighting Illini - 10/2 - Champaign
COACH: Ron Zook
LAST YEAR: 3-9 (2-6)
OFFENSE: Power-I/Pro Set
DEFENSE: 3-4 flex
The Juice Williams years are finally over and it will be Nathan Scheelhaase time for the Illini. Some pressure will be taken off Scheelhaase by running backs Mikel LeShoure and Jason Ford who combined for over 1,300 yards on the ground in 2009. The running game will be needed dearly after the loss of Rejus Benn to the NFL, as the returning receivers include AJ Jenkins, the disappointing Jarred Fayson, and converted quarterback Eddie McGee. The offensive line isn't bad and should help uphold the 200.4 yards per game the Illini averaged last year, best for 17th in the country. This group has a lot of growing up to do fast and could face some tough games against Missouri, Southern Illinois, and Northern Illinois in the first three weeks before the take on Ohio State. Illinois' defense is going to be the bright spot of the team and features a number of solid players. The defense takes on a new look from it's traditional 4-3 this year and will include 3 linemen, 3 linebackers, 4 defensive backs, and a Bandit (Michael Buchanan), who is like Ohio State's LEO, but more of a linebacker than a defensive end, giving the Illini a 3-4 flex look. Corey Liuget anchors that defensive line and is an absoulte stud, while Martez Wilson is finally healthy and equally impressive at linebacker. Ian Thomas is another solid contributor at linebacker, while CB Terry Hawthorne has been making waves in just his second season in Champaign. This is another rebuilding year for Illinois and unfortunately for Ron Zook, that will not be enough. Illinois is likely to miss a bowl game once again unless the offense somehow finds its groove sooner than we all expect it too.
Indiana Hoosiers - 10/9 - Columbus
COACH: Bill Lynch
LAST YEAR: 4-8 (1-7)
OFFENSE: Spread
DEFENSE: 3-4 and 4-3 bases
Bill Lynch is doing his best to continue what Terry Hoeppner started, but his efforts have just not paid off thus far for the Hoosiers. He brings back an experienced quarterback in Ben Chappell, who showed flashes of brilliance throughout many contests in 2009. The key for Chappell will be finding consistency as the senior completed 63% of his passes and tossed 17 touchdowns, but also had 15 balls picked off. He should be comfortable as 8 starters return on offense, including RB Darius Willis and receivers Tandon Doss, Damarlo Belcher, and Terrance Turner. All the aforementioned are poised for big years, even as the offensive line loses it's top two players in Roger Saffold and Pete Saxton. Returning up front are C Will Matte, RT James Brewer, and LG Justin Pagan, but it will be interesting to see how LT Andrew McDonald and RG Cody Faulkner fit into the blocking schemes. On defense, DT Larry Black and LB Tyler Replogle are the heart and soul of a unit that was the weakness of the team last year. The defense allowed almost 30 points per game, over 400 yards a contest, and an opponent passer efficiency of 138.39 in 2009, numbers that will not get you to a bowl. DT Adam Replogle and CB Adrian Burks are the only two other starters returning on the defense and it will be up to seven newcomers to pull it together. I think Indiana can surprise some people and sneak their way into a bowl this season. Non-conference games against Towson, Arkansas State, Western Kentucky, and Akron are favorable and home games against Michigan, Northwestern, and Iowa should help too. I can see IU sweeping their non-conference slate, taking one of those home games (see: Michigan), and clipping Illinois on the road to go 6-6 and head to Arizona for the Insight Bowl. Hey, anything is possible.
Wisconsin Badgers - 10/16 - Madison
COACH: Bret Bielema
LAST YEAR: 10-3 (5-3)
OFFENSE: Power-I/Pro-Set
DEFENSE: 4-3 base
Wisconsin ended 2009 on a very positive note after dismantling Miami in a bowl win and is hoping to take the momentum into 2010 with 10 returning starters. QB Scott Tolzien has a year of experience under his belt and has 2009 Big Ten Offense Player of the Year John Clay returning to help the offense move the ball on the ground. Nick Toon, David Gilreath, and Isaac Anderson make for a very good group of pass catchers, while TE Lance Kendricks is expected to be the next in line at the position to make the jump from Madison to the NFL. The offensive line is possibly the best in the nation and the Buckeyes' toughest game may just be October 16th at night in Camp Randall Stadium. Defense is where Bucky could get burned, although this unit is very solid with six returning starters. The secondary is the strength with safeties Jay Valai and Aaron Henry with solid game experience and corners Niles Brinkley and Devin Smith both returning starters. Culmer St. Jean and Chris Borland return as starting linebackers, but getting them free to roam around could serve to be an issue. The defensive line loses it's best player in O'Brien Schofield and JJ Watt, Patrick Butrym, Jordan Kohout, and Louis Nzegwu are anything but proven. The Badgers could be the Buckeyes' biggest challenge on the road to a sixth straight conference title and the game in Madison could very well decide the conference. Barring injury, I expect this team to be very good and a BCS birth is not out of the question.
Purdue Boilermakers - 10/23 - Columbus
COACH: Danny Hope
LAST YEAR: 5-7 (4-4)
OFFENSE: Spread
DEFENSE: 4-3 base
Purdue Harbor wasn't just an illusion, as Purdue showed in the second half of 2009 that they were a team on the rise. Miami transfer Robert Marve is added this year behind center to further enforce that statement and has Purdue fans excited about what Danny Hope and the staff can bring them in 2010. RB Ralph Bolden suffered a season-ending injury in the spring, so it will be up to Al-Terek McBurse to carry the load on the ground, but Purdue will rely on a heavy passing-attack in their spread offense anyway. Keith Smith (2009 stats: 91-1,100-6) and Cortez Smith are a great 1-2 tandem at receiver, while Kyle Adams provides a solid target at tight end as well. The offensive line should hold solid, with RG Ken Plue and LT Dennis Kelly being All-Big Ten candidates. The defense returns some big time playmakers in ends Ryan Kerrigan and Gerald Gooden, DT Kawann Short, and LB Jason Werner. The front seven shouldn't be a problem with these four doing their thing, but the secondary returns no starters, a potential problem against teams that can throw. Purdue should once again be on the fringe in terms of being a bowl team and their out of conference schedule features Notre Dame on the road and Western Illinois, Ball State, and Toledo at home. I can see them winning three of those four and having a good shot at winning home conference games against Minnesota, Michigan, and Indiana, and road games at Illinois and Michigan State (although that's a longer shot). This team very well could be 7-5 as they are sure to pick up steam when Marve is completely comfortable with the offense in game situations
Minnesota Golden Gophers - 10/30 - Minneapolis
COACH: Tim Brewster
LAST YEAR: 6-7 (3-5)
OFFENSE: Pro-Spread
DEFENSE: 4-3 base
If there is a coach besides the Zooker or Rich Rod that is on the hot seat, it is Tim Brewster. Brew's transition from the NFL has not been so smooth, despite having decent talent on the roster the last few years. QB Adam Weber is the key to this team, while his back-up MarQueis Gray should see some time in Wildcat and other formations. Duane Bennett and DeLeon Eskridge provide a solid running attack and will need to improve on last year's production which yielded only 99.5 rushing yards for the team per game. The team's best receiver, Eric Decker, has moved on, and now it is up to Troy Stoudemire, Da'Jon McKnight, and Brandon Green to step up as receiving threats. The offensive line could be a pleasant surprise for Gopher fans this year, as all five starters return, providing great leadership up front. Defense is going to be a problem for the Gophers, as only two full-time starters return from last year's group. Those returnees are safeties Kyle Theret and Kim Royston, while Brewster will try to shuffle around the rest of the players to fill out 11 spots. DT Brandon Kirksey and DT Jewhan Edwards have shown good things thus far, but the rest of the expected starters are truly a question mark. Non-conference games against MTSU, South Dakota, and Northern Illinois should help Minnesota get three easy wins, but they face USC at home on September 18. We will know more about the Gophers after that game, but they face an uphill battle in the conference. They do get OSU, Penn State, Iowa, and Northwestern at home, but have to go to Wisconsin, MSU, and Purdue, games they likely will not win. I see them going 2-6 in the conference and 3-1 in non-conference games for a 5-7 overall record and no bowl.
Penn State Nittany Lions - 11/13 - Columbus
COACH: Joe Paterno
LAST YEAR: 11-2 (6-2)
OFFENSE: Single Back/3-Wide
DEFENSE: 4-3 base
Uncertainty is a them amongst the Penn State Nittany Lions this season. People are uncertain about Joe Paterno's health, uncertain about the future of the coaching staff, and most importantly uncertain about who the starting quarterback will be come opening day. Matt McGloin, Kevin Newsome, and Robert Bolden are in a three-way battle for the spot and it's anyone's guess right now who will win, although most expect Newsome to pull it out in the end. They will need to be sure of their decision soon, as they go down to Tuscaloosa to play the national champions in week two after a tune-up against Youngstown State on September 4th. The good thing PSU has going for them is that Evan Royster is back and the Heisman Trophy candidate seems ready to carry a heavier load in 2010. He will get some help from veteran back-up Stephfon Green and talatend freshman Silas Redd as well. If the Lions can actually find someone to pass the ball, a solid corps of receivers awaits in Graham Zug, Curtis Drake, and Derek Moye. Lou Eliades, Stefen Wisniewski, Doug Klopacz, DeOn'Tae Pannell, and Johnnie Troutman make up an always-stellar offensive line in Happy Valley and should provide protection for whoever is behind center, as well as pave lanes for those fine running backs. The defense takes a bit of a hit, as 7 starters departed from last year's team. DE Jack Crawford is the star of the unit, while DT Ollie Ogbu should help provide pressure on the defensive line. "Linebacker U" will see three new starters at the position and it will be interesting to see how the newcomers play in the spotlight. CB D'Anton Lynn and safeties Nick Sukay and Drew Astorino return in the secondary, while Stephon Morris will be a new face at the other corner back position. It will certainly be tough for 7 new starters to step right into a defense that allowed just 12.2 points and 274.5 yards per game last season. Things will be even more difficult with an inexperienced quarterback who will likely prevent the offense from controlling the ball as well as the 2009 team did (7th in the nation). I think Penn State can be a 10-win team, but they can also be a 7 or 8 win team, especially with trips to Alabama, Ohio State, and Iowa. It all depends on their quarterback and  the arm of Newsome, McGloin, or Bolden will take this team as far at it can go.
Iowa Hawkeyes - 11/20 - Iowa City
COACH: Kirk Ferentz
LAST YEAR: 11-2 (6-2)
OFFENSE: Power-I
DEFENSE: 4-3 base
Some feel Iowa will come back even stronger than the Orange Bowl Champion 2009 team, but others feel that the Hawkeyes walked a tight rope last year in too many games and that it will come back to bite them in 2010. I'm not sure what to expect out of this team, but one thing I do know is that they return a balanced six starters on offense and eight starters on defense. The offense all starts with Ricky Stanzi, who was known for his late-game heroics last year, but in Iowa City, also known for his early game blunders that put Iowa in a position to have to come back. The Stanzi-lead Iowa offense was not to impressive, ranking 86th in points, 89th in total yards, and 99th in rushing yards per game, while ranking just 83rd in passer efficiency. Stanzi has worked on his consistency this off-season though, and has plenty of weapons in the arsenal to use this year. Adam Robinson will be the go-to back to start the year, with Jewek Hampton serving as the back-up after Brandon Wegher has left the team. At receiver, Marvin McNutt, Derrell Johnson-Koulianos (DJK), and Kennan Davis are more than reliable, while Allen Reisner and CJ Fiedorowicz will hold their own at tight end filling in for Tony Moeaki. The offensive line loses three starters, but joining returners Julian Vandervelde and Riley Reiff are solid reserves form 2009 in Adam Gettis, Markus Zusevics, Josh Koeppel and coach's son, James Ferentz. I don't expect too much of a drop off from a unit that was the conference's best last season. Defense is a whole other beast and it all starts with #94. Adrian Clayborn is an absolute stud and if he was the only talent on this d-line, teams would have their hands full enough. Unfortunately for opposing coaches, tackles Christian Ballard and Karl Klug, and DE Broderick Binns all return, potentially giving the Hawkeyes best fron four in both the conference and the country. Linebacker is a little weak, with Jeremiha Hunter being the only returning starter, but the secondary is rock solid with Tyler Sash and Brett Greenwood at safety, and Shaun Prater and Micah Hyde at cornerback. Iowa allowed just 15.4 points and 276.5 yards per game last season and the scary part is, I think those numbers will improve in 2010. If it isn't Wisconsin, it is Iowa that stands the toughest challenge in the Buckeyes' way of another Big Ten title. The Hawkeyes get the Buckeyes, Badgers, Spartans, and Nittany Lions at home, setting up a very favorable conference schedule. If they can take of business in a non-conference game at Arizona, as well as key Big Ten road trips to Ann Arbor, Evanston, and Minneapolis, Iowa has as good a shot as anyone to claim a BCS birth once again and a possible MNC birth if they can beat the Buckeyes.
Michigan Wolverines - 11/27 - Columbus
COACH: Rich Rodriguez
LAST YEAR: 5-7 (1-7)
OFFENSE: Spread
DEFENSE: 3-4
Oh Rich Rod, what would we do without you? It's pretty incredible that if Ohio State runs the table and Michigan wins 5 games, that OSU will have as many wins this year as Rodriguez had in his first three in Ann Arbor. Things could certainly be headed that way again in 2010, especially with the way the offense and defense appear to be shaking out coming out of camp. Yes, Tate earned his wings back, but that doesn't make him any closer to reclaiming the starting quarterback gig. Denard Robinson and Devin Gardner are both competing with the incumbent, and many Michigan fans believe that this is Robinson's job to lose. Apparently, "Shoelaces" has learned how to throw the ball this off-season, and if true, he could certainly be dangerous with his speed and a year under his belt of learning how to play Division I college football. I might puke when I say this, but I actually like the Michigan running back collection of Vincent Smith, Stephen Hopkins, Mike Cox, and Fitzgerald Touissant, but the group would have been even better had Michael Shaw supposedly not gone and made himself ineligible. At receiver UM is decently deep with Darryl Stonum, Junior Hemingway, Roy Roundtree, and Martavious Odoms leading the way. Ohio product Kevin Koger starts at tight end, with David Molk, Patrick Omameh, Stephen Schilling, Taylor Lewan, and Mark Huyge actually composing a functional offensive line. The defensive front should be solid with Ryan Van Bergen, Will Campbell, and Mike Martin holding it down. All four linebackers, Craig Roh, Obi Ezeh, Jonas Mouton, and Thomas Gordon, return this season and should be a bit more experienced in the Michigan defensive scheme. Secondary is where the Wolverines will get burned as early departures to the NFL, dismissals from the team, transfers, and injuries have plagued this unit. The safeties will likely be Jordan Kovacs and Cameron Gordon, while the corner positions are up for grabs at this point. It seems true frosh Cullen Christian and sophomore JT Floyd are the frontrunners, but any of the young players in the mix could see time this year. Last year's team allowed opposing quarterbacks to throw for a 131.76 efficiency. With this year's secondary, look for that number to go up. Looking at the Michigan schedule, I honestly see a (very) high ceiling of 7-5, and I can see the team go as bad as 3-9 or 4-8. I think Rich Rodriguez needs to make a bowl game to save his job and there are a number of games that could go either way, including UConn, at Notre Dame, at IU, Michigan State, at PSU, Illinois, and at Purdue. I assume they will lose against Iowa, Wisco, and Ohio State, and beat UMass and BGSU, making four of those seven games must-wins. It's going to be an interesting ride for Michigan fans this season, but I'm already sensing some Jim Harbaugh in the cards for 2011.