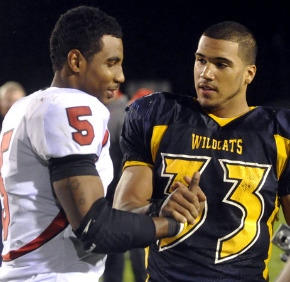 Recruiting is an odd game. Expectations are defied, fan bases feel betrayed, and grown men's careers are often effected by the decisions of 17 and 18 year old kids. Critics make radical calls for coaches to be fired and hired based on recruiting results and legacies are made based on how many four or five star recruits a staff can bring in each and every year.
All this recruiting talk brings us to a hot topic, the recruitment of Springfield linebacker, Trey DePriest. DePriest has narrowed down his college choices to the homestate Buckeyes and the defending national champions in Alabama, and will decide this coming Friday at 5PM. Common sense would seem to say recruiting is regional and DePriest would be Columbus-bound, but that's not neccessarily the case. Growing up as a Michigan fan, a feeling of love at first sight with Nick Saban (who can sell a ketchup popsicle to a woman in a white dress), and a coach with some reportedly questionable intentions in Springfield assistant John Cupps has DePriest thinking about rolling with the Tide, a decision that would shatter the hearts of Ohioans everywhere who follow the Buckeyes and recruiting.
It's not just DePriest's decision that would sting so bad. Losing the top linebacker in the state and possibly the country wouldn't hurt as much if the same thing didn't happen last recruiting season. The top linebacker and arguable top player in the 2010 recruiting class, Jordan Hicks of Lakota West, decided to spurn the Bucks in favor of the Texas Longhorns. Hicks, like DePriest, had a unique situation in which he did not grow up in Ohio, had ties to Texas, and his family was willing to move with him to wherever he chose to go to school. After Hicks' decision, many fans were irate that Jim Tressel once again "couldn't close" or "couldn't recruit the Cincinnati area", rather than attributing the decision to external factors JT and the staff couldn't control.
If DePriest picks Alabama this year, those same critics are sure to come out again, but if you are one of those people calling out The Vest, try not to act so quickly. Keep in mind that these are two very unique situations and so rarely does Tressel miss on the top in-state prospects. Remember that this class will be among the top five in the nation when it's all said and done. Remember four of the top five prospects in the state, Braxton Miller, Kenny Hayes, Steve Miller, and Michael Bennett, are already in the bag, with it looking more and more like fellow top 10 prospects Aundrey Walker and Doran Grant are on the way as well. Remember there are still great prospects like Andre Sturdivant, Ejuan Price, Connor Crowell, Michael Caputo, and Kent Turene on the board at linebacker. Finally, remember that missing on Trey DePriest will not seal the fate of this Buckeye team in the near or distant future.
The Ohio State Buckeyes are the new "Linebacker U". This team is stacked with depth at the position and will be for years to come. After Brian Rolle and Ross Homan leave this year, you have Etienne Sabino, Andrew Sweat, and Dorian Bell. Behind them you have Storm Klein, Jordan Whiting, and Jonathan Newsome. Last year's recruiting class brings us David Durham and Scott McVey. As mentioned, 2011 will bring at least one, if not two or more very good prospects at the position, and all of a sudden the Bucks are once again 10 deep at linebacker, all the while being coached by one of the best at his trade in college football, Luke Fickell.
Whatever Trey DePriest decides on Friday, the Buckeyes will be OK. Of course I among many of you all want him in Scarlet and Gray, but remember, this is a program that puts linebackers into the league regularly and is even producing an entire NFL linebacking corps in St. Louis this year. The Ohio State defense continually ranks among the best in the nation and the linebackers are a big reason why. There's a reason Jim Tressel has won five straight conference championships, six straight games against Michigan (and 8-1 overall), four BCS bowl games (five bowls overall), and holds a 94-21 record as head coach of The Ohio State University (229-78-2 overall). I certainly trust in this guy to lead the Buckeyes in the right direction and represent Buckeye Nation the right way on the recruiting trail, no matter what an 18 year old kid decides to do with his college choices, and I hope you do too.