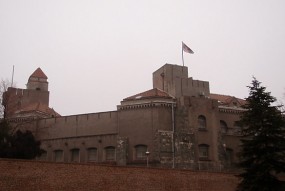 In lieu of the burning-building-slow-dance that was the NCAA v. USC finally reaching its denouement, the four letter organization has declared it open season on professional agents, agent representatives, amateur agents, and even agents' undoubtedly sexy parties. It's improbable you missed the shenanigans afoot in the past week as
North Carolina
and star defensive tackle Marvin Austin (they killed the man's
twitter
; lord knows how this would've affected Jermil Martin /F5), South Carolina tight end (and spellcheck super villain)
Weslye Saunders
, ex-Gators center
Maurkice Pouncey
, Alabama star defensive end
Marcell Dareus
, and Georgia Bulldog stand out wide receiver
A.J. Green
have all found themselves under heavy scrutiny for an assortment of alleged interactions with agents.
"Agent Orange" (as I'm nicknaming it; Agentgate sounds like a Jason Statham flick) entered full blown nuke-the-fridge territory when Alabama coach Nick Saban opined Wednesday "I hate to say this, but how are [agents] any better than a pimp?" at the first day of SEC Media Days. The sheer hypocrisy of the sport's most notorious over recruiter (in a market where the labor is ill compensated at best no less) and the conflict of interest of he being the coach of a player likely to miss time as a result of such an incident aside, the issue is a legitimate one. While it would be fun to pretend these sorts of illegal interactions are humorously isolated to our southern brethren exclusively, the issue remains likely to have some impact on the Big Ten a whole lot sooner rather than later.
Not exempt from having an opinion on the matter, Ohio State head coach Jim Tressel shared with CBS Sports' Dennis Dodds the kind of things the school has done to help keep unwanted distractions out of the practice environment:
Jim Tressel and his Buckeyes now literally practice behind iron gates at the Woody Hayes Football Complex. The coach calls it a "fortress" built to keep out sleazy agents and what calls "EBay people", memorabilia "collectors" who sell players' autographs on the Internet. Tressel sat in his office across a table from Pryor Tuesday remembering his program's last Heisman winner. Troy Smith was nicked by the NCAA a few years ago for taking $500 from a booster. "[Agents] are almost to the point that, 'What's the use of being a reputable guy because there are so many of these negatives?' Tressel said.
Pryor goes on to call the loss of two years of post season football about to be faced by Matt Barkley "a speechless experience."
Having endured the Smith situation and the difficulties undergone by woebegone tailback Maurice Clarett, Ohio State likely finds themselves as a whole in a more equipped than most position to deal with these sorts of potential illicit agent interactions. Though as Florida coach Urban Meyer simply put the process of identifying potential agents' representatives at open practice Wednesday evening, "you can't."
Pending state government and/or NFL intervention, given the improbability of players being compensated/subsidized any time soon, these sorts of problems will unfortunately linger.
---
In Ohio Stadium news, OHSAA reached a compromise Wednesday morning to allow both Stark County and the city of Columbus to have their hand at hosting an Ohio state high school football championship:
Stark County, which already is under contract to host the six championship games this year and next, was awarded the 2012 and 2013 championships, which will be played in Fawcett Stadium in Canton and Paul Brown Tiger Stadium in Massillon. Columbus was awarded the 2014 and 2015 championships, to be played in Ohio Stadium.
Those lobbying for a return to a Horseshoe based state finals gets their wish, albeit on a split custody basis. While many of the highest profile recruits have long seen the Horseshoe up close and personal well before their final go at it in high school, having the chance the expose budding younger stars as well as late bloomers and procrastinators to the allure of the 'Shoe can only be seen as a recruiting bonus, even if but a slight one.
---
Because we're 43 42 days away from all that is good in this world, it's time for some concentrated, partisan awesome. Sure you may have seen it before, but that doesn't make it any less spectacular: