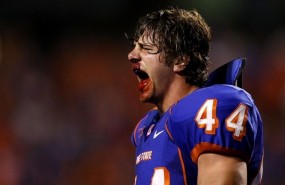 Dr. Saturday hit the nail on the head recently when it comes to Boise State football: no matter what the Broncos do, every game against a BCS opponent remains a "chance to prove themselves on the national stage". More often than not, the Broncos win that game, but the song remains the same the very next time they go toe-to-toe with one of the "big boys". Despite wins in back-to-back years over a rising Oregon program, an all-timer of a Fiesta Bowl win over Oklahoma, and another BCS win this past season, the Broncos still have their doubters.
In hopes of remedying the nagging "weak conference" catcalls, the Broncos have joined the rising Mountain West Conference, but do not play a MWC schedule until 2011. For now, the Broncos remain in the WAC; a conference with a reputation as a doormat league. Said reputation is rather well-earned, as they have gone 1-47 against the Broncos since 2006. It's not pretty. So, in an effort to garner more national recognition, and, hopefully, enough early votes for an outside shot at a title game appearance , the Broncos have beefed up their schedule with the likes of Virginia Tech and Oregon State (who missed the Rose Bowl by a hair last year, as you'll likely recall). But will it be enough to make the Broncos Glendale-bound to play our Buckeyes? If they leave the east coast with a win on opening weekend, an undefeated season, at the very least, seems all but assured.
Offense
Those that have not followed Boise much lately may remember a bruising ground game not unlike the one favored by our Buckeyes, spearheaded by Ian Johnson. You know, the guy who proposed. That offense is a thing of the past. With the arrival of Kellen Moore, the Broncos have opened up the offense, going from the 6th-ranked rushing attack in 2006 to the 13th-ranked passing attack in 2008. Boise is now a fairly wide-open offense, with experienced receivers in Titus Young and Austin Pettis. Jeremy Avery is a solid option at running back, but not spectacular. These guys should tear up the WAC. Virginia Tech, however, might be a problem.
Defense
Here's the part where we all point and laugh at Boise State's finesse style of play, what with their high-falootin' offense, no-defense antics. Wait, what? You're telling me they've finished in the top-25 in total D for four years in a row?
It's true, though: while the offense is one of the more dangerous ones in the country, the Broncos have kept things respectable on the other side of the ball. Make all the WAC jokes you want; that's an impressive streak for a team that supposedly picks up the everyone else's recruiting left-overs.  Boise certainly has established some form of consistency on this side of the ball, and 9 of their top 10 tacklers return to what was a top-15 unit in the upcoming season.
How do they match up with the Buckeyes?
About as well as any BCS team returning 21 starters would. This is a veteran team, with the capacity to hit the Buckeyes where they're most questionable: in the secondary. The silver lining here is that Boise State, much like Oregon, has a few defensive skeletons in their closet. While the Oregon game in 2009 remains one of the most impressive defensive displays this blogger has seen in quite some time, the Broncos have struggled to put away teams like Nevada, who boast a mobile quarterback and ample running back depth. It's doubtful that the Buckeyes would run all over the Broncos, but a winning game plan would probably be built on the back of a solid outing from Pryor, Herron and Saine.
The Schedule
| Date | Opponent |
| --- | --- |
| September 6th | Virginia Tech |
| September 18th | @ Wyoming |
| September 25th | Oregon State |
| October 2nd | @ New Mexico State |
| October 9th | Toledo |
| October 16th | @ San Jose State |
| October 26th | Louisiana Tech |
| November 6th | Hawaii |
| November 12th | @ Idaho |
| November 19th | Fresno State |
| November 26th | @ Nevada |
| December 4th | Utah State |
Front-and-back-heavy, with soft gooey WAC goodness in the middle. The "neutral site" game against the Hokies at Redskins Stadium is really a de facto road game, being in D.C. and all, but after that, it certainly looks like smooth sailing. Oregon State and the Rodgers Brothers will be difficult but manageable at home, where Boise still hasn't lost since George W. Bush was in his first term. Fresno State is a minor concern, but it's also at home. Things don't really get interesting after the opening month until the trip to Reno to deal with Nevada. Nevada never fields a defense, so that won't be an issue; but Colin Kaepernick will be the second Pryor-esque quarterback Boise will see this season, and they've had trouble with him in the past. If Boise limits Tyrod Taylor, how they handle Kaepernick will be very telling how they plan on dealing with everything Pryor brings to the table.
Can it happen?
All that has to happen is for Ohio State to go undefeated, and for every other BCS conference team to suffer a loss. Then, that has to be piled on top of a lop-sided victory of Frank Beamer's Virginia Tech team, a title contender in their own right. No pressure, guys.
Why am I excited?
Because Ohio State playing Boise State in the title game would be a clash of two of college football's most dominant entities in the last decade; while the ESPN storylines would be about how one or the other would get "exposed", I would expect nothing less than an instant classic.
Why am I not enthused?
If you want a picture of the future, imagine a boot stamping on a human face - forever.
That's a quote from the end of the novel 1984 (I went to high school too, guys!), and while I'd love to be the boot doing the stamping, a title game victory over Boise State would represent the end of an era. So-called "mid-majors" would not be allowed with 200 miles of the title game until the Bowl Championship Series is dismantled. Like them or not, the Broncos have been one of the most interesting annual storylines in college football for quite a while now, and I personally don't want them to go away. If the Buckeyes stumble somewhere along the way, I'll be rooting for Boise - as I did last year and the year before that and so on - to pull off a college football junta in Glendale.