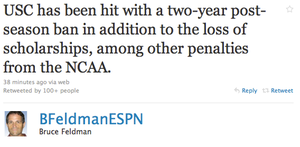 Capping off the craziest day in college football in, well, forever, ESPN's Bruce Feldman is reporting (via Twitter, naturally) that the Trojans will be hit with a two-year bowl ban, the loss of scholarships and other mean things when the NCAA announces penalties against the school tomorrow.
Yes, there have already been a lot of erroneous reports concerning USC's destiny, but Feldman has a pretty solid reputation and a 12-hour leak on the verdict is not unthinkable.
We can't help but think of poor Seantrel Henderson and how will spend the next two Januarys. As for you, is the reported punishment too light, too hard, or just the right amount of punishment for a program that had lost control of two teams?
UPDATE (12:26AM): The LA Times is reporting the Trojans will lose more than 20 scholarships in football alone. Wowza!
UPDATE (1:16AM): The Bylaw Blog points out that it's open season on USC juniors and seniors.
UPDATE (3:02PM): Looks like it's 30 scholarships over three years (10/per). Full NCAA report here (PDF).
UPDATE (4:37PM): USC has turned to the former director of the FBI to keep players away from agents. No, really.