The battle in the trenches is often a key element to determining which team wins or loses a game. Last week we took a look at the offensive side of that battle, ranking
the Big Ten's offensive line units
. This week, we will turn the line around and gather some insight into the conference's best defensive line units. While we chose to break the o-line groups into three tiers, we will be ranking the units 1-11, starting from the bottom this week. While some of the best defensive ends and tackles in the conference have graduated or moved on to the NFL (see: Corey Wootton, Brandon Graham, Thaddeus Gibson, etc.), there are many solid defensive linemen in the conference coming back for 2010, as well as the usual group who will emerge as the next budding stars for their respective teams.
11. Northwestern
The aforementioned Wootton was the heart and sole of the Wildcats' defense last season, and while he stays local for advice with the Chicago Bears, I'm afraid he can't help NU on the field. Northwestern has a solid group of linebackers, but one of the weaknesses coming into the year is getting to the quarterback, a problem that can be attributed to the defensive line. At defensive end, Kevin Watt and Vince Browne will try to change that trend, while returning starter Corbin Bryant and newcomer Jack DiNardo try to plug up the middle at tackle. Quentin Williams, Davon Custis, and Anthony Battle are decent back-ups at end, while Brian Arnfelt and Niko Mafuli provide little experience to help in at tackle. Incoming freshmen include Chance Carter and Will Hampton, both of whom could see playing time in year one based on the not-so-talented group playing in front of them.
10. Minnesota
The Gophers' defensive line may not be full of names you know, returning no starters to the 2010 line. Tim Brewster's been getting after it recruiting-wise the last couple of years, and having a reloading as opposed to rebuilding year will be critical, especially in a conference where stuffing the run is extremely important to team success. At end the starters are likely to be Anthony Jacobs and Brandon Kirksey (though he could also see time at DT) with the only thing close to a surefire bet at tackle being Jewhan Edwards. The group doesn't have much in the area of game stats, but has some experience and could prove to be a not so pleasant surprise for the rest of the conference when they take on Minnesota.
9. Michigan State
For a team that has been making a rise towards the top half of the conference ever since Mark Dantonio's arrival, the 2010 defensive line is kind of disappointing on paper. Dantonio is sure to have this group playing far above their potential come September, but for now they remain towards the bottom of the Big Ten rankings. Starting at defensive end are Denzel Drone and Tyler Hoover, and backing them up are Todd Anderson, Corey Freeman, RJ Kelly, and Jonathan Strayhom. Drone redshirted as a freshman last season, but the staff has liked what they have seen out of him this spring, while Hoover notched 13 tackles and a half of a sack, while playing part-time in all 13 games. At tackle the inexperience continues for Sparty, as they start Kevin Pickelman and Blake Treadwell. The starting duo combined for just 31 tackles and 2 sacks last season and behind them is even more inexperience with Micajah McReynolds, Dan France, Doug Curtis, and Blake Pacheco. In addition, Anthony White comes in as a junior college transfer and is someone who could compete for rotational minutes right away. Incoming freshmen that could have an impact are Marcus Rush and Taylor Calero, but they are more likely to redshirt than not.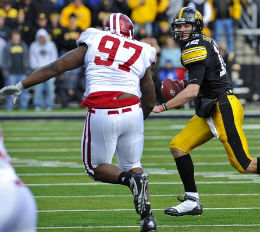 8. Indiana
Indiana loses it's two best defensive linemen in Jammie Kirlew and Greg Middleton, leaving starters Darius Johnson and Kevin Bush with big shoes to fill at defensive end. If those two can't get the job done, Terrance Thomas, Deonte Mack, or Fred Jones will have to step up. So far Bill Lynch has liked what he's seen out of all five of the players contending for the two spots, but it seems Johnson and Bush are his guys. At tackle the Hoosiers are very strong at starter with Larry Black and Adam Replogle returning. Black is a veteran who knows how to play the game right and put up 29 tackles (7.5 for loss) and 1.5 sacks in 2009. Replogle, who had 32 tackles (5 for loss) and 4 sacks last year, is young and some say he has great NFL potential. Behind those two are Nicholas Sliger and Mick Mentzer, both who played in all 12 Indiana games last season and provide solid depth at the tackle position. Incoming freshmen that could have an impact include Harrison Scott and Pete Bachman, with Scott being the one more likely to see the field in 2010.
7. Wisconsin
A unit that was so strong last season comes in as a bit of a question mark in 2010. JJ Watt and Louis Nzegwu are a physically talented duo, but it is unknown if they can be consistently solid as starters week in and week out throughout the season. Watt had a very good season last year, gathering 44 tackles (15.5 for loss) and 4.5 sacks, while Nzegwu had 10 tackles (3 for loss) and 3.5 sacks in just 10 games. Backing them up are David Gilbert and Tyler Dippel. At tackle the Badgers will go with Patrick Butrym (24 tackles, 0.5 sacks in 2009) and Jordan Kohout, who seems to have won the open job for now after a solid spring. Kohout redshirted last year and will fight for his job throughout fall camp with back-ups Eriks Briedis and Ethan Hemer, as well as highly touted incoming freshman Beau Allen. Freshmen ends that could have an impact are Bryce Gilbert and Konrad Zagzebski.
6. Illinois
Illinois has struggled to find consistency on either side of the ball since making the Rose Bowl in the 2007 season, but one area that has continued to be solid for Ron Zook is the defensive line. Starring in the middle is Corey Liuget, who is a big time NFL prospect and tallied 36 tackles (8 for loss) and 2.5 sacks in 2009. Joining him as the other starter at tackle is Akeem Spence who coaches are high on as a redshirt freshman. Backing up is Darryle Ballew, Glenn Foster, and Lendell Buckner, all who could compete with Spence throughout the season for the starting gig next to Liuget. At end, Clay Nurse returns as an honorable mention All-Big Ten member. Nurse had a very good season in 2009 with 31 tackles (10.5 for loss), 5.5 sacks, and 2 forced fumbles. He will play the true end position, while the recently moved Justin Staples and Whitney Mercilus will back him up. Mike Buchanan will play the Bandit position, which is added to the new look Illini defense for 2010. The hybrid DE/LB spot will be occupied by the sophomore who saw action in 10 games last season and he will be pushed for playing time by Nate Palmer, who starred on special teams as a true freshman last year as well. One newcomer that could have an impact is defensive end Houston Bates who chose Illinois over LSU and Colorado this past winter.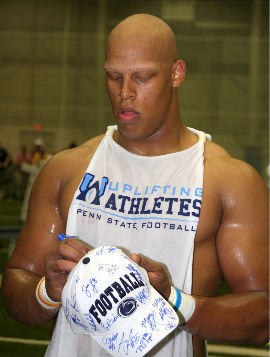 5. Penn State
(Special thanks to Linebacker U for providing some insight)
The defensive line is always a strength for the Nittany Lions and while they start off fifth in this pre-season ranking, they could move up to the top three at season's end. Jack Crawford is a rising stud at one defensive end spot, while Eric Latimore will handle the other side of the line. Their reserves at the position include Kevion Katham, Sean Stanley, and Pete Massaro. At tackle the starters are projected to be Ollie Ogbu and Devon Still, with Brandon Ware and James Terry providing quality depth. Incoming freshmen Evan Hailes, Kyle Baublitz, DaQuan Jones, and CJ Olaniyan have a very good opportunity to crack the two-deep or at least see some meaningful snaps, leaving the future bright along the defensive line in Happy Valley.
4. Michigan (Special thanks to MGoBlog for providing some insight)
Michigan is finally turning over to Rich Rod's preferred 3-3-5 defense and has a quality front to anchor their unit this upcoming season. The starters are composed of Ryan Van Bergen, Mike Martin, and William Campbell. Van Bergen is expected to have a break out season, Martin has always been a solid contributor the the UM defense, and Campbell was a highly regarded lineman out of high school that seems to have finally gotten it this spring. Backing them up will be Anthony Lalota, Greg Banks, Adam Patterson, and Renaldo Segesse. Incoming freshmen Jibreel Black and Terry Talbott, both from Ohio, are expected to make an impact as well. They key to the Michigan defensive line will be adjusting to their roles in the 3-3-5 defense, but after playing mostly in the 3-4 the past few years this shouldn't be a big problem for a group that I expect to be a shining spot for the defense.
3. Purdue
Buckeye fans still have nightmares of this unit ripping out our hearts last October and the bad news is that they're back for more. Ryan Kerrigan had 66 tackles and 12 sacks in 2009 and bypassed a chance to leave early for the NFL to come back for his redshirt senior season in 2010. He is joined as a starter at defensive end by another returnee in Gerald Gooden. Gooden isn't too shabby himself and totaled 37 tackles (8 for loss) and 4.5 sacks last year. The bookends of the line are helped out by Kawann Short and Adam Brockman (tentatively) who will start at defensive tackle. Short had 48 tackles and 2 interceptions last year, while Brockman is a new starter, replacing the departed Mike Neal. Providing depth at defensive end is Eric Mebane, Robert Maci, and Justin Kitchens, while the back-ups at tackle are Nick Mondek, LaSalle Cooks, and Brad Neimeier. Mondek played in 11 games last year and could challenge Brockman at defensive tackle all the way throughout the season. Incoming freshmen that could also contribute at tackle include Bruce Gaston and Josh Davis, while Rashad Frazier may be able to help out at end from the get-go.
2. Iowa
One thing everyone knows about Iowa is that starting end Adrian Clayborn is the player your line will be focusing on when playing the Hawkeyes. What they don't know is that your line may also have their hands full with the other end in Broderick Binns and tackles Christian Ballard and Karl Klug. The four starters combined for 252 tackles and 27 sacks last season, leaving opposing quarterbacks having nightmares about the black and gold front unit. Depth is not short in Iowa City either, as Lebron Daniel and Dominic Alvis are second at end and Mike Daniels and Steve Bigach back-up at tackle. Incoming freshmen that could have an impact include Carl Davis, Mike Hardy, and Anthony Ferguson, and knowing Kirk Ferentz, if they prove to be good enough in August, they will play when the season starts. Overall this unit is extremely talented and will prove to be a tough match-up for anyone, especially the Buckeyes when they go to Kinnick Stadium at night in November.
1. Ohio State
Iowa's unit is strong, but no unit may be as deep and talented as Ohio State. Cameron "The Say Hey Kid" Heyward could be the best defensive end in the country when it's all said and done and his ability to move inside on passing downs will prove to be extremely valuable. Nathan Williams, the other starting end, was hampered a bit by injuries last year, but is back and ready to cause havoc in the backfield in 2010. Other players who will regularly contribute at end include Keith Wells, Solomon Thomas, and Melvin Fellows. Those three are extremely talented and it is likely at least one will see plenty of action on third downs when Heyward moves inside. At tackle the starters will be senior Dexter Larimore and freshman John Simon. Buckeye coaches are really excited about Simon and an anonymous source told me recently that he has lived in the weight room since day one and will be even more impressive this year than he was in 2009 when he was a consistent player in the tackle rotation as a true freshman. Backing up Simon and Larimore are Garrett Goebel, Adam Bellamy, and Evan Blankenship. Incoming freshmen that will have an impact include Darryl Baldwin, JT Moore, and Jonathan Hankins. Baldwin is more likely to redshirt, while Moore could surprise many people as someone who contributes early and Hankins, like Simon, is big and dominant enough where he could see time in the rotation immediately upon arriving in Columbus. Ohio State may have lost five players from their defensive line rotation last year, but bring back a group that is extremely talented and hungry to get a National Championship.