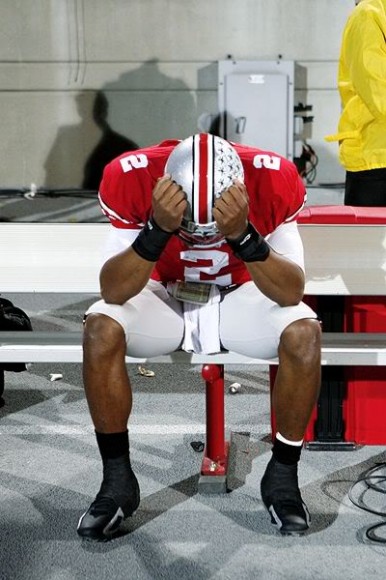 Inspired by this heaping pile of drivel, I give you the very type of article some sports writer 6 months from now will inevitably write. It may seem stupid now, but it will seem like absolute gospel to many of us then. Let this be your warning: be mindful when a 21-year old kid under duress inevitably behaves like one.
COLUMBUS/IOWA CITY/WHEREVER -- To Terrelle Pryor, this doesn't matter. That is the unyielding, undeniable truth. His meteoric rise to greatness has come too easily, and the Jeanette, PA. product still just doesn't get it -- it takes a relentless, unapologetic drive bordering on obsession to win Heisman trophies and BCS crystal trophies. He's posing with Todd McFarlane-styled figurine manufactured in his likeness while he was still just in high school. Sating his desire to skip the part where hard work is necessary by leading the media on and then playing them cold about whether or not he'll be back for his senior season.
Pryor's following in the footsteps of pre-BCS National Championship Game Troy Smith and pre-NFL draft Sam Bradford, when he should be modeling his path after pre-Rose Bowl Vince Young (pick either one). He wants to sweep the award banquets, re-don the infamous all white suit he wore to prom to collect on an NFL pay day that would situate he and his family for life. The reality of the situation is, he's a linear figure who's career arc is far from original, and if he doesn't start caring about what he should, he'll soon find it instead emulating an all-too familiar figure -- a guy named Clarett.
Worst of all, Pryor's pulling the wool over all of our eyes. Selling a story book ending without the narrative. Pitching a treatment without a screenplay. In sum, selling a hollow lie. He's lobbing for the 'A' on the Final Exam, without ever having so much as attending a single class.
Give it up. Get over yourself. Put down the iPhone 3GS, and do something for your legacy, Terrelle.
Win a game that matters.
Put your team in a position to beat one from the best -- the Southeastern Conference. Better you get the real monkey off the school who's brand you have tattooed on your bicep's back than the fictitious one you and the media took credit for when you beat an overrated and exposed Oregon team, a one-and-done BCS fluke at best.
And yet here was the so-called "chosen one", "LeBron-in-Cleats" after an entire season-on-the-brink came down to the maturation (or lack there of) of his game: "We'll be back. I'll be back. Go Bucks."
Who does he think he is? Some kid in a jersey drinking Natural Light in a Chittenden Ave. apartment having just lost a game of NCAA11 on the PS3 to his roommate? That's what drives quarterback hungry teams across the country nuts about this guy. Some day, he'll get how great he could've been, when he's not letting his team down with injuries like in the 2009 Fiesta Bowl, or sabotaging his team's chances like he did against Purdue last season. Because big time college football wins aren't measured like frat party conquests, no sir. They're measured like scars on a man coming back from war. [Kevin Newsome/Jacory Harris/whoever] didn't need to be the presumptive leading man, and yet he still walked out the stadium with an Academy Award for Best Performance.
Somewhere, the echos of this great game speak the legend of what he could've been. Somewhere, Terrelle Pryor still sits idly with his Beats by Dre headphones blasting ignoring the very kind of advice he should be receptive to.
Terrelle Pryor's in the two minute drill of life now, and these next few contests could be it for cementing his legend in the scarlet & gray. He's been walking onto field turfs like he was entitled for too long now, lobbying for immortality but not willing to make the ultimate sacrifice to make that a reality. The illusion lingers; it's all smoke and mirrors. This isn't about inflating rookie card values, autograph asking prices, or upping his Madden rating. This is the time of Tebow's promise, Vince Young's will, or Krenzel's savvy. Destiny's on the other line calling collect Terrelle -- do you accept charges?
R.I.P. St. John?
In what has to be pure nightmare fuel for the many who still remember fondly what a ruckus home court advantage used to be like, word's beginning to trickel out that University Trustees will make a decision in the not too distant future that will likely culminate in the tearing down of St. John Arena:
"The Arena and surrounding area have outlived their useful life, and the cost for renovating and repairing them would far exceed what they're worth," Ohio State Senior Vice President for Administration and Planning Jeff Kaplan said
Spoken like a man who's never been to a skull session or attended a basketball game in its heyday. My time on campus sadly came far too long beyond the peak of St. John relevance, but attending the make-shift NIT game against Cal in the building is an Ohio State experience I'll never forget. Would the net benefit of adding another residence hall or more A-Pass parking really outweigh the the collective good of leaving the local treasure intact?