2010 has always been designated as "the year," where expectations are even higher than they usually are and it's National Championship or bust (or get extremely angry and beat up on a Western Athletic Conference opponent in a BCS at-large game). Terrelle Pryor is now a Junior, the offense has retained virtually all of it's production from the previous year, and though a dominant defense has lost some key performers, it still returns many extremely talented and important players. But what Jim Tressel knows is that without leadership his units can fall apart, especially in big games, and the coming season promises to have a number of matchups where both the offense and defense will have to have a strong field leader to pull through. In 2009 the defensive captains were Kurt Coleman, Austin Spitler and the effervescent Doug Worthington. Now that they have moved on, that important role is up for grabs. So without further ado, here are the leading candidates to be a captain for the defense of the 2010 Ohio State football team:
ROSS HOMAN, LB, SENIOR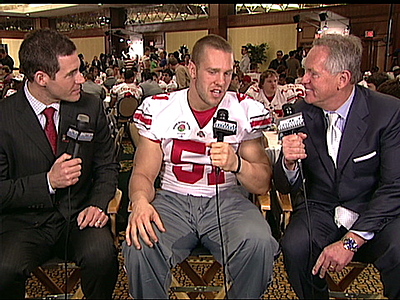 Campaign Bio:
A former high school LB/RB, Ross Homan started out his freshman year at Ohio State in 2006 as John Kerr's backup and played in every game. Unfortunately a torn tendon in his foot caused him to miss the entire 2007 season and he was eventually given a medical redshirt. In 2008 he became a full time starter which carried over into last season, where he emerged as perhaps one of the most underrated linebackers in the Big Ten, racking up 108 tackles and 5 interceptions to go along with some steadily terrific play. Was 2nd Team All-Big Ten last year and for the 2010 season he has made the Lott Award watch list.
Pros:
Understands the defensive scheme better than perhaps anyone, appealing to the liberal intelligentsia vote.
Has been around longer than most, and has a good rapport with the coaches and knows everybody on the team.
A consistent player who rarely makes big mistakes out on the field and always plays to his considerable ability. Definitely the kind of guy your grandma would be proud to watch call coin flips.
Con:
Not known to be the most vocal guy around.
BRIAN ROLLE, LB, SENIOR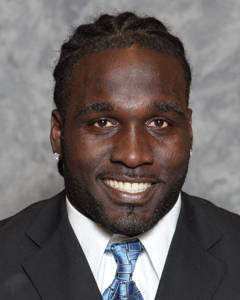 Campaign Bio:
At some point I will probably write an entry detailing the full story of Brian Rolle and lay out exactly why I think he is better than puppies and deep dish pizza combined but the short version is that Rolle is a second year starter at linebacker after spending his first two seasons as a special teams warrior. Last season he had 94 tackles and 7 tfl's in addition to generally being a holy terror and also
saving our bacon against Navy
. Listed at 5 foot 11 (which is football speak for "this dude is short"), he is extremely fast and does an excellent job at patrolling the middle of the field.
Pros:
Plays with maximum velocity at all times and will never, ever quit on a play.
Rolle is a beltway insider who has done extensive time with the scout team, special teams, and first string defense.
A natural leader and speaker who stands out in interviews. Imagine what this guy could do with a teleprompter.
Already comes with his own campaign song and Obama-esque stylized poster.
Con:
Can disappear from time to time during games, which may not sit well with his constituents.
CAMERON HEYWARD, DL, SENIOR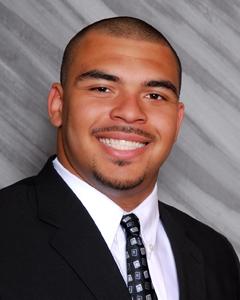 Campaign Bio:
Cam Heyward comes into the 2010 campaign with extremely lofty aspirations, having stated his desire to not just improve on his 6.5 sack, 46 tackle performance in 2009, but also become "the most dominant who ever played." That may sound like a nearly impossible goal, but if Heyward is able to have an entire season comprised of games like
he had against Penn State
and Wisconsin, he might come close. Cam has stated his desire to become the leader of this defense, and the coaches seem to be prepared to
give him even more opportunities
to cement that status. Heyward is also on the Lott award preseason watch list, and no one would be surprised to see him take home that award and more  at the end of the season before being drafted high in the first round of the NFL draft.
Pros:
If he hadn't already established himself as a leader on the DL, Heyward would have become one this season due to his extensive playing experience.
Is actively seeking out a leadership role, generally a quality Americans look for in their leaders. Unless you're named William Howard Taft.
More than any one player on the defense, Cam has the ability to take over a game single handedly and put the Buckeyes on his back.
Con:
Must be consistent throughout the season and not display the mental lapses he occasionally has had in the past.
These are the three players I feel are most likely to land a captain position, but there are definitely other deserving possibilities out there. Chimdi Chekwa will be the definite leader of a very young secondary, and will hopefully raise both his leadership skeels and overall game up to the levels we enjoyed with Malcolm Jenkins. Another possible option on the DL is the oft overlooked Dexter Larimore, who has overcome several injuries to be an invaluable cog in the defense. In any case, the person (or people) who become captain on defense will end up playing a very important role in the direction of how the defense runs on the field, and as a result this is something to keep an eye on.