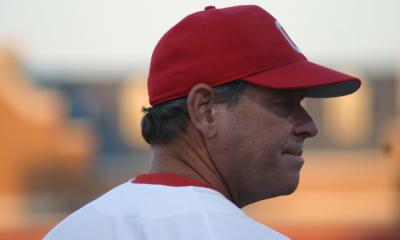 On the heels of a
disappointing 10-8
loss to #10 Louisville, word began making its way from Bill Davis Stadium on out that Ohio State's Bob Todd had announced to his players that this season would be his last. The Dispatch
confirmed
shortly there after that Coach Todd indeed will be retiring at season's end. Despite great success, a lack of recent baseball accolades and philosophical differences had lead to many following the program to sour on the Ohio State hall of famer. With rumors circulating that even some program benefactors had begun to question whether the 23-year veteran would ever get the Buckeyes beyond the ceiling of a Big Ten regular season or conference tournament, the situation may indeed be right for a change.
Immediately following a major coaching change in arguably Ohio State's other most marquee "non-money" sport, Ohio State athletic director Gene Smith will now have the unenviable task of making another key personnel decision in as many weeks. The most difficult task in this instance trying to convince a high profile up and coming assistant or a steward of a successful "high-major" program to take a chance professionally. The reality of the situation is, for the duration of that individual's time in Columbus, his team would be beginning the first 2+ months on the road exclusively. He'd also have to be willing to make a situation work where league play wouldn't exactly present the best depth of preparation for those special years where the team is outstanding enough to be looking at a potential post-season run.
As long and storied as Coach Todd's time in Columbus was, the fact of the matter remains that despite some 16 league regular and post-season championships to his name, no Ohio State team under his watch ever progressed to Omaha. Perhaps most notably (and painfully) close was the 2003 squad. Featuring Nick Swisher, Josh Newman, and Scott Lewis, Ohio State came within 2 home victories of advancing to Omaha for the first time in the Todd-era, only to ultimately lose two straight to (then) Southwest Missouri State 13-8 and 13-7. Most painfully the Bears scored 21 of their 26 runs on the Bucks in that super regional with two outs. Just one year prior Ohio State was eliminated by Notre Dame in the regional finals, though still would've had to make their way through a monster of a Florida State squad.
The last 2 seasons have also brought their own variety of frustrations. Finding themselves in Tallahassee, Ohio State seemingly opened the proverbial looking glass as dadaist absurdist baseball of the whackiest variety broke out. The Bucks yielded 24 runs in a 24-8 shellacking at the hands of the Georgia Bulldogs as S-E-C chants reigned from the bleachers, only to bounce back and eliminate the 'Dawgs 13-6 in a game that as odd as it sounds wasn't as close as the score indicated. The levees were reopened on queue in the looming regional final as Ohio State was eliminated 37-6 by Florida State. That's right; please don't make me type it again.
This season has brought its own fair share of headaches and head scratching. While the brilliant Chris Webb of The Buckeye Nine would probably be quick to argue much of this season's frustrations could be forecast, the matter of fact that the team entered the season with Top 25 marks in multiple polls would suggest, at minimum, that someone out there perceived this team capable of something greater than its obvious pitching limitations have bottle necked it. Then came the unthinkable extra innings loss to 24-31 Webber International, an NAIA club (yes, that's sub-D3). As if that wasn't enough, the Bucks followed that performance up by dropping a 9-0 contest to Division 2 Rollins College. The game summary link on OhioStateBuckeyes.com pulls up as such in Google Chrome, which is perhaps only fitting as the very idea of also produces a similar effect in my brain. This last weekend's series loss at Michigan, with the Buckeyes having entered the series in a dead heat for first in the league now staring firmly at third, turned many of those still holding out hope for a mostly underwhelming 2010 baseball campaign into full blown cynics.
While it would be fruitless for a non-hardcore collegiate baseball devotee like yours truly to throw names around with any kind of credence (Coastal Carolina's Gary Gilmore sure looks appealing with his club cracking the Top 10 and with little left to accomplish at his alma matter; just sayin'), expect another well respected assistant in the mold of new hockey front man Mark Osiecki to land the gig. A manager (or assistant to) with regional or conference ties would make sense in a lot of ways, though don't be surprised if the process plays out with the same deliberation the hockey search did.
Likely the best thing to walk away from the unexpected news with is that, at the very least, Coach Todd appears to be making the retirement call on his own terms. With the sort of career and time he's given to the University, it's only fair that the decision be his and his alone. While the vast majority of you can probably count on zero hands how many Ohio State baseball games you've gone to during the course of your time as Buckeye backers, I can't recommend enough taking in the Saturday, May 22nd regular season finale against Minnesota at Bill Davis Stadium. Besides potential Big Ten tournament seeding implications (and pending a full-on miracle, some sort of conference aspirations), there couldn't be a better time to see off a staple of Ohio State athletics for over 2 decades.