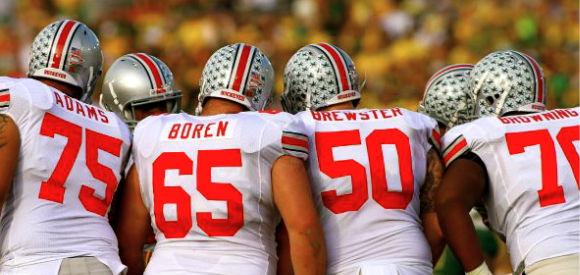 The big game flops the Buckeyes endured before their Rose Bowl victory this season left the offensive line and coach Jim Bollman to blame. Opposing defensive linemen of Florida, LSU, and even Purdue in their upset victory over OSU last year dominated the trenches, making the so-called "5-star" offensive linemen the Buckeyes were bringing in look like boys playing against men. Games are clearly won in the trenches and the offensive line is a very important part of winning those battles. The Big Ten is known as a running, power football conference, making the hogs up front even more valuable to the teams in the conference when compared to more spread and pass oriented teams that you see in the Big 12 or SEC. This year's crop of Big Ten offensive line units is up there with the best in terms of widespread talent throughout the league. This make it extremely hard to rank the units from top to bottom with a 1-11 rank. Instead of the tradition methods used for past segments of this series, we will rank the offensive line units in three tiers. Tier A will be the best of the bunch in the conference. Tier B will be a second group of teams that are solid, but just not on the elite level. Finally, Tier C will be the last group of units that can hold their own on any given day, but lack the experience, consistency, or talent of their counterparts across the conference.
Tier A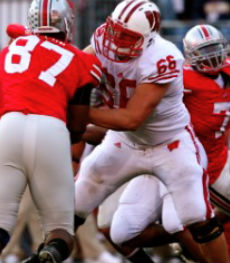 Wisconsin:
The Badgers nail the top spot down in the Big Ten and were one of the only clear cut teams you can rank above others in the conference. They return their entire starting unit for 2010 which includes star tackles Gabe Carimi and Josh Oglesby, guards Kevin Zeitler and Peter Konz, and center John Moffitt. Backing the star five up are Ricky Wagner, Travis Frederick, Jake Bscherer, Bill Nagy, and Jake Current. All ten of these players create an extremely deep unit that is elite in talent and full of experience. The Badgers should be able to pave the way up front for John Clay to once again claim the league's rushing title and possibly repeat as the Big Ten Offensive Player of the Year.
Ohio State:
The Buckeyes narrowly edge Penn State behind Wisconsin, as they bring back four starters of their own. Those starters are right tackle JB Shugarts and "The Killer Bs", in guards Bryant Browning and Justin Boren, along with center Mike Brewster. The left tackle spot is up for grabs, but it will most likely be occupied by either Andy Miller or Mike Adams, both of whom saw extensive minutes last year. The interior line could be the best not only in the conference, but in the country, and it will be up to the tackles to see if this unit can play to their sky-is-the-limit potential. Filling out the rest of the unit are back-up guards Jack Mewhort and Connor Smith, back-up centers Scott Sika and Corey Linsley, and back-up tackles Sam Longo, Marcus Hall, and freshman Andrew Norwell, in addition to the loser of the Miller/Adams battle. Hall could see significant minutes spelling Shugarts at right tackle, as he showed a great talent for pass blocking last season, while Mewhort has impressed many in the past and could contribute this year at right guard, his third position in two years (tackle and center previously). Is this the year Bollman's unit finally puts it together? Only time will tell, but one thing we do know is that the talent is there.
Penn State:
The offensive line has always been a strength for Penn State, but even with what was thought of to be an elite (within the conference) unit last season, they couldn't stop the top defensive linemen in the conference in Cameron Heyward and Adrian Clayborn. This year they lose star tackle Dennis Landolt, but DeOn'tae Pannell, Johnnie Troutman, Stefen Wisniewski, Lou Eliades, and Doug Klopacz are up to the challenge. The five projected starters provide a solid balance of talent and experience, giving whoever the new quarterback is a level of confidence, and Evan Royster plenty of holes to run through as he becomes "the guy" in Jay Paterno's offense this season. Providing depth are Quinn Barham, Mike Farrell, Chima Okoli, Nate Cadogan, Adam Gress, John Urschel, Eric Shrive, Mark Arcidiaoano, Matt Stankiewitch, and Ty Howle. While that is a long list, the Nittany Lions have also brough in some freshman to this unit in their class of 2010, most notably Thomas Ricketts and Miles Dieffenbach, both of whom can contribute immediately.
Iowa:
Iowa loses three one-time starters, including first round pick Bryan Bulaga, but this year's unit of Reilly Reiff, Markus Zusevics, Julian Vandervelde, Adam Gettis, and Josh Koeppel will more than hold their own. Kirk Ferentz always does an excellent job developing his offensive line and 2010 should prove to be no different, with Reiff and Vandervelde likely emerging as the next NFL-caliber talent to pave the way in Iowa City. Depth is there again this year as well with Kyle Haganman, Nolan MacMillan, Drew Clark, Corey Hundertmark, James Ferentz, and incoming freshmen Andrew Donnal, Donavan Johnson, and Brandon Scherff, providing a solid two-deep for the Hawkeyes. It should be interesting to see how this unit pulls together, but one thing going for them will be the comfort level in the rest of the offense that brings back two of it's top receivers, all of it's running backs, and a Orange Bowl winning quarterback in Ricky Stanzi.
Tier B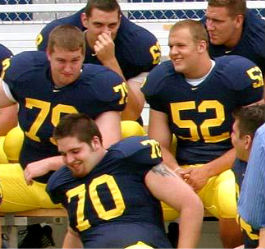 Michigan:
Rich Rodriguez has his best line in his stint in Ann Arbor and it will be much needed as his job is likely on the line pending 2010's results. Starting at tackle will likely be Taylor Lewan and Mark Huygel, at guard will be Steve Schilling and Patrick Omameh, and at center will be David Molk. Providing depth at tackle are Perry Dorrestein (who will battle to the end with Lewan), Michael Schofield, and Bryant Nowicki, backing-up at guard are John Ferrara, Ricky Barnum, Quincy Washington, and Elliot Mealer, and playing second fiddle at center is Rocko Khoury. David Molk, who was named to the Rimington Watch List last week, and Steve Schilling are the stars of the unit and will lead the linemen both on the field and in the locker room. That should provide a solid base for a unit that has struggled to provide any sort of safety for it's quarterbacks the last two years and allowed opposing defenders to penetrate the backfield with their eyes closed and their arms tied behind their backs.
Illinois:
Jeff Allen, Corey Lewis, Randal Hunt, Hugh Thornton, and Tyler Sands make up the Illini front that is in charge of helping Ron Zook bring back the offensive magic they held when they went to Pasadena in Janaury 2008. Allen is the star of the starting five and could have some NFL potential, while Thornton provides a big body with experience on the inside of the line. Depth will be the key in Champaign, and it will be up to Craig Wilson, Ryan Palmer, Jack Cornell, Graham Pocic, and Ryan Sedlacek to step up should performance be subpar or injury arise on the starting unit. Like Rich Rod, the Zooker is on the hot seat, so it will be really important for this group to protect their quarterback and allow the running game to be relied on in key situations.
Michigan State:
It doesn't matter how good Kirk Cousins looks or how much potential the Spartan running backs have if their offensive line can't block. MSU should be an interesting line to watch this season, as they are unproven against top tier defenses and the success of the unit could directly translate to offensive effectiveness in 2010. DJ Young and Jared McGaha are the projected starters at tackle, Joel Foreman and Chris McDonald will likely start at guard, and John Stipek is the likely starting center. The back-up slots are occupied by John Deyo, Henry Conway, J'Michael Deane, David Barrent, (converted NT) Antonio Jeremiah, Ethan Ruhland, and Nate Klatt. Incoming freshmen Skyler Schofner, Travis Jackson, and Michael Dennis all can provide depth next year and, at the least ,a bright future on the line for Mark Dantonio. Another interesting fact about the trio of incoming linemen is that they also all hail from the state of Ohio.
Tier C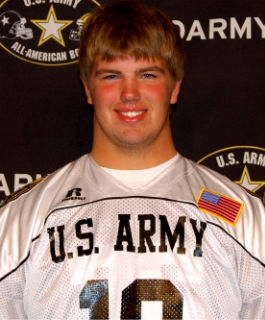 Minnesota:
Tier C begins with the Gophers who seem to be on the brink of breaking out of the Big Ten cellar every year, but just can't seem to rise above the surface. This year's offensive line is average, and while they won't necessarily help the cause , I'm not sure they hurt things much either. The starting unit of Dominic Alford, junior college transfer Jeff Wills, Chris Bunders, Notre Dame transfer Matt Carufel, and DJ Burris has a lot of diversity and lacks experience playing together as a unit, but there is some talent there, specifically with Carufel, and the starting five could surprise many. Depth isn't too plentiful with Matt Stommes, Ryan Orton, and Trey Davis as the only sure players to fill out the two-deep, but the players in the 2010 recruiting class could step right into back-up roles to start the year and eventually become starter's at year's end. That group is lead by Army All-American Jimmy Gjere, who will challenge Alford and Wills from day one of camp this fall.
Northwestern:
This unit is anchored by tackle Al Netter, but Neal Deiters, Keegan Grant, Doug Bartels, and Ben Burkett will do their best to keep pace with the highly regarded bookend. Patrick Ward, Brian Mulroe, Colin Armstrong, and incoming freshmen Paul Jorgensen, Sean McEvilly, and Brandon Vitabile fill out the two deep of a line that will be working with a new full-time running back and a new signal caller behind center. It should be interesting to see how the Northwestern offense bounces back after losing it's top two receivers and starting quarterback from last year's team, but the offensive line could have the easiest time adjusting to new surroundings with Pat Fitzgerald's pass-heavy system.
Purdue:
The Oaken Bucket rivalry provides us with two of the last teams in the third tier of the Big Ten offensive line rankings. Purdue tackle Dennis Kelly and guard Ken Plue can probably hold their own with most of the linemen in the conference, but the rest of the starters are mediocre at best. The rest of the unit includes Peters Drey, Rick Schmeig, and Andrew Brewer, and the depth behind the five up front is lacking talent, despite the large quantity of linemen currently on the roster. Purdue plays in a pass-heavy system as well, which should also benefit this group, but the success of the running game sans Ralph Bolden could depend on how well Schmeig, Brewer, and Drey can step up.
Indiana:
The Hoosiers don't display much talent across the board, but have the potential to move into the top of this tier or onto Tier B if they can grow-up during the 2010 season. The line features tackles Andrew McDonald and James Brewer, guards Justin Pagan and Cody Faulker, and center Will Matte. Brewer (RT), Faulker (RG), and Pagan (LG) started last season, but IU loses it's two best linemen in Ohio natives Pete Saxon (C) and Rodger Saffold (LT), who was drafted by the Rams in the beginning of the second round. Matte and McDonald have both seen some time and have room to grow as both enter their third seasons in Bloomington. The two-deep is filled out by Josh Hager, Colin Rodkey, Marc Damisch, Aaron Price, and Jordan Marquette, a group that isn't ready to play every day, but could provide a nice base for the future for Bill Lynch or whoever is the next head coach going forward. Like Minnesota, this line could surprise people, but it's unlikely they become a difference maker in the Hoosier's success this season.