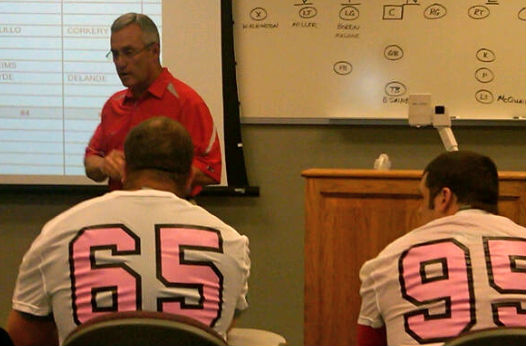 The annual draft to determine which players would represent Scarlet and which players would represent Gray in Saturday's Spring Game took place Wednesday at the Woody Hayes Athletic Center and you could feel the excitement in the room.
Jim Tressel administered the draft which features senior players as the general managers of each team. Representing the Scarlet as captains were Tyler Moeller, Aaron Gant, Devon Torrence, Ross Homan, Cameron Heyward, Grant Schwartz, Garrett Hummel, Connor Smith, Scott Sika, Bryant Browning, Josh Kerr, Dane Sanzenbacher (spokesman), and Devin Barclay. Representing the Gray was Jermale Hines, Brian Rolle, Chimdi Chekwa (spokesman), Taurian Washington, Andy Miller, Justin Boren, Dexter Larimore, Ricky Crawford, Jake McQuaide, and Chris Malone and Brandon Saine. Taver Johnson will be the head coach of Scarlet with John Reed of Coldwater High School as honorary coach and John Peterson will be head coach of the Gray team during the game. The seniors present at the draft donned the pink-numbered jerseys they will wear during Saturday's scrimmage.
The draft is conducted by position and once a player is selected by a team, the rest of the players at that position are drafted  before moving onto the next position. The first pick was determined by a coin toss and was won by Scarlet, who selected to open up quarterback and selected Terrelle Pryor accordingly. After quarterback, the selection order went center, defensive tackle, safety, tight end, wide receiver, offensive tackle, defensive end, cornerback, SAM linebacker, WILL linebacker, fullback, MIKE linebacker, running back, and specialists.
At quick glance it looks like the Scarlet team has a slight edge to me with Pryor behind center and John Simon and Cam Heyward on the defensive line, but Gray has some fight with a strong running back stable that includes Saine, Boom Herron, Carlos Hyde, and Jaamal Berry. One bit on the Gray draft that I found especially interesting was that they chose Kenny Guiton over Joe Bauserman. We've been reporting Guiton has looked good and apparently the players feel the same way.
Here are the roster breakdowns for Saturday's Scarlet and Gray Spring Game:
2010 Spring Game Rosters

| POS | Scarlet | Gray |
| --- | --- | --- |
| QB | Terrelle Pryor, Joe Bauserman | Ken Guiton, Justin Siems |
| RB | Jordan Hall, Jermil Martin, Bo DeLande | Brandon Saine, Boom Herron, Carlos Hyde, Jaamal Berry |
| FB | Adam Homan, James Georgiades | Zach Boren |
| WR | Dane Sanzenbacher, Chris Fields, Grant Schwartz, Garrett Hummel, James Jackson, Tony Harlamert (OUT) | Taurian Washington, Ricky Crawford, DeVier Posey, Chris Roark, Joe Cech |
| TE | Jake Stoneburner, Spencer Smith, Bryan Corkery | Reid Fragel, Nic DiLillo |
| OL | Mike Adams, Connor Smith, Scott Sika, Corey Linsley, Bryant Browning, Josh Kerr, Marcus Hall | Andy Miller, Justin Boren, Chris Malone (OUT), Mike Brewster, Jack Mewhort, Sam Longo, JB Shugarts |
| DL | Solomon Thomas, Adam Bellamy, John Simon, Cameron Heyward, Keith Wells, John Lorenz, William McCary | Nathan Williams, Stuart Smith, Garrett Goebel, Dalton Britt, Dexter Larimore, Evan Blankenship, Melvin Fellows |
| LB | Ross Homan, Dorian Bell, Storm Klein, Jon Newsome, Chris Maxwell, Andrew Sweat (OUT) | James Hastings, Brian Rolle, Jordan Whiting, Etienne Sabino, Tony Jackson, Dan Bain |
| CB | Devon Torrence, Corey Brown, Dominic Clarke, Drew Matthew | Donnie Evege, Chimdi Chekwa, Taylor Rice, Travis Howard (OUT) |
| S | Tyler Moeller (OUT), Orhian Johnson, Nate Ebner, Aaron Gant, CJ Barnett | Nate Oliver, Zach Domicone, Jermale Hines, Jamie Wood, Vincent Petrella |
| ST | Ben Buchanan, Devin Barclay, George Makridis | Drew Basil, Derek Erwin, Jake McQuaide, Garrett Dornbrook |