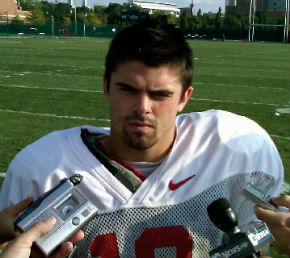 As we inch closer to the April 24 Scarlet and Gray Spring Game, the Buckeyes continue their hard work on the field with the allotted (take note Rich Rod) practice sessions given to them by the NCAA. As has been the trend this spring, OSU continued it's fast paced practice tempo on Tuesday and the players seemed to respond well once again to the new tactic picked up by the staff on their trip to Oklahoma, LSU, and Alabama earlier this year. We were on hand at practice once again and have some notes to share with you all, as you patiently wait to see the Bucks do battle in person or via Big Ten Network at the end of the month. Overall I think the team is coming along nicely, but there is definitely still some work to do if Pryor & Co. want to make a National Championship Run this upcoming fall. The remainder of the spring sessions, individual summer workouts and 7-on-7s, and fall camp will be crucial to the team's success, and the results on September 2 when the season opens will show us how hard the team really worked to prepare for 2010. In the meantime, let's live in the moment, as here are Tuesday's practice observations:
The players were in full pads today and pants today, not shorts. You can tell practice is heating up as the jersey scrimmage approaches Saturday and the Spring Game on April 24 nears closer.
Just by doing the looks test, Andrew Sweat appears to be doing well in his rehab and was fully dressed today.
Those of you wondering about Safari Planet (Melvin Fellows), well he certainly passed my looks test and appears ready to at least contribute some in the two-deep this season. He ran with the second team all day and looks like he will be the real deal for the Bucks.
Another stud from last year's freshman class, Dorian Bell, appears to have added some muscle to his frame. I'm sure Bell worked hard in the weight room this off-season in order to put himself in position to get on the field this year.
Unreported in our previous write-ups is the fact that CJ Barnett has changed his number from 14 to 4. Barnett receiving a prestigious number like 4 can only mean good things and that is all we have seen from him on the field thus far.
In attendance was former OSU Coach John Cooper, former Buckeye great Cris Carter, and OSU Women's Basketball Coach Jim Foster. Carter spoke to Tressel for about five minutes before practice got rolling and we could only imagine

what

who they were talking about. In case you missed that, Duron Carter was still missing from practice, as was linebacker Jon Newsome.
In early drills that had the first teams facing off, Terrelle Pryor seemed to be working on reads and audibling at the line of scrimmage. He looked pretty comfortable with all the calls and seemed to be on the same page with all of the receivers when the ball was snapped. Overall Pryor looked very strong on the day and got the praise of many of the members of the media and others in attendance on the sidelines. He threw the ball with a lot of zip and was able to slip a lot of passes in small holes and in the middle of traffic.
During the same drills and throughout the day, Andy Miller got the reps with the first team at left tackle. This was an interesting twist as it seemed Mike Adams had a firm grasp on handling the spot, but it seems Jim Bollman wants to give Miller a full crack at the position.
Jermil Martin received some reps with the first team today, but I'm not sure he'll be able to beat out the depth at running back. Martin is kind of a tweener between a half back and a full back and his best bet might try to be to compete with Zach Boren to get some snaps as a running/receiving full back.
Jake Stoneburner continued to star in practice and I continue to hit myself in the face everytime I write a sentence like that. Please, please, please, if there is a football god, have Jim Tressel call Stoney's number this year when it counts.
Tyler Moeller ran with the second team defense today at safety and played alongside Zach Domicone. CJ Barnett saw some action with the twos today as well and those three will compete with Jamie Wood and Nate Oliver to fill out the two-deep behind Orhian Johnson and Jermale Hines.
Oliver is also competing at the STAR position, which we saw last week, and is holding his own when the first team runs it's nickel defense. Hines primarily played the STAR last season, but with his move to strong safety, Oliver, Moeller, and possibly even Etienne Sabino could see time at the position. Sabino has a hold on the SAM spot, but when he comes off the field for the nickel defense or when Andrew Sweat is in the game, the team could want to continue to take advantage of Sabino's athleticism by placing him at the STAR.
Back-up center is a battle between Jack Mewhort and Scott Sika. Both saw action with the second team and Sika even snapped some balls to Pryor with the first team in the beginning of practice. I think if Brewster ever went down Mewhort would get the gig, but Sika is really pushing hard to push Mewhort to guard on the two-deep.
The number three receiver job is Taurian Washington's right now, but Grant Schwartz is making a strong play for some time. Schwartz continues to impress and it will be hard to keep him off the field if he keeps this up. That is unless there is some sort of rule against having two short, fast, white receivers on the field at the same time. In all seriousness, Darrell Hazell said after practice that the receiver spots behind Sanzenbacher and Posey will remain an open competition through fall camp.
We'll be back at practice on Thursday, Friday, and Saturday, and hope to have a lot more to share with you then. It will be interesting to see which players continue to climb up the depth charts in hopes to see some meaningful action this fall, and which players parlay good spring practices into a solid performance in the actual Spring Game. Make sure you tune in the rest of the week for more practice notes and observations from the 11W staff.