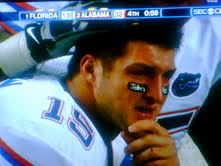 Saturday's biannual jersey scrimmage will tell a lot to the coaching staff in terms of who is ready to step up and play, and who needs to continue to work on things in order to scratch the surface of the depth chart. The players know this as well and, following suit of the previous spring sessions, stepped up the tempo even further in today's practice. This week's practice schedule was very open to the media and we are very appreciative of that, having attended Tuesday and today's sessions, as well as having plans to attend tomorrow's practice and Saturday's scrimmage as well. We also have had some good access to players and coaches during the spring practices and today was no different as we spoke to Devon Torrence, Jermal Hines, Taver Johnson, and Paul Haynes. Videos of the aforementioned are below the day's notes. We're gathering valuable information every day that we hope you all enjoy, but we know you don't want to hear me speak in the prelude paragraphs anymore, so without further ado, here are Thursday's practice notes:
The Bucks were in full pads again. Players in blue jerseys were Brandon Saine, Tyler Moeller, Chimdi Chekwa, and Carlos Hyde. In yellow jerseys were Andrew Sweat, Chris Fields, and Travis Howard. Don't be too alarmed about Fields, as he is battling asthma.
One recruit in attendance who the staff was giving some time to was Benson Browne of Walnut Hills. Browne is a 6-6/235 tight end, but was spending time with the defensive line, making me think that's where the Bucks are looking at him today (not to mention his striking resemblance to Doug Worthington). Browne has offers from Louisville and Minnesota and could be a nice back-up plan for OSU if other targets fall through the cracks. He played football for the first time as a junior this past season, so he is very raw and could be a project for Jim Heacock.
Cris Carter was at practice yet again and was giving tips to some players. He spoke to Chris Fields on the sideline for a while and also spoke to Chimdi Chekwa and Travis Howard about playing bump and run, as well as taking away the receiver's angle off the ball.
Mike Adams worked with the first team offense today. It seems him and Andy Miller are going to rotate every practice with the ones.
Chris Fields saw some action with the first team today and despite his battle with asthma, looked very good once again. I can't say the same about Taurian Washington, who didn't do anything to drop the stone hands rep he's received the last few weeks.
Jake Stoneburner continues to be an absolute beast and looked awesome today, catching balls over the middle and beating safeties and linebackers left and right. Reid Fragel looked good too, working with the first team in two tight end sets.
Jermil Martin was used out of the backfield as a fullback in the beginning of practice in 11-on-11 drills. He caught a nice swing pass from Pryor and took it up field for a nice gain.
Marcus Freeman is now officially the Defensive Quality Control Coach.
Evan Blankenship continues to see time at defensive tackle. Blankenship spent his whole career as a back-up guard before this spring.
The team worked on special units today and first up was the punt team. Ben Buchanan had some great punts today and should step into that position fine. Returning punts were DeVier Posey, Devon Torrence, Dane Sanzenbacher, and Jordan Hall.
As for the field goal unit, all three kickers got to give it their try and Devin Barclay was today's winner. Barclay didn't miss a field goal today, but that doesn't mean the job is his just yet, as Buchanan looked solid and Drew Basil showed promise.
Speaking of Basil, he primarily handled kick-off duties. The group that received his kicks included Torrence, Brandon Saine, Boom Herron, and James Jackson. Chris Fields would have been in the group if he wasn't in a yellow jersey.
Terrelle Pryor started off practice throwing the ball too strong and over-shooting many receivers. As practice went on, he heated up and was making some really good throws into traffic.
Kenny Guiton is going to be a good player. Not just a good back-up, a good player. The more I see of Guiton, the more he makes me believe he may actually start during his time in Columbus. His ability to look off receivers and keep the defense guessing on where the ball is going might be his biggest strength right now, while his ability to take off and run when things get hot in the pocket is a close second.
Jordan Hall left practice after suffering a left shoulder injury. Hall appeared to be fine after practice ended so don't expect this to be a lingering issue.
During one drill, the coaches had the defensive backs playing wide receiver and the wide receivers playing defensive back in the red zone. Corey Brown and Devon Torrence (both who have played WR in the past) looked very good on offense, while DeVier Posey looked like a natural ball hawk on defense. This drill is good as it helps both sides work on ball skills, but it also could show the staff something about some of the younger players that they have failed to notice before. Nonetheless, Tressel seemed to get a kick out of the drill and had a big smile on his face throughout the period.
Big plays on the day included a Jaamal Berry 20-yard touchdown run, a Boom Herron 20-yard touchdown run, a Jordan Whiting strip, a Cam Heyward sack and forced fumble, a Solomon Thomas sack, an Aaron Gant interception, a Chris Maxwell interception, and a Jamie Wood interception.
Finally, at the end of practice, the team ran the Hoot and Holler drill. Some of the good match-ups featured Jermil Martin beating Jordan Whiting, Zach Boren and Jermale Hines in an ultimate tie, Adam Bellamy beating Sam Longo, and Cameron Heyward taking down Bryant Browning.
We'll be back at practice tomorrow and will continue to give you up to the minute news on how the team is progressing towards what we all hope is a National Championship season in 2010. We'll also get a chance to talk to Terrelle Pryor, Nick Siciliano, the rest of the quarterbacks, and the tight ends after practice tomorrow, so be sure to check back for updates on what the Buckeye signal caller has to say about spring practice thus far.