The Ohio State athletic department is starting to roll out the 2010 spring media guide and tucked away on page 10 is the depth chart. Now, as any good student of the program will tell you, these charts can be misleading and inaccurate at times, but with well over 100 days to go until kickoff, we'll take it, dissect it and love it.
On the offensive side of the ball, the backfield features Pryor, Zach Boren, and Saine.  The tailback spot has been talked about all offseason as one that will feature more depth than we've seen in quite some time and it's reflected with Boom, Hall, Martin, Berry and Hyde backing up Saine.  What's interesting, is that the fullback spot seems to have the capable bodies to match with Adam Homan and James Georgiades, the darling of last spring, backing up Boren the Younger (who had a freshman season that was so effective it caught most of us by surprise).
At wide receiver, the usual suspects fill the first two slots: Dane on one side and Posey on the other.  Taurian Washington, holding a lock onto the third wide receiver spot presently, is listed as Posey's backup, while surprisingly, Duron Carter is listed as Sanzenbacher's top backup, just ahead of Chris Fields and James Jackson.  Carter missed the Rose Bowl as an academic casualty and has been held out of spring ball, but is fielding questions on Formspring.
The Jake Stoneburner era at tight end, if it wasn't already here with the gushing praise of his spring play, is officially here in print as he's listed as the first team tight end.  At 6-5/245 and with 6-8/260 Reid Fragel presently backing him up, the Buckeyes have some weapons in that spot -- if they choose to use them.
The first team line reads (left to right): Mike Adams, Justin Boren, Mike Brewster, Bryant Browning and J.B. Shugarts.  Again, this grouping isn't much of a surprise if you've been following the spring reports.  With the left tackle position being the only spot that appears to still be a little bit open, Adams has the head start in spring to finally deliver on his massive potential.  Your 2nd platoon at line is: Andrew Miller, Connor Smith, Jack Mewhort, Corey Linsley and Marcus Hall.
The defensive front features Nathan Williams at LEO, Dex Larimore, John Simon and Cameron Heyward.  Simon is a new face from a starting perspective, but he played so much last season that it won't be hard to picture him in the middle, disrupting opposing lines.  Williams looks to have the early lead for the LEO after Jim Heacock said the competition to replace Thaddeus Gibson would be open this spring between the junior and fellow classmate Solomon Thomas.  Providing depth across the front is the aforementioned Thomas, Garrett Goebel, Adam Bellamy and Safari Planet, Melvin Fellows.
As good as Laurinaitis, Freeman & Co. were, the linebacker corps penciled in as starters looks like it might be a better overall unit.  Homan and Rolle are both proven all-conference award winners and Sabino, as Luke Fickell said, is reacting more with a better understanding of the game under his belt.  Again, illustrating the talented depth on the team, the group is backed up by Dorian Bell, Storm Klein, Jordan Whiting and Andrew Sweat, who is still recovering from knee surgery.  Jonathan Newsome, another player held out of spring ball for what's thought to be academic reasons is awaiting an appeal on a grade, but is listed as the 3rd-string SAM.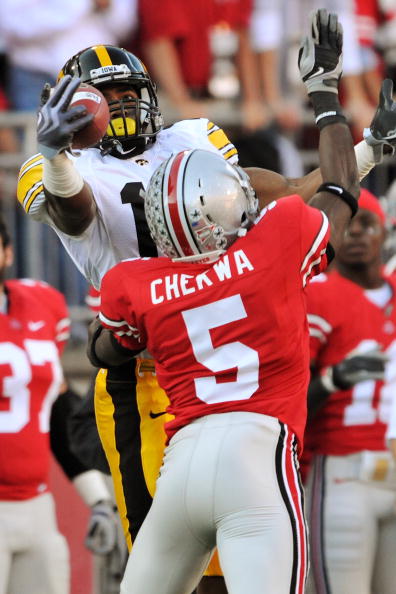 No more PIs, plz.
No surprises in the secondary, with Chimdi Chekwa and Devon Torrence, returning starters at cornerback, holding down the top spots and relatively new face Orhian Johnson at free safety paired with Jermale Hines at strong safety.  Donnie Evege, a guy that's caught everyone's attention this spring is in position to be the nickel back, while Travis Howard, Corey Brown and Dominic Clarke provide further depth at the position.  Backing up Hines is Domicone and Tyler Moeller is listed as Johnson's backup, though if he's healthy for fall ball, he'll run star alongside the two safeties.
Reports out of camp have the receivers owning the defensive backs in one-on-one drills, particularly Devon Torrence, but I'll hold off on the panic until we actually see some of that during actual games.  Until then, I'm assuming the Buckeyes have the greatest collection of talent at the wideout spot ever assembled and I will not be talked out of it.
The kicker race is still open and as Alex mentioned over the weekend, don't be surprised to see shared duties on field goals of various distance and kickoffs.  I do love seeing Dane as the holder -- we're almost guaranteed to see something tricky at some point with that configuration.
So yeah, with nothing truly set in stone because the opener is still months away and Basil and Hyde are the only two freshman on campus, this is little more than a chance for the staff to publicly recognize the guys that have been busting their asses during winter conditioning and the early days of spring camp.  Proceed accordingly but enjoy the excitement.
All Your Signals Are Belong to Us
The Oregon Ducks will feature some new offensive signals this season because their previous system might have been compromised:
Ohio State was so successful at stopping Oregon's offense in its 26-17 win over the Ducks in the Rose Bowl that, at times, it seemed as if the Buckeyes knew what was coming.

Did they?
Um... mebbe?  To be clear, the newspaper is making this suggestion and nobody on Oregon's staff is quoted saying anything near what's implied.  While it's likely none of us will ever know (until Cameron Heyward writes that killer memoir someday at least), if I were the on the Oregon staff, I'd a) worry more about how to keep my players out of the clink and b) spend some time practicing not fumbling the ball out of the endzone.  But that's just me.
I suppose it's possible some of the signals were picked off and used to our advantage, but what I saw in that game was an Oregon offense that played well offensively in stretches before shooting itself in the foot and a Duck defense that had no answer for Terrelle Pryor.
(H/T Joe - via Doctor Saturday)
Rock the Vote
We ask a lot out of our new intern, Jared.  Every morning, he brings piping hot coffee and donuts to 11W headquarters, he's out with the Flip recording interviews after practices and he even hit up the McDonald's game to ask Jared Sullinger questions that cannot go unanswered.
So when we heard his brother Micah was running for USG president, we knew we had to do our part and get the message out to all 14 32 of our readers.  The election is April 15th and 16th, so if you're a student (or know a student), please join the good cause.  But don't take our word for it.  These guys have some impressive endorsements:
With a platform that includes a 24-hour Thompson Library, campus food delivery and easier access to football tickets, it's not hard to see why Diebler was banging in threes for the cause.