Now that basketball season is over, focus turns back to football and more specifically, spring practice and recruiting the class of 2011. While spring ball is a great chance for the Buckeyes to go at it and get back into the flow of things before summer, it also offers the staff a chance to host some players in town while the weather is good and the prospects can get a glimpse into what their futures could be like if they choose to don the Scarlet and Gray.
The Buckeyes already have eight members in the class of 2011 and hope to notch double digits by the time the spring game closes out practice on April 24. Seven out of the eight are lineman, which clearly shows the area of need the staff felt needed to be addressed, while the eighth is a defensive back. Ends Steve Miller and Kenny Hayes, DT Chase Farris, and Offensive linemen Brian Bobek, Antonio Underwood, Chris Carter, and Tommy Brown make up the group that will battle in the trenches, whiel DerJuan Gambrell is the outlier in the group and will play corner back in Columbus. This is a solid foundation for a class that should end up with somewhere between 20 and 25 players and there are still plenty of big fish on the recruiting radar left to woo this spring.
On offense the Bucks will look to bring at least one signal caller if not two. Whether you want to admit it or not, Terrelle Pryor ideally wants to have his break out season and make the jump to the NFL. If that happens, who is going to step into his shoes? Right now you're looking at Joe Bauserman, Ken Guiton, or Taylor Graham, none of whom really do anything for anyone in terms of excitement. Braxton Miller is undoubtedly the staff's number one target and I think he will be a Buckeye in the end, but it would be proper due dilligence for the Bucks to keep their relationships going with Cardale Jones of Glenville and Taylor Stoudt of Dublin Coffman. Both players are in-state stars who would most likely pull the trigger for OSU upon the offer, especially Jones, who has not made it a secret he is a big Buckeye fan. I can definitely see the Bucks offering Jones as soon as Miller makes his decision, no matter what that decision is.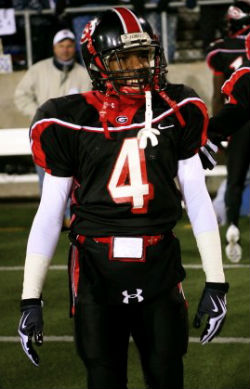 Wynn can continue the pipeline
Looking at the other positions on the chain-moving side of the ball, it seems that wide receiver, tight end, and the line are taking prominence. The Bucks will look to take 2-3 wideouts this year and five players have already been targeted to fill out those spots. Shane Wynn of Glenville, Phillip Dorsett of St. Thomas Aquinas (FL), Ja'Juan Story of Nature Coast Tech (FL), Evan Spencer of Vernon Hills (IL), and Darius Jennings of Gillman (MD) make up the desired group and there is a good chance of Wynn continuing the Buckeye pipeline from Glenville and Spencer, son of former Buckeye Tim Spencer, accepting those offers. The other three will be harder to bring in, which could lead the staff to offer other players such as Ohio's AJ Jordan and Shaquille Washington, Florida's AJ Sebastiano and Jacques Mackeroy, or Spencer's teammate, DaVaris Daniels, son of NFL player Phillip Daniels.
There were no tight ends in the 2010 class, so naturally Tressel is going after a couple players at the position hard. The numero uno is Oil City (PA) star, Ben Koyack. Koyack seems to really like everything OSU has to offer other than the stats of tight ends under Jim Tressel. The lack of throwing the ball to the tight end could handicap the Bucks in what has become a three horse race for Koyack's service, as Penn State and Notre Dame both have a solid track record with tight ends. Plan B and the more likely candidate to end up a Buckeye is Nick Vannett of Westerville Central who like to catch the ball too, but could be more suited to become Jim Bollman's sixth lineman. Nick O'Leary, grandson of Jack Nicklaus, has the Bucks at the top of his list, but his father played at Georgia and being that he lives in Florida, it will be tough to win out against the Bulldogs. The next option after those three would be Ray Hamilton of Strongsville, but the Bucks are hoping they hit on both Koyack and Vannett.
Unlike last year, the line seems to be pretty sured up with four verbals, leaving just one more spot for basically three players. Aundrey Walker of Glenville is the favorite to land the gig and has been offered, but it is in his hands to decide if he wants to be a Buckeye. As per Glenville, he will most likely wait out the process and decide sometime after his season. The other big fish is Angelo Mangiro of New Jersey. Mangiro is the top guard in the nation and has expressed serious interest in OSU. The staff's chances aren't great as of now, but if they can get him up for a visit this spring or summer, things could turn around. If both Walker and Mangiro say no to Ohio State, the staff will look at in-state product Chris Boles of Toledo Central Catholic and out-of-state players Landon Turner of Virginia and Kiaro Holts of Indiana.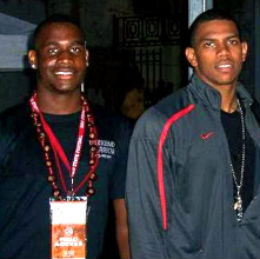 As for the defensive line, the Bucks have had aforementioned success there to with the three verbals they have thus far. They are still targeting some players and DTs Kevin McReynolds of Washington DC and Michael Bennett of Centerville are the most highly sought after of the bunch. McReynolds seems to like some schools on Tobacco Road and UNC could be the team to beat right now, but he will continue to visit OSU and the Bucks stay in the mix. Despite offers from Alabama, Notre Dame, Michigan, Nebraska, West Virginia, Iowa and others, the Buckeyes seem to lead for Bennett. He is expected to make his decision after taking a few visits this spring, but don't be surprised if he puts a smile on Jim Tressel's face come the end of the summer.
Kenny Hayes and Steve Miller are all you need at defensive end, but there are still offers out to Aaron Lynch and Ryan Shazier of Florida and Jeoffery Pagan of North Carolina. It doesn't look likely that Lynch or Pagan are headed to Columbus, but Shazier could take a much closer look at the Bucks if teammate Jeremy Cash commits to OSU in the near future.
At linebacker the Buckeyes are stacked, but it won't stop them from going after Springfield's Trey DePriest who seems to have widdled it down to Ohio State and Alabama. While they are no packaged deal, DePriest and Braxton Miller are very good friends and if Miller commits, it shouldn't be hard for him to convince his buddy to come with him. Like DePriest, James Vaughters of Georgia is a player almost everyone in the country wants. Vaughters put OSU in his list of 10 schools he's still considering and with both of his parents hailing from the Buckeye state (and a lot of family still in the area), there is a very realistic shot of landing this stud who measures in at 6-2/235 and is projected to play the MIKE at Ohio State. The Buckeyes will likely take only those two players if they both accept, but if one or both fall through, Michael Caputo of Pennsylvania, Jarrett Grace of Colerain, and Steven Daniels of St. Xavier can be considered the back-up plans.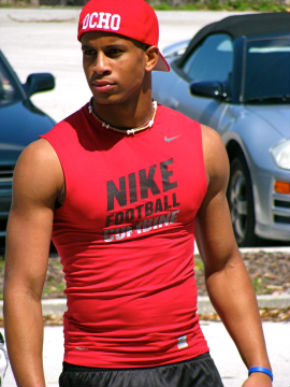 Defensive back contains a lot of talented players on the Buckeye hot list and spring visitors Wayne Lyons and Jeremy Cash of Florida are two players that the Bucks really want. Cash loved his visit to OSU when he came for junior day and while the rumors of a near commitment were put to bed, I wouldn't be shocked if he pulled the trigger on April 24. Lyons has a lot of interest in OSU which is good, but what's even better is he hasn't even been to campus for a visit of any sort yet. The spring game buzz will give Lyons a great vibe and I can see him falling in love with OSU a la Jaamal Berry.Ron Tanner doesn't have the "southern speed" tag on him like Lyons and Cash, but the local product from Eastmoor Academy is just as talented. Tanner has liked OSU for a while and the spring game could be the moment when he becomes a Buckeye.
At corner the Bucks have a good one that flew under the radar early in DerJuan Gambrell, but their number one target remains Doran Grant of St. Vincent St. Mary. While he's no LeBron James, Grant is an absolute stud who recently said the Buckeyes lead for his services, with his father's alma mater, Michigan State trailing at number two. Grant should be a Buckeye when it's all said and done and I would be surprised if he drags things out past the summer. Damian Swann of Georgia, Jabriel Washington of Tennessee, Ha'Sean Clinton-Dix and Jabari Gorman of Florida, and Eliar Hardy of Pickerington are all in the mix to join the class as well, but I think the Bucks would be set if Lyons, Cash, Tanner, and Grant join Gambrell in the 2011 secondary.
The class of 2011 is certainly filled with talent, especially inside the state, and filling the remainder of the spots in this class should be exciting to watch. I can definitely see the Buckeyes getting another couple commitments at the spring game at the end of the month and think that it would be a good bet that many of the elite prospects on the OSU recruiting board that are undecided end up in Scarlet and Gray come the end of the summer. We'll keep you posted as things continue to roll in as spring practice continues on and hopefully have some really good news to share come April 24.