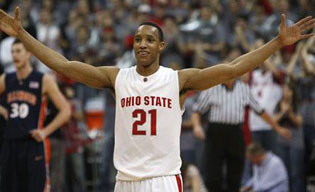 After winning the Big Ten Player of the Week award a record seven different times this season, you'd figure it was a no-brainer that Evan Turner would be named the conference's Player of the Year as well. And you'd be right.
Also named to the league's all-First Team, The Villain was a unanimous selection by the media for PoY honors, becoming the first Buckeye since Dials in '06 to win the award, but was snubbed a bit by the coaches as one of them decided to vote in a different direction for the award. Can we get our own Tebow-style interrogations at next fall's media days, please?
David Lighty and William Buford were named to the 3rd team while Jon Diebler earned an honorable mention nod from the media while Buford was named to the coaches' 3rd team with Lighty and Diebler picking up honorable mentions on that side. Also honored was Dallas Lauderdale, named to the league's All-Defensive team, and Mark Titus, named the Big Ten's top blogger.
Last but not least, Thad Matta picked up his third Big Ten Coach of the Year award in six seasons. You really can't say enough about the job he did after losing Turner and getting off to such a slow league start.1
Congratulations, gents.
1 The media went with Matta while the coaches went with Purdue's Painter for the award. Maybe there is something to all of the drive-by handshakes Thad seems to be getting lately.