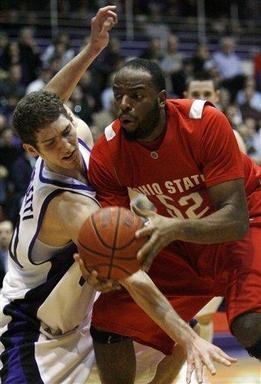 One of the weak spots that many pundits have identified for Ohio State going into the NCAA tournament is the lack of size on the front line. Furthermore, they typically point out the lack of production from the post, which reflects Thad Matta's guard-oriented offense. During the heady days of the 2007 NCAA tournament run, this was not a concern because of the presence of Greg Oden at the center position. Even the year prior to that, Terence Dials prospered greatly in Matta's offense, winning Big Ten Player of the Year honors. But the man who currently occupies the "5" for OSU is in a bit of a late-season slump.
Back on Feb. 27, Dallas Lauderdale matched his career high in points with 14 as the Buckeyes downed Michigan. But since then, his offensive production has dried up almost completely. In the season finale against Illinois, he had only 2, and he matched that total in each of the 3 Big Ten Tournament games. And his shot-blocking prowess, which had formerly struck fear into the hearts of B10 opponents, has gone the way of his scoring, as he has blocked only one shot in the last 4 games. Lauderdale has seen his minutes decline during that span as well, but his regular back-up Kyle Madsen hasn't exactly exploded in points either. Madsen played 25 minutes in OSU's 90-point effort yesterday but failed to score.
It is well known that Lauderdale is a horrendous free throw shooter, and this might be one reason why Coach Matta is reluctant to make him a big part of the offense. If he starts to make a move toward the basket, many teams might elect to just give the foul knowing that it probably will not cost them much. As a result, it would not be wise to use possessions trying to run post plays when there are so many other weapons on the floor. But is it possible that the lack of a post threat causes problems for our perimeter players?
On Saturday, ESPN's Hubert Davis said that although he considered OSU a solid 2-seed, he did not think they could stay with the top teams due to the lack of size. Digger Phelps argued that Ohio State would present problems because most teams do not face that kind of a 4-out-1-in offense on a regular basis. The win at Michigan State would seem to bear out Phelps' point. On the other hand, we saw last year how the Siena front-line had their way on the offensive boards. I still have nightmares about that game.
The question remains: does OSU suffer for the lack of any type of inside threat? Is this the weakness that could take the team down against a top-level team in the NCAA tournament? What do you think?