Yesterday, Rick Reilly of the World Wide Leader wrote a column featured on the front page of espn.com that discussed when it was right and when it was wrong to storm the court after a basketball game. The picture that was put along with the article, and the same one that is featured above in this piece, showing Dallas Lauderdale and David Lighty celebrating on the court of Value City Arena with OSU fans after Tuesday's conference-clinching win seemed to be the inspiration for Reilly's article and lead to the magazine back page specialist to come up with a set of rules for when fans can and cannot storm the court.
I'm not completely going to disagree with what was written as Reilly's logic in his article makes sense for the most part. He cites Indiana rushing the court against Minnesota this year, Illinois storming against Michigan State, Wake Forest celebrating on the hardwood after beating UNC last season, and other examples that I completely agree do not warrant students flooding down to party with the players when the final buzzer sounds.
Where I find Reilly wrong is his list of rules that generalize when teams can and cannot participate in one of college athletics' most unofficial historical traditions after a big victory. He simply is too broad with his reasoning and applies his rules to all teams, regardless of the situation. I feel storming the court is generally a situation by situation basis and cannot be applied a broad audience. To state my case, I will take each of Reilly's rules and give an example of how it does not apply, of course, using Ohio State to counter his arguments as often as possible. You can state your case by voting on ESPN's Rushing the Court Poll.
You Can't Rush The Court If: You've won an NCAA title in the past 20 years
Rule #1 is completely off base. Reilly is saying that if a team won a championship in 1990 and is horrible for the next 19 years that they don't deserve to storm the court if they beat a top ranked team or clinch a conference title? This rule is the epitome of why I am anti-generalization of these rules and why this needs to be discussed on a case by case basis. Sure there are hundreds of teams in NCAA Division 1 Basketball and you are very lucky if you get to win a championship every 20 years, but not being able to storm the court if you get a big win or conference championship after years of terrible seasons is just absurd. This one was easy and I ask that Mr. Reilly retract this immediatley.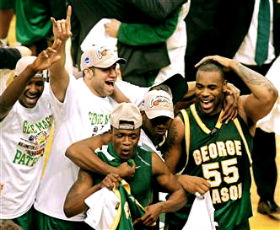 You Can't Rush The Court If:You've been in the Final Four in the past five years
This rule has a little bit more merit as the chances of your team falling apart after appearing in a Final Four in the last five years are minimal. Chances are you are still a respectable program and should not be celebrating like maniacs for beating a quality opponent, as you are yourself a quality opponent to others. You would think I was stuck here, but I will bring out George Mason. GMU appeared in the 2006 Final Four as a 11-seed in the NCAA Tournament and brought a whole new definition to the term "Cinderella Story". Playing an under-sized line-up filled with seniors, George Mason was able to make it to basketball's elite plateau, but their success didn't have a long lasting effect. Elite recruits didn't all of a sudden head to Fairfax, Virginia, "power" conferences didn't automatically extend invitations for the Patriots to join forces, and ESPN and CBS didn't all of a sudden televise every George Mason game they could. In fact, you can say with a 80-50 record, 1 NCAA appearance (1st round loss), 1 NIT appearance (1st round loss), and an impending NIT invitation, that GMU has become a pretty average team since they blew up in March 2006.
That brings us to February 2010 and hypothetically Syracuse, Kentucky, Kansas, etc. visits Fairfax to play the Patriots for a late season out of conference game. At 17-13 GMU has a (very) outside chance at a tournament birth and a win over a top-3 team can put them in better position. The Patriots upset one of the above in a close win and the fans storm the court. Are they wrong? I say most definitely not as the team rarely gets a chance to claim a victory over a top-25 team, let alone a top-3 team and the fans and players should get to enjoy it. This would be a great accomplishment for a school that has only made five tournament appearances since 1966 and nobody can deny that. I feel my case has been stated Mr. Reilly on this one, what do you say?
You Can't Rush The Court If:The team you just beat is not in the top three
Ah, bring in The Ohio State Buckeyes. On Tuesday the Bucks beat unranked Illinois in their season home finale that just happened to clinch the conference championship and #1-seed in the Big Ten Tournament. Conference championship you say? Enter my "Conference Championship Clincher" theory, which allows any team who clinches a conference championship to storm the court, with the lone exception that they were not the pre-season favorite to win the conference. This rule would have been violated during football season when the pre-season favorite football Buckeyes had their fans storm the field after beating Iowa and clinching a conference title and Rose Bowl birth. The game-ending may have had more to do with rushing of the field, but the principles surrounding the Buckeyes' status as an elite historical football program does not warrant storming the field in such situations. However, this is not the case with the Buckeye basketball team, a squad that was picked at best third in the conference before the season started. When a team is not expected to win a conference championship and has a chance to clinch such a feat on their home court, the fans have my permission to party as they please following that final buzzer. This is a great accomplishment for any team (even the favorites), but if even further merited celebratory privileges if your team happened to be an underdog for the crown. Reilly says no fun for Buckeye fans and other teams alike, but I say party away until they kick you out of the arena.
You Can't Rush The Court If:The team you just beat is not in the top three or is ranked within 15 rungs of you
For the sake of not being repetitive here I will just say that my "Conference Championship Clinching" Theory (we will call this the Tri-C Theory from now on) certainly applies once again. Illinois was not the 21st team in the nation last night and through the Tri-C Theory the Bucks are warranted to celebrate. For further argument's sake, I'll just say that a late bloomer in the rankings or a mid-major team ranked 20th also has a right to storm the court if they beat the #4 team in the country if they are not in the situation often to beat a team of such caliber, or if the win mean's something more to their season. To give you a tangible example, let's say Temple hosted Duke this past week. Temple was #20 in the country and Duke was #4. I want Rick Reilly to tell me why Temple fans have no right to storm the court after beating a highly ranked and historically reveled Duke team on their home court. How about #24 UTEP? If they hosted Duke and won they have no right to celebrate either? I call humbug on Reilly and his reasoning here.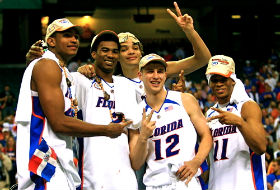 You Can't Rush The Court If:The team you just beat is not in the top three or is ranked within 15 rungs of you or is a football school. This includes Florida, Texas and Ohio State. Get over it.
I am just going to say: How about 2006-2007 when Ohio State and Florida were both top ranked teams in the nation? If Northwestern, a historically miserable basketball program that hasn't finished fourth or higher in the BIg Ten since 1968 and has never won 20 games in a season, beat #1 Ohio State during the 2006-2007 season, they can't storm the court, Rick? How about the 06-07 South Carolina Gamecocks, who posted a 14-6 overall record and 4-12 SEC record? If they upset #1 Florida, their fans can't celebrate on the court with their players after the game? I think Reilly is making a mistake by trying to say that football schools cannot be stormed upon. OSU will always be a "football school", but with the way Thad Matta has recruited, I think the basketball Buckeyes will be around to claim Big Ten titles for years to come.
You Can't Rush The Court If:You've beaten this same team in the past five year
The Tri-C Theory can apply here with OSU beating Illinois on Tuesday, but one team Reilly had in mind was South Carolina, who stormed the court this year when they beat #1 Kentucky, after storming against the same Wildcats in 2005. Reilly says, " It's supposed to be, "Hats in the air! War's over!" Not, "I really want a picture next to John Wall!". I say the 14-14 Gamecocks (5-9 in conference) had every right to be excited about their mediocre team beating both the #1 Calipari lead team this year and the #3 Tubby Smith lead team back in February of 2005. An (possibly, if they're lucky) NIT-bound team has no place beating the top team in the country lead by the "mighty" John Wall, Patrick Patterson, and DeMarcus Cousins and South Carolina was able to do just that. Reilly says the team shouldn't be excited over the win because they beat a team within five years. I say every season is different and if your team is really bad and beats the #1 team in the nation, you certainly can storm the court as if you so desire.
You Can't Rush The Court If:You won the stupid game by more than 10 points. There is no such thing as a PRTC (Premeditated Rush The Court.)
Reilly should really take a look at my Tri-C Theory because it would change his thinking and make the Buckeyes much easier not to use in fighting his arguments. He should also take a look at some of the other examples on the list or envision a fantasy world in which a small state school with a terrible basketball team upsets one of the nation's best. How about NJIT who entered D-1 basketball just three years ago. They've never reached double digits in win and had trouble getting their first victory in year two of the program. If they hosted Syracuse, in a game the Orange scheduled as a cupcake, and won by 11 points, they can't storm the court? Please, Rick, enter my fantasy world of the 336th team in college hoops beating the 1st team and make sure your rules apply to all scenarios.
You Can't Rush The Court If:You're a university and you just beat a college, Coach K comes to your coach's clinic, You have a dead-mortal-lock lottery pick on your team, or Your team has appeared in a recent "One Shining Moment"
I bunched the last four rules into one and I can take on the first two at once. In regards to a university just beating a college, the Tri-C Theory in smaller conferences where there are colleges and universities co-existing would apply. If that doesn't work for you, come back into fantasy land where there is a year where a university is so bad at basketball and a smaller college is really good and the university upsets the college. Scenario satisfied. As for the Coach K reference, I'm not sure if Reilly is referring to the fact that Coach K would most likely be at a good school's clinic or if he's referring to Duke never being able to rush the court. I can't argue too much if it is the latter (and same for a UNC, Kentucky, UCLA, Kansas, etc.) even if the Tri-C Theory does apply (they'd have to be big dark horses to win the conference and that NEVER happens with these teams), but the former just is stretching this a tad bit.
As for a sure-fire lottery pick, well we do have a certain player named Evan Turner and we defied odds on my reasoning early in this article. Also, there have been great players on mediocre or bad teams, such as Michael Olowokandi on Pacific, so Reilly is wrong yet again. Taking on the "One Shining Moment", I tried to look up the list of teams that have appeared, but came up empty handed. Obviously these are teams entrenched with tradition like those listed in the previous paragraph and my argument for them being able to storm is widdled to them having to be a big time under dog to win the conference one year. Once again, I don't know if they've been featured, but the good news is some people still put Indiana in this category. While the Hoosiers had no right to storm against an average Minnesota team this year, they would have a right to storm next year if they were able to clinch a conference title, beat a top ranked out of conference opponent, or anything of the sort. IU has been such a mess since Mike Davis's departure that they deserve to celebrate the potential of some happy moments from all the bad ones Kelvin Sampson has brought onto them. Let them have their moment Rick!
Obviously I am not saying go rush the court in every scenario. Surely I agree with Reilly on many of his thoughts that students look to storm the court too often in today's world of college sports and many times it is unnecessary and unwarranted. Looking at his rules, I certainly felt they were far too generalized and I can't help but argue with a little homerism in the fact that the article came out right after Ohio State fans stormed the court to celebrate a conference clinching victory. I do think Reilly needs to reevaluate his thoughts on storming the court after reading some of my reasoning in this article and maybe some of you will too. What do you think now about the rules of when you can and cannot storm the court?