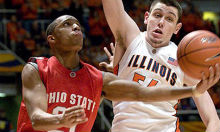 The Buckeyes enter this year's dance with redemption on their minds. Last season came to an abrupt end with a first round loss to Siena and that humiliating feeling helped drive this year's squad to a Co-Big Ten Season Title, the B10 Tournament title and a #2 seed in the Midwest.
The first day upsets shouldn't make you nervous, but the flu bug that has hit John Diebler should. We can be tough on Diebler at times around these parts, but there is no doubt his 3-point shooting is key to any tournament run.
The Gauchos, won the Big West Tourney, defeating Long Beach St., 69-64, after sharing the regular season title with Pacific.
| # | Name | PTS | REB | ASST | POS | # | Name | PTS | REB | ASST |
| --- | --- | --- | --- | --- | --- | --- | --- | --- | --- | --- |
| 21 | Evan Turner | 20.3 | 9.2 | 5.9 | G | 20 | Will Brew | 4.8 | 2.2 | 2.5 |
| 33 | Jon Diebler | 12.8 | 2.9 | 1.5 | G | 42 | James Powell | 9.4 | 2.1 | 1.4 |
| 44 | William Buford | 14.5 | 5.6 | 3.2 | F | 33 | Orlando Johnson | 17.9 | 5.4 | 2.3 |
| 23 | David lighty | 12.7 | 4.6 | 2.8 | F | 21 | James Nunnally | 15.0 | 5.7 | 2.0 |
| 52 | Dallas Lauderdale | 6.8 | 5.0 | 0.2 | C | 0 | James Surna | 8.0 | 4.2 | 0.6 |
Opponent
UCSB comes in scoring 68.2 points a game, on 44.8 percent shooting overall and 38% from deep. The Gauchos didn't play a single opponent in the top 25 this year, went 0-2 against the RPI's top 50 and lost to California 87-66, the only common foe with the Bucks.
Coach Bob Williams plays all 5 starters at least 20 minutes a game, but he could sub up to another 5 off the bench, lead by Jordan Weiner's 14.3 minutes and 3 points. As you can see, their primary scoring comes from 2 players, but James Shurna averaged 10 in the conference tourney, while Powell stepped it up to almost 16 a game during the tourney run. Powell is the only senior that sees significant minutes and starts alongside 4 sophomores.
According to Bob Baptist at the presser yesterday, the Gauchos hope their match up zone will confuse the Buckeyes and lead to cold shooting on the perimeter, while trying to avoid getting into a track meet. Coach Williams also expressed concerns over getting "murdered on the glass" and shooting the ball really well. Essentially saying, UCSB has to play a perfect game, while OSU would have to repeat last March's effort to pull off the victory.
Buckeye Breakdown:
I'm sure the match up zone will cause the Bucks to get off to a slow start (unless they take it inside early and often), but they have too many good ball handlers and shooters to be outdone by a zone D from the Big West Conference. This style of defense is why Diebler's health is so critical. With Lighty and Turner a given to drive the lane, Diebler can stretch that defense will a couple of deep makes and open up the lanes even more as the game rolls along. You know he has been given top notch treatment and if he can hold his food down tomorrow, he'll be fine.
UCSB doesn't start a player over 6'7", so Dallas Lauderdale should be poised for a big game. He thrives in games where he is the tallest player and will have plenty of chances to catch some oops against the zone. If he can't stay out of foul trouble, Kyle Madsen has filled his role nicely over the later half of the season, posting 12 points and 14 boards last weekend in Indy.
Lighty and Buford need to get off to good starts. They can't settle for spot up outside jumpers over the zone, but must create movement to find the holes in the zone. Remember, whenever the Buckeyes have been torched by their matchup zone, it has come from the elbow and baseline. Those 2 spots will be open for jumpers all night.
I think The Villian is going to be able to break down the zone by himself, as long as he stays under control and tries not to dribble in traffic too much. His quick moves to the hole will open up shooters on the outside, but those holes can close up quicker in a zone, so he needs to avoid a cheap offense foul call on a jumper or pass. I think Turner is going to have a special tournament and with Ohio U. beating Georgetown, the bottom half of the bracket has opened up for him to carry this team into an Elite 8 appearance.
I think the Buckeyes defense can shut down the Big 2 of UCSB and hold the Gauchos to under 60 points, while riding their 49.6 percent season shooting to a victory. I'll stop short of calling it a blowout and I'm not sure I would give the 17 points, because it could be a close game at half and a new arena could cause some scoring droughts. But even after watching all the upsets yesterday, this one doesn't make us nervous and we should enjoy the weekend after a 79-65 win.
Etc
The Buckeyes are 37-20 in 21 tourney appearances.
Ian Eagle and Jim Spanarkel will call the game.