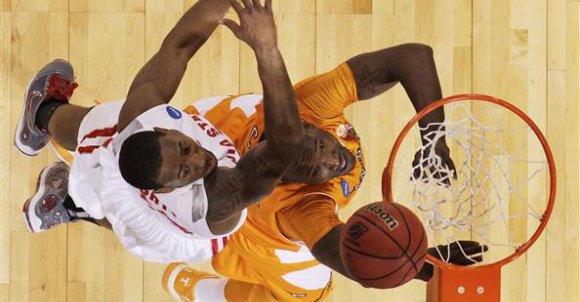 Falling victim to what we knew might eventually do them in, OSU surrendered 18 offensive rebounds including the last one of the season on a Brian Williams tip in of a J.P. Prince miss with :35 left giving Tennessee a 74-73 lead that became a 76-73 defeat in one hell of a heavyweight fight.
Turnovers also played a key role in the heartbreaking loss as Ohio State turned it over three times in the final 2:17 after taking a 70-68 lead fueled by five straight points from foul plagued David Lighty. After two straight miscues (Lighty, Turner) sandwiched a Wayne Chism lay in, Turner answered with a clutch triple giving OSU a brief 73-72 lead setting up the Williams clincher.
Painfully, the Buckeyes had their chances in the final seconds but a hurried exchange between Turner and Kyle Madsen following an o-board of Turner's missed lay up allowed Bobby Maze to seize the rock and hit two free throws with :13 left as OSU had no choice but to foul. With most of us expecting UT to foul, they didn't and Turner was able to get off a leaning missed three from the corner before getting his own rebound and launching another prayer from the left wing that was blocked as time expired. The bench went crazy demanding a foul but the refs made their one and only correct decision of the night (both ways).
Leading the mismatch on the window and in the paint was Chism as he punished Ohio State with a 22/11 dub dub backed by nine points and 12 boards from Williams. Meanwhile, the tandem of Dallas Lauderdale and Madsen combined for six points and nine boards. The inside issues were exacerbated by Lighty's foul trouble. He sat out the final 13 minutes of the first half upon picking up his 2nd foul and he was called for his 3rd exactly one minute into the 2nd half after being pushed into a UT offender. Lighty's absence and/or cautious minutes not only hurt OSU on defense but also on O. Early on, he fed baseline cutters at will while bringing his big defender away from the paint.
With Lighty limited, Wil Buford's 2nd half vanishing act and Jon Diebler unable to find the range (1/8, 3pts) against the more athletic Vols, Turner clearly played as if it was his game to lose. He took 15 of OSU's 31 shots (10/23) and scored 21 of OSU's 31 points in the final 20 minutes, on his way to a game high 31 points. He also grabbed seven boards and dished five assists but he committed six of OSU's 11 turnovers. ET was especially large out of the locker room scoring OSU's first 14 points of the 2nd half helping the Bucks hold a 56-51 lead with 10:02 remaining.
Chism's 12 points in the final 10 minutes helped erase the deficit setting the stage for the Williams game winner.
Buford complemented Turner's night with 15 points but only three came in the 2nd half as he missed all five FGA's. He wasn't alone as the Buckeyes shot 30% in the decisive 2nd half after shooting 56% in the first while the final line on the boards read UT 36, OSU 23.
As expected, both teams played like their hair was afire during a frantic opening half marked by electric intensity, highlight reel plays and timely shooting. Ohio State jumped out to a 13-7 lead sparked by Lighty and Buford. Lighty was the orchestrator picking up four quick assists while Buford hit four of his first five shots via Lighty's backdoor passes exploiting lanes behind the Vol defense and a deep triple.
Tennessee would charge back with a 10-0 run, making OSU's D look bad in the process as Matta switched from the effective 1-3-1 zone to man after Lighty picked up his 2nd foul, a nickel-dimer, with OSU up 13-10 at the 13:41 mark. The defense wasn't the sole reason, however, as Turner coughed it up twice leading to five easy points and a 17-13 UT lead.
Jeremie Simmons would help steady the ship as he got hot from deep cutting the lead to 17-16 then taking the lead 19-18 on the strength of back to back triples. The teams would jab back and forth from there generating five ties and two lead changes in the final nine minutes. Five different Buckeyes would score over the final 4:18 including threes from WB and Simmons giving OSU a 42-39 lead at intermission.
The entertaining half saw WB hit for 12 points (5/8) while Turner added 10 (3/8) to go along with three boards, assists and turnovers. At the other end, Tennessee hammered the Buckeyes on the offensive glass 11-4 in the absence of Lighty. The 2nd chance points helped UT offset 56% shooting from OSU (15/27) including 6/11 from deep.