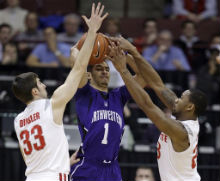 The Buckeyes travel to Champaign to take on the Illini for the first time this season and the winner keeps pace with Michigan State for the B10 lead.
Both teams are riding 5 game winning streaks (a season long for Illinois), but the Buckeyes are looking for their 9th straight conference win and a potential spot amongst the nation's top ten.
The Illini struggled in OOC play, losing 5 of their 13 games, but Bruce Weber has pulled his troops together for league play and he has had a couple of juniors (on a team with only 2 seniors) step up and provide the leadership needed to compete for another B10 title.
| # | Name | PTS | REB | ASST | POS | # | Name | PTS | REB | ASST |
| --- | --- | --- | --- | --- | --- | --- | --- | --- | --- | --- |
| 21 | Evan Turner | 19.2 | 9.3 | 5.7 | G | 32 | Demetri McCamey | 15.8 | 3.1 | 6.4 |
| 33 | Jon Diebler | 12.4 | 3.0 | 1.7 | G | 1 | DJ Richardson | 11.1 | 2.6 | 2.4 |
| 44 | William Buford | 14.2 | 5.3 | 3.3 | F | 30 | Bill Cole | 3.9 | 3.1 | 1.1 |
| 23 | David Lighty | 12.4 | 4.6 | 2.8 | F | 24 | Mike Davis | 10.3 | 8.4 | 1.0 |
| 52 | Dallas Lauderdale | 7.4 | 5.1 | 0.2 | C | 54 | Mike Tisdale | 12.0 | 6.1 | 0.7 |
Opponent
Once again, the Illini hang their hat on defense and rebounding, holding teams to a conference best 38.8% shooting in league play and rank second with 34.4 boards a game. Illinois is scoring almost 68.7 PPG in the Big Ten and shoot at a 45.7 percent clip. They rank second behind Northwestern in 3-point FG defense at 30.5 percent, while sitting third with a 36.6 percent success rate of their own. As a team, they have connected on better than 50 percent in 4 of their last 6 games.
While Ohio State leads the B10 in scoring margin at +7.3, the Illini have played every conference game, minus a 17 point win against Iowa within 10 points and currently rank 5th with a +3.4 margin. With their win at Wisconsin on Tuesday, they became the first unranked B10 team to steal a win at the Kohl Center during the Bo Ryan era. They also beat Michigan State last weekend (w/o Kalin Lucas), but still have to play at Purdue, Michigan and Ohio State, while hosting Minnesota and Wisconsin.
Like Ohio State, Weber has shortened his bench, playing up to 8 guys, but giving the majority of the minutes to his starters. Freshman Brandon Paul and senior Dominique Keller are the statistical leaders off the pine, but neither saw much action on Tuesday. Paul averages almost 19 minutes, 8.2 points and 2.6 boards, while Keller notches 13 minutes and 5.6 points, although he has only seen 16 minutes of action over the last 3.
DeMetri McCamey has been on fire lately, sharing POW honors with his high school teammate Evan Turner this week. In the wins over MSU and Whisky, McCamey registered a total of 49 points and 18 assists, raising his league play averages to 17.3 (8th) and 7.42 (1st). It should be a great battle between the two this afternoon, if the refs allow it.
Buckeye Breakdown:
The Buckeyes are looking to give Thad Matta his 10th straight season with at least 20 wins, a mark that trails only Mark Few for the most to start a career. It won't be an easy task though, as this game is the first against the top tier of the conference since January 16th.
I thought the Dallas would have a big game against the Hoosiers, due to their inexperience, but I also think he is playing some of his best ball since he arrived on campus and Thad echoed those feelings this week. The Big D will be crucial to the Buckeyes successfully navigating through the Orange Sea Sunday. Illinois brings some height to the table, so Lauderdale will need to stay smart and not get into early foul trouble. Dallas has been able to grab at least 7 boards in 4 of the last 6, but it will take his best effort to accomplish against Illinois, but his team really needs him to get close.
For me, there isn't a better duo in the conference (and maybe the nation) than ET and Wil.i.am, but it is going to be the play of David Lighty and Jon Diebler that will decide the outcome of this game. Both have been struggling from the floor recently and an argument could be made that the trend started with conference play did. Lighty has hit for double digits in 6 of his last 11, while Diebler has done it in just 8 of his last 18, including 3 of his last 5. Both their FG percentages are career highs and the dynamic duo is going to take most of the shots, but at least one of these guys need to provide at least 15 points on any night, if the Bucks are going to make some sort of run in either tournament.
Assembly Hall, historically has been a tough place for the Bucks to play, going 58-22 there over the years and they have been blownout in their last 2 trips, including a 49-67 loss last year. The Bucks have done a great job not turning the rock over lately, committing just 19 over their last 3, so that trend will need to continue Sunday. However, this is the one game over the last 5 that I don't feel that comfortable about and even though it will be a close game throughout, I have a feeling the refs and crowd will play a key role and the Buckeyes come up a bit short, 61-63.
Etc
The Villian has averaged just 10 points in 4 career games against Illinois.
Gus Johnson and Greg Anthony will call the game for CBS.