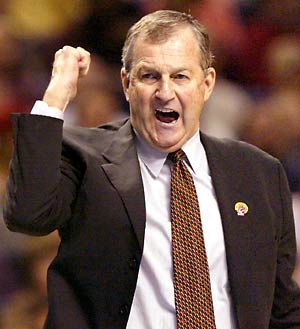 As the "temporary leave" taken by Connecticut men's basketball coach Jim Calhoun lingers on, and questions remain about the return of Florida football coach Urban Meyer from his own "indefinite leave of absence", sports fans might be starting to wonder if or when their favorite coach might end up in the same boat.
Calhoun is no stranger to health problems, as he recently emerged victorious from his third bout with cancer. The most recent issue is said to be "stress-related", but the fact that his father died of a heart attack when he was 15 probably causes him to be more cautious with these types of issues than most. As for Meyer, he has suffered for years from headaches caused by an arachnoid cyst, and his trip to the hospital to treat dehydration following the SEC championship game was brought on by a lifestyle that Meyer admits is "self-destructive".
It is well known that coaching a big-time college football team can be highly stressful. At a place like Ohio State, the pressure from alumni and fans of the program magnifies the perception of success or failure. Having a storied history and a winning tradition makes recruiting easier, but it also means that the expectations are high and every loss can be the cause of sleepless nights and meetings with the AD. Jim Tressel is already older than his father Lee Tressel was when he died of lung cancer. The younger Tressel seems to take pretty good care of himself, but the 16-hour days and endless recruiting season takes its toll.
Ohio State is mostly known as a football school, and so the pressure on Tressel will be heavier than what basketball coach Thad Matta deals with. But coaching basketball has an extra element of stress because the coach is expected to "work the officials" in addition to calling time-outs and drawing up plays. Officiating is much more critical to success in basketball and being on the wrong side of it in any given game can be the difference between victory and defeat. Coach Matta is known to get pretty animated on the sidelines, which will no doubt take its toll if repeated over time.
So what do you think? Are you concerned about the health of your favorite coaches? The case of Meyer is especially troubling to me, since he and I are the same age. Is it possible that we (i.e. fans and obsessive bloggers) are driving these guys to an early grave?