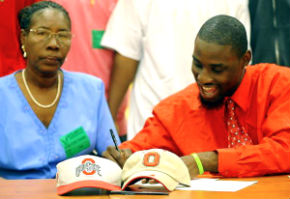 I know, I know. Yesterday was kind of rough and some are openly questioning Tressel's recruiting prowess. He can't close, we never get the big recruits in the end, and the team is doomed in the future because the 2010 recruiting class didn't finish with the bang we were all hoping for.
That is the feeling lingering amongst many of the Buckeye faithful after yesterday's meh finish, in which the Buckeyes missed out on three elite linemen in Matt James, Morgan Moses, and Seantrel Henderson. James picked the Irish over the Bucks, which shouldn't really be a surprise ultimately because he played ball inside of 275 (ground zero for UC > OSU territory), is a good Catholic and already had a relationship with Kelly from his time recruiting him to Cincinnati. Moses chose Virginia, his choice in 2009, after the staff wanted him to wait to see if he was eligible, while UVA was willing to take his letter right on the spot. Finally, Henderson chose USC (well, kind of), taking the Los Angeles and all that it has to offer, over the a more "stable" situation in Columbus.
Unlike many other journalists people that have opinions and know how to publish to the internet, I'm not going to sit here and tell you that 5-star recruits don't always pan out, or that the Buckeyes have taken lesser rated recruits like James Laurinaitis or AJ Hawk and turned them into super stars. I'm also not going to try and sugar coat National Signing Day by saying how we can still get Latwan Anderson or how the players we have are underrated and will be stars. The bottom line is, the feeling of yesterday straight up stunk and we can pout all we want, but the program is still in excellent shape.
We needed linemen to fill depth on our roster and we didn't get any. There were three and we did not land one. Not one. The finish wasn't strong and fans can rightfully be upset that this class is not great. That's just the point. Buckeye fans expect greatness and when Jim Tressel can't give them three straight great classes and instead bounces back with a good, solid class in 2010, fans are up in arms. For all those going crazy over Signing Day yesterday, please, take a deep breath, sit back, and realize just because we got a good class and not a great class, the we're not staring down a 6-6 season anytime soon.
Despite your opinion on his playcalling and tendencies, you can't deny that Jim Tressel has elevated the program to a place it hasn't been in a long time. After taking over a sputtering program from John Cooper, The Vest came in and restored tradition, what it meant to be a Buckeye immediately. In nine seasons he has a 94-21 record overall, 59-13 conference record, 5-4 bowl record (5-3 in the BCS), six Big Ten Titles, six Top 5 Poll finishes, one National Championship, and even more importantly an 8-1 record against Michigan, something fans during the Cooper era couldn't even fathom even in their best dreams.
Recruiting is important, there is no doubt about it. It is the lifeblood of college football and you can't win if you don't bring in talent that will allow for you to win. I understand that. What I don't understand is why people get all crazy about a player choosing another school over OSU. Look at Tressel's track record. Yes, he has pulled some top notch classes (2002, 2008, 2009), but he has also pulled some pretty middle-of-the-pack classes that have a few big time stars, some average players, and some prospects people write off immediately.
That's where coaching comes in. Jim Tressel and his staff are great coaches. They know they can't get the top class every year and while they do always land some big fish, they also know they can get players who fit their system well that they can coach up to become that big fish. It happens every year, the Buckeyes are winners every year, and they will continue to be winners every year, as long as us fans allow Jim Tressel to do what he does.
So, for all you fans who want Jim Tressel's head today because he couldn't "close the deal with some high school kids", please, have faith in what has worked. The Buckeye football program is in no danger and the decision of three teenagers will soon be forgotten. The Buckeyes will be fine. So fine that they are poised to make a championship run in 2010 and years beyond. You all may be worrying about yesterday's results, but I'm sitting on my couch, sitting back, relaxing, and knowing Jim Tressel still has a smile on his face about the future of this program.