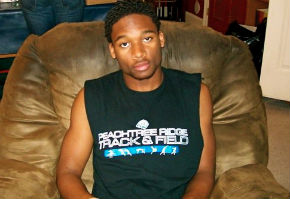 While we await the final decisions of the last three or four prospects the Buckeyes are looking to hear from, we can at least be happy about the players we already have verbally committed in this class of 2010.
One of those players is Bradley Roby, a recent addition for this class, and certainly one that will fill a spot of need. Roby, who was originally verbaled to Vanderbilt as a wide receiver, will play corner back for the Buckeyes after taking an official visit to Columbus in early January and announcing his decision to switch his commitment to the Scarlet and Gray shortly thereafter.
We were able to catch up with the Peach State speedster recently and discussed with him his relationship with Cameron Heyward, what the process was of switching from Vanderbilt to OSU was like, what he needs to work on before making it to campus, and more.
So now that your recruitment is wrapped up, how does it feel to be a Buckeye? It feels great that it is finally over. It's exciting because I have always dreamed of playing big time college football ever since I was little and now its finally here. I love Ohio State and being a Buckeye feels great
You seemed to be very honest with the Vandy staff the whole way. Can you walk us through your recruitment process with them and how you ended up at Ohio State? How did Coach Johnson and the staff take the news? Well during the Christmas Break I called the Vandy coaches and told them that I was de-committing. It was hard to hear the disappointment in his [Coach Johnson's] voice but it was something I had to do for me. They told me that I was one of their prized recruits and that they had plans to use me in certain ways but in the end, I felt Ohio State was a better fit for me.
How big of a factor was Cameron Heyward in your decision to come to OSU? If he didn't come back next year, would you still have been a Buckeye? How excited are you that he came back? He helped recruit me pretty good. When I went up there this summer, he toured me around and he kind of sparked my interest in Ohio State. Yes, I would still come to Ohio State, because I thought he was leaving for the draft before I made my mind up anyway. It is a good plus that he is staying though.
Have you gotten a chance to talk to any of the other OSU recruits? No I have not got to speak with anyone in my class yet, but I sure do look forward to meeting them
When do you plan to enroll at OSU? What number would you like to wear? What do you plan to major in? I will enroll in June, and I want to wear #5, but Chekwa has that, so #4 is the next number I want. Major wise, I'm not sure on what I want to study yet.
Is it going to be cornerback for you right off the bat, or is Coach Tressel going to take a look at you at WR or Safety? I'm going to start at cornerback, but Coach Tressel did say he wants to look at me at receiver too. It's most likely going to be corner where I will play. Not sure about Safety
Which coach do you have the best relationship with? How is your relationship with Coach Tressel? I think I have the best relationship with Coach Haynes, probably because he is who recruited me. Coach Tressel and I have a good relationship as well. He's a great guy and he is a pretty funny guy too. I didn't really expect that from him
What are your hobbies off the gridiron? Other than working out, just hanging out with friends and mainly just normal teenage stuff.
What do you feel is the best part of your game? What do you feel you need to work on before coming to OSU? My big play ability is my best attribute in my eyes, along with my speed. I'm always trying to make plays and get into the end zone. I'm really working hard at improving my technique at cornerback right now. I'm also trying to gain some weight and get conditioned too. I'm currently weighing in at 182, so I'm getting a little bigger.
If you can tell Buckeye fans one thing about yourself, what would it be? I Cant wait to get to the wonderful city of Columbus and become a Buckeye....and expect big things.