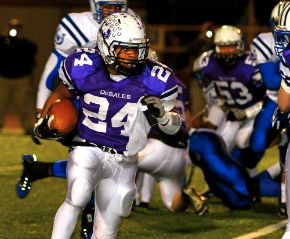 Most of you already know, but if you didn't catch it yesterday, Adam Griffin has become the 19th member of the 2010 recruiting class when he accepted a scholarship he was offered a few days after National Signing Day last week.
Archie's son flew under the radar in terms of recruiting and while many MAC schools were interested in the 5-9/180 athlete throughout the recruiting process, the younger Griffin had official offers from Air Force, Army, Navy, and Eastern Illinois. Make no mistake about it though, the kid is talented and was a major piece to helping DeSales reach the state championship game this past season.
We caught up with the versatile athlete who played offense, defense, and special teams for the local school and discussed how the OSU situation unfolded, what position he will play in college, if he will don his father's #45 jersey, and more.
News of you signing with Ohio State was kind of a shock to most fans. How did the process unfold and how did the opportunity to become a Buckeye come about?
Things unfolded pretty randomly. I called coach Tressel and asked to walk-on. Then, he called me back with a scholarship.
What position will you play while at OSU?
I am being recruited as an athlete so we will see where there is a need.
I know Eastern Illinois, Navy, Army, and Air Force were recruiting you pretty hard. If the opportunity to play at OSU did not present itself, where would you have played your future college football?
I would most likely have been playing at Air Force.
Being Archie's son, the spotlight is kind of on you, especially coming to OSU to play. How do you feel about the extra attention you may receive and how difficult will it be to deal with the territory that comes with being a Buckeye Legend's son?
It won't really effect me too much. I have grown up in his old stomping grounds my entire life.
You play basketball with Nick Kellogg. What is it like playing with the son of another former OSU great?
Playing with Nick is actually a very unique situation. We have been best friends since we were about 7 years old. I don't think either of us notice it very much. We pride ourselves on being our own individuals.
Why do you think your recruitment has flown so low under the radar?
I don't really know why it flew under the radar. Ohio State came into the picture pretty late. Other than that, some of these other teams that were recruiting me had their various reasons as to why they did not want to give me a scholarship. My dad just told me all along it only takes one to offer you a scholarship and that is your shot, so go make the most of it.
Most kids sleep sucking their thumbs or with a blanket or stuffed animal. Did you ever sleep with one of dad's Heisman Trophies tucked underneath your arms?
Haha I wish. Maybe I would have some of his skills then.
What are your goals, both on and off the field, heading into Ohio State?
Off the field, I plan on earning my degree in a timely fashion. On the field, I want to just work hard and put myself in a position to compete for a spot somewhere down the line.
Will dad let you wear #45?
He probably would, but I wouldn't want to wear the number.
If you could tell Buckeye fans one thing about Adam Griffin, what would it be?
I would say that I have as big of a heart as anyone you will find out there. For what I lack in size, I make up for in heart and effort.
And here is a highlight video for all you unfamiliar with the skill set of the younger Griffin: