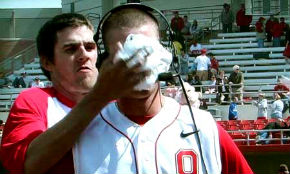 The temperature is in the mid 30s, there is still the remnants of multiple feet of snow from the blizzard on the ground, and hail, sleet, and freezing rain have made walking around campus at OSU miserable for the past few weeks. Ask the average Ohio State student what February has been to them they will surely give you an answer that includes "worst weather in my time at school", "not enough snow days", or "I hate winter quarter". That is unless that student is a member of the Buckeye baseball team.
The 33 student-athletes that make up the 2010 edition of the "Buckeye Nine" have been anticipating the beginning of their season for a few weeks now , hoping to leave the miserable Ohio cold and get to the Florida sun that enables college and professional baseball teams everywhere to play baseball in the winter months. That beginning started this past weekend, as head coach Bob Todd took his squad down to Jacksonville, Florida to kick-off the new season that features many reasons to be excited.
The Buckeyes come into 2010 after losing some key players from last year's roster, including Michael Arp, Jake Hale, and Justin Miller, but the youth that lead the 2009 team to a birth in the NCAA Tournament returns and should have this team rank as one of Todd's best ever. Catcher Dan Burkhart and pitcher Alex Wimmers were named National Pre-Season All-Americans by various services and are the wheel that will steer the ship this year. Burkhart was the Big Ten Player of the Year as a sophomore last season, hitting .354 with 10 home runs and 62 RBI in 57 games. Wimmers was equally as good, posting a 9-2 record to go along with a 3.27 ERA en route to being named the conference co-pitcher of the year, leading the conference in strikeouts with 136 in 104.2 innings pitched, and even tossing a no-hitter against Michigan, the first 9-inning no-no in Buckeye history. The Moeller Products are juniors this season and will most likely be selected early in the 2010 MLB Draft, so look for their potential last seasons in Scarlet and Gray to be good ones.
In addition to Wimmers and Burkhart, the Bucks will get solid contributions from other returners including Brian DeLucia, Ryan Dew, Tyler Engle, Zach Hurley, Cory Kovanda, Drew Rucinski, Cory Rupert, Michael Stephens, Matt Streng, Jared Strayer, and Dean Wolosiansky. Unfortunately, former Buckeye quarterback, Ross Oltorik, will not be contributing on the mound as expected, as he has been ruled out for the entire season after it had been decided he will need surgery for a shoulder injury. The team is certainly stacked with talent, leading to a lofty set of pre-season rankings you normally don't see north of the Mason-Dixon line.
Bob Todd entered the season with 997 victories and with three games this past weekend was looking to reach that coveted 1,000 win milestone sooner rather than later. After wins against North Florida on Friday night, Florida A&M on Saturday, and Richmond on Sunday, the coach finally reached the plateau and congratulations are certainly in order. Not only did the Bucks win the games and help their coach go down in the record books, but they did it by outscoring their opponents 40-12, had a streak of 21.2 innings without giving up an earned run, forced their opponents to use a starting position player as a relief pitcher in two different games, played 18 different players in one game (Saturday), and hit .364 and pitched to a 2.33 ERA as a team over the weekend.
Alex Wimmers dominated in his start, throwing six innings of one-hit ball and striking out nine, while just allowing two balls to leave the infield. He was named Big Ten Pitcher of the Week, an award he won four times last season and hopes to do a lot more in 2010. Stephens, DeLucia, and red-shirt frosh Brad Hallberg all went yard for the Bucks and combined for a 12/34 showing at the plate over the weekend. Burkhart went 6/12 with 5 RBI and Matt Streng was 5/11 with 7 runs scored in the three victories. On the hill the Buckeye starters combined for a 2-0 record, throwing 15.2 innings while allowing just two earned runs on 13 hits. This was certainly a strength for the team this weekend and will continue to be all season long.
The baseball Buckeyes may not be the most popular ticket in town as of the moment, but they are certainly worth keeping an eye on the next few weeks if you're interested in anything and everything OSU like us. This team has the opportunity to do something special and with the experience at both the plate and on the mound, the team should be primed for a big run at the National Title this spring.