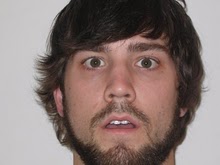 Mark Titus. You know him. You adore him. Frankly, you wish you were him. In fact, the lovable walk-on has reached new levels of exposure this past week, marked notably by today's appearence on ESPN's First Take, during which Mr. Titus was interviewed by unabashed Ohio State backer Jay Crawford. This comes not even a week after having his Rain Maker video featured on ESPN's SportsNation, he receiving one more New York Times feature than any of us have ever scored, his multiple appearences on Bill Simmons' Podcast, oh, and far too many local sport bit pieces, interviews, and cameos to possibly keep pace with.
However, the new found media circus surrounding everyone's favorite Trillionaire can only beg one question: Has our very own Mr. Titus, jumped the, ahem, shark? We here at 11W know how being on the cutting edge of culture and athletics alike remain a critical need for virtually all of our loyal readers. With that in mind, we answer the hard hitting journalisto questions 10TV and The Dispatch are too afraid to ponder: Just who may be the heir apparent to the Mark Titus unheralded star media throne?
Justin Siems - Quarterback, Football Team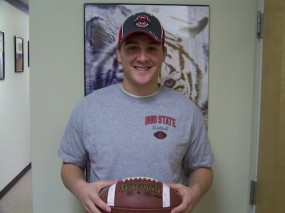 The most prolific and decorated passer in North Carolina Tech Preparatory Christian Academy history, Justin elected to take up an offer to walk on to the Buckeyes this past season to provided much needed repetitions for bored backup wide receivers (while simultaneously assuring QB Coach Nick Siciliano wasn't the lone, dubiously qualified North Carolina product on staff).
Jeff is an Ohio State legacy (proud papa Jeff Sr. is a Buckeye), and without his warm body seeing some repetitions, how would the Buckeyes possibly cope in a situation where Terrelle Pryor, Joe Bauserman, and Kenny Guiton are all tragically rendered unable to play in a single car accident? If you thought Joe Bauserman was the most popular person on campus after the Purdue game, wait until this doomsday scenario transpires.
"But can the beige shirt freshman write?" My answer for you is, does it really matter? Many of today's celebrities have assistants who ghost write the 140 character novels they simply don't have the precious time for, and I see no reason why a loyal and willing member of the Buckeye faithful wouldn't be willing to throw together a livejournal in #17 (yes, keeping the Boeckman Delorian warm, baby)'s honor. The masters of language at Cleveland Plain Dealer pontificated that [his] "name rhymes with dreams", and if it truly does, there's no question he'll be making all of ours come true in the not too distant future.
Aleksandra Dobranic - Center, Women's Basketball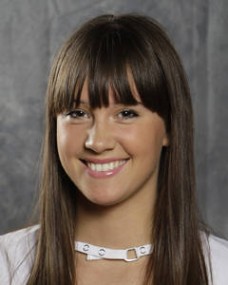 Foreign. Beautiful. Imposing. Dobranic may or may not actually be a walk-on (I got lost in the bangs), but she does share the characteristic of seeming to play Titus like minutes. Adding to her international lady of mystery resume is her experience as a former member of the Serbian Junior National Team. The Shark is a force of cult of personality and all, but let's be real; how many national team's roster is home dude going to grace (though I'm unwilling to rule out some sort of international paper football competition at this point in time)?
Yeah, yeah, yeah, she's 6'4". So what if she'll swat your weak behind offering back into your face should you two hypothetically ever shoot around (spoiler alert: any of these women would embarass you and everyone from your freshman year floor)? That also means she can retrieve things from difficult to reach, higher bookshelves. And don't even pretend like you wouldn't read a blog about tall, hot basketball players trapped in an elevator with a bunch of other ladies (what could possibly happen?).
And don't think for a second your reservations about the writing potentially being in Serbian are going unaccounted for. But let's be honest here: it's 2010, she's not American born, and she's academically qualified for Ohio State. I'm willing to wager her command of her second language is likely on par, if not superior to, many of our own.
Last but not least, the women's basketball team is in the midst of putting together a resume that would rival that of the 2006 Men's. #5/#4 in the country and well on their way to a 20th victory (and possible 1 seed in the NCAAs). Don't pretend like a blogspot offering from a leggy Serbian bombshell wouldn't make you that much more likely to give the Lady's Ball a chance come March.
Danny Peters - Guard, Men's Basketball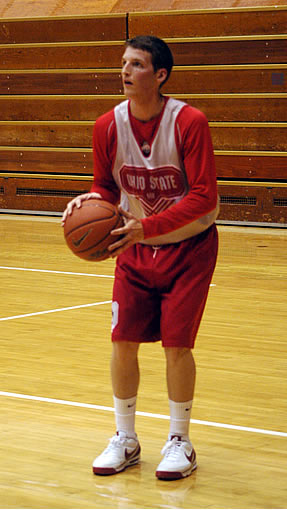 Long relegated as "the other walk-on", his silence has become deafening as his eligibilty too approaches its end in this, both Peters and Titus' final season. The New Albany native has long embraced the Best Supporting Walk On to Titus' over the top, self promotion, but he's one mammoth, ticker tape shot blog post away from taking away all doubts and leaving no doubt as to the true comedic king of the pine.
Paul Rudd, Seth Rogen, and Jonah Hill too long languished as just supplementary funny men, but now with "I Love You Man", "Pineapple Express", "Knocked Up", and "Funny People", and "Superbad" respectively in the last serveral years, their names have been the ones finding their way onto the marquees.
This is your chance Danny: we know you're so much more than the associate director of basketball operations' son. Time to make us proud, unveil an epic YouTube vid to end all videos, and reclaim the walk-on crown in one foul swoop.