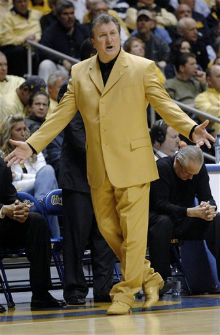 Before we start talking hoops, I must acknowledge the significance of this particular post, as it becomes the 2000th post in 11W history. While our 7th grade writing levels still exist, we must thank you the reader for coming back each day and making this place a great platform to express our Buckeye passion.
Now for the hoops. OSU takes their 3 game winning streak east to Morgantown, as they look to revenge last year's 76-48 ass whooping in Columbus and closing out their OOC schedule against the Huggy Bear lead Moutaineers.
Before the season started this game was chalked up as a potential loss and with the rumored arrival of a fresh batch of moonshine in the pre-game parking lot, it doesn't help spell that concern. But the Buckeyes have been playing good ball over the last 3 and if they can show a bit of toughness in M-town, they have a chance of pulling off the upset.
Meanwhile, WVU is 3-3 over their last 6, losing at Purdue, at Notre Dame and home against Syracuse, with the 2 Big East games being decided by a combined 3 points. Regardless of how they have played lately, this is the one team that scared me the most before the season. They essentially return their entire team from last year and play a super physical type of defense, perhaps the best D the Bucks will see all season.
| # | Name | PTS | REB | ASST | POS | # | Name | PTS | REB | ASST |
| --- | --- | --- | --- | --- | --- | --- | --- | --- | --- | --- |
| 21 | Evan Turner | 18.6 | 9.7 | 5.5 | G | 25 | Darryl Bryant | 10.5 | 1.9 | 3.4 |
| 33 | Jon Diebler | 13.5 | 2.8 | 1.9 | G | 1 | Da'Sean Butler | 15.8 | 6.4 | 3.4 |
| 44 | William Buford | 13.1 | 5.1 | 3.2 | F | 35 | Wellington Smith | 4.8 | 3.5 | 1.1 |
| 23 | David Lighty | 13.0 | 4.8 | 2.8 | F | 5 | Kevin Jones | 14.9 | 7.7 | 1.4 |
| 52 | Dallas Lauderdale | 7.3 | 4.9 | 0.3 | C | 3 | Devin Ebanks | 11.6 | 7.9 | 2.7 |
Opponent
Don't let the fact Huggins still lives in a hotel with a lower level bar (true story) cloud your judgment of his coaching abilities. The guy can flat out coach and you can bet that he will have something planned for stopping Evan Turner and forcing the other Buckeyes to beat them in his place.
The Moutaineers don't have that impressive of an OOC schedule, but they have played at Purdue and lost by 15 points. WVU comes in scoring 74.4 points a game on 44.8 percent shooting overall and 34.9 percent from deep. Amongst the regulars, only Kevin Jones is shooting above 50 percent. WV ranks 14th nationally with 16.8 assists per contest and pull down an average of 38.5 boards.
Huggins could go as many as 10 deep, but Jones, Butler and Ebanks should go at least 30 minutes a piece. The leading subs are John Flowers and Joe Mizzoula, who combine to play 29 minutes, score 6 points and grab 5 boards.
Buckeye Breakdown:
The one problem on the road that has plagued Ohio State is long scoring droughts, so if they can avoid one of those today in Morgantown, they could pull it off. WVU is surprisingly one of the worst shooting teams OSU has seen in a while and if they don't get over taken by WVU's length on the boards, they have a better chance. And finally, if they can come out of the gates like they did Tuesday against NW, then I think they definitely pull off the upset.
That's quite a few "if's", but Ohio State has the best player in the country who has shown the ability to put the team on his back and carry them for a game. Since his return, the defensive intensity has gone back up and so has the rebounding. There also hasn't been a long stretch without scoring and OSU is back up to 49.8 percent shooting, good for 7th in the league.
As I mentioned, I haven't felt good about this game all year, but I like the way the Bucks are playing right now. If Diebler and Buford can get off some quality shots and not get pushed around by taller defenders, it's going to help the cause. I think it is a much better game than last year, but the Bucks fall a little short and leave Morgantown with a 65-68 loss.
Etc
Turner averages 24.2 points and 9.6 boards in 5 games against ranked teams this year.
The Bucks have shot better than 50% from the floor and 75% from the line over their last 3.