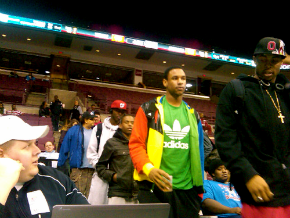 As we told you last week, the Ohio Scholastic Play By Play Classic came to the Jerome Schottenstein Center this past Saturday and the event matched not only some of the best talent in the state up against one another, but some of the best talent in the nation.
On the slate were nationally ranked 2010 players in MSU-bound Adreian Payne of Dayton Jefferson, Ohio-bound Nick Kellogg of Columbus DeSales, Miami (OH)-bound Quentin Rollins, Pittsburgh-bound Cameron Wright, and OSU-bound Jared Sullinger and JD Weatherspoon of Columbus Northland, DeShaun Thomas of Bishop Luers (IN), and Jordan Sibert of Cincinnati Princeton. Top 2011 talent included Traevon Jackson of Westerville South, Markus Crider and Travis Trice of Huber Heights Wayne, and Penn State-bound Trey Burke of Columbus Northland.
Although there were high expectations for the aforementioned players, all hopes were met by the star studded line-up that consisted of seven games throughout the day. We were able to be on hand to check out all this talent live and have a run down of each of the seven games, as well as interviews from future Buckeyes Sullinger, Weatherspoon, and Thomas, and some bonus video from Northland coach Satch Sullinger and an OSU legacy in Traevon Jackson.
Dayton Jefferson vs. Harvest Prep Dayton Jefferson had to fight throughout the game, but in the end was able to take care of Harvest Prep by a score of 66-56. Adreian Payne was the MVP for the winning team, while Geron Tate took home some hardware himself, despite coming up on the short end of the stick. Payne was very impressive at times and finished with 21 points, 18 rebounds, 5 assists, and 3 blocks, including multiple rim-rattling dunks. I did say impressive at times, as I felt the future Spartan took some plays off, but he did play the entire game so I guess he is entitled to a break every now and then. Despite his occasional laziness throughout some of the game, I think Payne is going to be a very good player for Tom Izzo and fits in well to their system as an athletic big man that is all of the 6 foot 10 inches he was advertised to be. Click here for some highlights from the game.
Westerville South vs. Logan Elam In the second game of the afternoon Westerville South took down Logan Elam 55-41 to remain undefeated and move to 14-0 on the season. Traevon Jackson, son of Jimmy Jackson, was the MVP for South, while Adam Blake took home the honors for Elam. Jackson was silky smooth, just like pops, and finished with 13 points, 10 rebounds, and 3 assists. He showed great vision passing the ball, a tenacity on the glass, and a non-stop motor on both sides of the floor. The younger Jackson talked to us after the game and you can see the interview below in which he talks about his performance in The Schott, as well as which schools are recruiting him.
Chillicothe vs. Canton Timken Just as OSU was tipping off against West Virginia, Chillicothe took on Canton Timken and Timken was able to come away with a 59-42 victory. MVPs were Rakim Reed of Timkin and Jalen Rigland of Chillicothe. Unfortunately I was wrapped up in the media room watching the Buckeyes crumble in the Coliseum, so I didn't get to watch the game live, but the linked story Ohio High School Hoops does a pretty good job in summary of the Trojans' victory against the Cavs.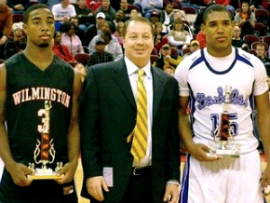 Columbus DeSales vs. Wilmington The next game provided a thriller, as Columbus DeSales was able to sneak by Wilmington 65-62 in double overtime. Nick Kellogg, son of former Buckeye Clark Kellogg, led the way for DeSales, earning MVP honors with 27 points, while Quentin Rollins of Wilmington earned MVP for the losing side after scoring a game-high 30 points. Rollins was very impressive and the future Miami Redhawk was showed a natural ability to get to the hoop and score at will. He converted from inside the paint, mid-range, and from the outside displaying an ability to put up points in a variety of ways. Kellogg, who will play for John Groce in Athens next season, scored his 27 a bit more quietly, but showed a clutch ability as he hit a step back jumper that appeared to win the game in regulation, but the DeSales coach called a time out right before the shot was taken, forcing the game into the first extra period. Nonetheless, Kellogg stepped up for his team once again when it counted and lead the Stallions to victory after 40 minutes of play. Both of these stars will be solid players in the MAC and should definitely succeed at the next level.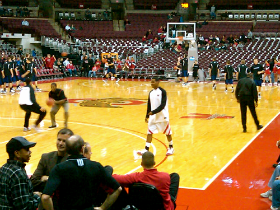 Huber Heights Wayne vs. Jackson Following the double overtime thriller was Huber Heights Wayne taking down Massillon Jackson 62-53. This was really the first game in which both teams had multiple players who can score and fans really got to see some depth and a variety of players contributing to the game. For Wayne, 2011 PG Travis Trice had 20 points, 2011 G-F Markus Crider had 13, and 2010 SG Xavier Jones had 17 points and 6 rebounds. Trice was very impressive, especially from 3-point range , while Jones showed an ability to use size and strength at the shooting guard spot to put himself in a position to score in a multitude of ways. Trice and Crider are still playing out the recruiting process, while Jones seems to have it down to Marquette and Dayton. As an added bonus, Buckeye fans got to see 2011 QB prospect Braxton Miller play some hoops and we were fortunate enough to get some video of an interview with him after the game. If you missed that post, check it out by clicking this link.
For Jackson, Josh Egner and Mark Henniger lead the way and the pair of 6-7 big men did their part, but it just wasn't enough. Egner is heading to Akron next year and is in the mold of the Josh McRoberts athletic type, while Henniger is a more traditional big who will try his trade at Kent State next season. Egner was the team's MVP and finished with 16 points and 14 rebounds, while Henniger added 13 points, 9 rebounds, and 5 blocks. A good game story by the Canton Rep can be found here.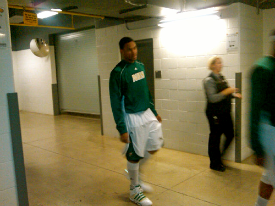 Columbus Northland vs. Bishop Luers After much anticipation and delay due to the 2OT game, the prime time match-up of Jared Sullinger and Northland vs. DeShaun Thomas and Fort Wayne (IN) Bishop Luers hit the court at Value City Arena. Three future Buckeyes in Sully, Thomas, and Weatherspoon, as well as a future Nittany Lion in Trey Burke, gave the crowd everything they wanted, but it was Northland who cruised to a 88-67 win in fron of approximately 6,000 fans. Sullinger was named MVP of the Vikings and finished with 24 points, 9 rebounds, and 3 assists, while Thomas was the game's high scorer and Luers MVP with 36 points and 9 rebounds. Weatherspoon was matched up with Thomas early and picked up two first half fouls, limiting his time in the get-go, but finished up strong in the second half with 8 points, including a couple monster dunks. Burke, who decided to commit to PSU before seeing if OSU would eventually offer, did his part with 23 points and 7 assists to just 1 turnover in the game.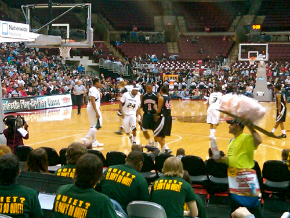 I was really impressed with how well Thomas shot the ball, as he hit 5-10 from downtown and was 6-11 inside the arc. He was also 9-11 from the charity stripe, displaying a soft touch that went along with a power inside game. Thomas is certainly a "one and done" candidate, as his body is NBA ready, his outside game seems to be on spot, and he has the ability at 6-7 to play on the inside. He may be the best one out of the "Super Six" coming in next year and he certainly did not disappoint in his future home arena. An interview with Thomas after the game can be seen by clicking this link, while we were able to catch him throwing one down here, and making a strong move to lay it in here.
As for Northland, Sullinger looked even better in person than he did on TV. Yes, he may only be around 6-8, lacking "true center: size, but he is extremely athletic and has great touch. He knocked down a couple threes (video of one here), hit some mid range jumpers, and of course threw down some dunks (one captured here). I think despite all of his skill on both ends of the court, the most impressive thing may be his free throw shooting, as the big guy has great touch and rarely misses. We caught up with Sullinger after the game, and you can check out that video by clicking this link.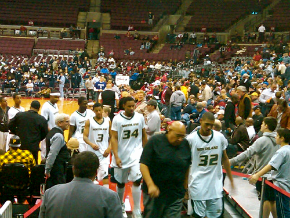 As I mentioned previously Weatherspoon struggled at first, as he was concentrating on defending Thomas (and did a good job) and had to leave early in the first half with two fouls. Despite that, he came back strong in the 3rd quarter and brought energy off the bench to do some work defensively and on the glass, as well as throwing down some of his patented highlight reel jams on the offensive end. "The Human Pogo Stick" definitely has some developing to do, but you can tell he has been working on his outside game as well as his ball handling. We caught up with 'Spoon after the game and you can check out that video by clicking this link.
Additionally, Ohio High School Hoops did another good write-up on the game, and we also have a bonus video from Northland coach and Jared's father, Satch Sullinger immediately following the big win. To access that video click this link.
Cincinnati Prinecton vs. Cleveland Benedictine In the final game, Cincinnati Princeton took on Cleveland Benedictine in a game that matched two shooting guards with OSU ties against each other in Jordan Sibert of Princeton and Cameron Wright of Benedictine. Sibert is a current member of the OSU 2010 recruiting class, while Wright was a one-time verbal to the class, but decommitted after Thad Matta and staff made it clear that there interested was not as strong. In turn, Wright committed to Pittsburgh and gave Thad a glimpse of what he may be missing as his team defeated Sibert's by a score of 55-48.
Sibert's outside shooting was off Saturday as he shot just 2-7 from 3-point range, but the senior did score 19 points. Although it looked like he is not 100% recovered from a knee injury suffered last spring, Sibert did look strong and Buckeye fans should be excited to have him as part of this class. He did not have as good of a supporting cast as Wright did and despite not playing as well as he liked, he never quit and kept his team in the game.
Wright, on the other hand, must have felt good with his 19 point performance at the venue he once though he would be playing at for the next four years. Unlike Sibert, who likes to make it rain from the outside, Wright is kind of a high-glider who plays really well above the rim and can attack the basket with ease. He is going to be a really good player for Jamie Dixon, but don't worry too much as he would have been a nice player in Columbus as well, but the need for a point guard in this class was much greater as Sibert, Thomas, Lenzelle Smith, and Weatherspoon take care of the spot Wright would have played in. It is probably best for both parties that things did not work out, but we wish the best of luck to Cameron and hope next time these two meet that Sibert gets the best of Wright.