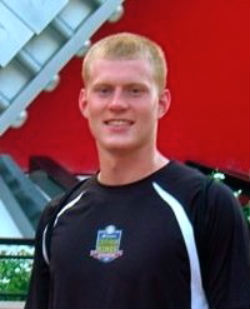 You heard from David Durham a few weeks ago and now you get some wisdom from another 2010 commitment in QB Taylor Graham of Wheaton North High School in Illinois.
Taylor is the son of former OSU and NFL quarterback Kent Graham, but don't think legacy is the only thing this kid has going for him. After an injury-riddled junior season, the younger Graham had a solid summer camp, gathering offers from UCLA, Michigan State, Iowa, and others before Ohio State finally offered. Although the Bucks preferred Nick Montana and Andrew Hendrix at first, they were very happy to land the up and coming Graham who not only had the skills to compete on the gridiron, but also had the pedigree and mental make-up you want in a signal caller.
Unfortunately Graham's promising senior season came to an early end as the senior tore his PCL in the first few games and left many Buckeye fans on edge as to his future and susceptibility to injury. In this interview, Graham puts those worries to rest and talks about many other things including his dad's impact on his decision, how he feels about the late offer to Verlon Reed, who he would like to fill the shoes of, and more.
Being that your dad played here, it's natural Ohio State would be a big factor in your decision, but what made you want to come to OSU? What other schools, if any, did you consider? Did any schools try to recruit you after you committed?
To be honest, the fact that my dad went to OSU had nothing to do with my decision. I really like the tradition and the people at OSU. I feel like I will fit in well. OSU is one of the top teams nationally every year, so how would I not want to join a Big Ten Champ, and who wouldn't want to play in the Shoe? I had somewhere around 10 offers because I was hurt half my junior year, and my top four were Iowa, Michigan State, UCLA and OSU. I believe that because of the way I presented my decision to the other schools, they understood that I was going to OSU and they didn't recruit me after I committed.
How's your rehab coming? How tough will it be to come back from two straight years of injuries? What is the timetable for your return? Does the fact that OSU took another QB in Verlon Reed bother you?
My rehab is coming along great now. I am running and lifting just as I did before the injury. It is always difficult to bounce back form an injury but the severity of mine was not that bad. I tore my PCL and I'm told that of the four ligaments in your knee, that is the least important, for lack of a better term. I believe that competition brings out the best in everyone. So the fact that OSU offered Verlon doesn't bother me. I've had the chance to meet him and I can tell he's gonna be a great teammate.
When do you plan to enroll at OSU? What will you be studying?
I plan to enroll at OSU in the summer, and i really don't know what it is that I will be studying.
What number would you like to wear at OSU? Which player in your class do you think you'll room with?
I don't even know what numbers will be available actually. With so many guys on the team I don't know what's open. I have gotten along really well with guys like Chad Hagan and David Durham, so we'll see.
Are there any players you talk to that OSU is still recruiting that aren't yet committed? Who would you like to join this class that is still uncommitted?
While I was on my official visit I talked to Matt James, and he seemed like a good guy. I talk to him every once in a while. I'd love to see anyone that wants to be a Buckeye commit.
Which coach are you closest to? What is your relationship with Coach Tressel?
I'm closest with Coach Siciliano. He will be my QB coach and I think he and I will get along great. I like Coach Tressel a lot too. He's a great coach and I cant wait to learn from him and Coach Siciliano. I have spoken with him several times too.
How was your official visit? What did you like best?
My official was great. I really enjoyed getting to meet a lot of the coaches and other commits that I hadn't met before.
What is the best part of your game? What do you feel you need to improve on most before you come to Columbus? Do you think you'll red shirt next year?
I never like evaluating myself. I leave that up to the coaches, but of course there are a lot of things I need to improve on. Getting stronger, faster, and then learning a lot more about defenses. I haven't talked with the coaches about red shirting, I assume that will be handled once I get there.
What current/former NFL player do you compare your game to? What current/former college player do you compare to?
Once again I don't like comparing myself, but I would hope to become as good as someone like Troy Smith or Sam Bradford.
If you could tell Buckeye fans one thing, what would it be?
I cant wait to become a Buckeye and do everything I can to help keep the winning tradition going.