"Tressel can't close", "This is 2007 all over again", "The 2010 class is going to stink", and "The football staff needs Thad Matta to teach them how to recruit" were all comments posted around the Buckeye blogosphere this weekend following some bad recruiting news. It's amazing how the announcements of two 18 year old kids can put a whole fan base up in arms, but that's what happens when so much hype and attention is giving to high school recruiting, the life blood of college football programs in today's world.
In our periodical recruiting notebook we'll give you all the information you missed regarding the Under Armour Game, the U.S. Army All-American Bowl, this weekend's official visits, and what's left on tap for the Ohio State recruiting class of 2010.
The Ones That Chose Less Green Pastures
The previous allusion to bad recruiting news comes in the form of announcements from the Army All-American Bowl via Latwan Anderson and Sharrif Floyd. Anderson, a stand out defensive back from Buckeye pipeline Cleveland Glenville, chose to don the flying WV of West Virginia over OSU, Miami, UNC, and Georgia. It was once rumored that Anderson wanted to verbal to the Buckeyes on his official visit and birthday on October 10, but the staff asked him to postpone his visit until December. There were worries about Latwan's academics and off-the-field issues, but he did indeed qualify for a Buckeye offer and to our knowledge JT was ready to help Anderson clean his act up in Columbus. Whether it be because he wanted to see the field sooner or just realized he could potentially turn into another Ray Small, Anderson chose the far less prestigious academic institution in Morgantown where the antics of the late Chris Henry and the currently unemployed Pacman Jones were deemed standard behavior. Anderson's decision may hurt on the field, but the potential headaches he would have caused us off the field make me happy he chose WVU. Anderson still has scheduled visits to UNC and Miami, so his decision could change by early February.
Floyd on the other hand was everything you want in a Buckeye both in play and in character. He is listed at 6-3/310 and would be an ideal player to step in and get some minutes right away with the departure of Doug Worthington, Todd Denlinger, and Rob Rose. All the experts were claiming Floyd had the Buckeyes in the lead, but word of a surprise announcement surfaced from San Antonio late last week, worrying many Buckeye fans that Columbus would not be Floyd's future destination. Those worries were confirmed as, at halftime of the game, Floyd chose the Gators, adding to possibly the best class in recruiting history. The most amazing part about all of this is how none of these recruits can be 100% certain that Urban Meyer will be coaching them, yet still they are 100% solid on the Gators. Rumor has it that Urban told Floyd he had a dream that God wanted him to coach Sharrif and that the story had a major impact on Floyd's decision. If that's the case, good riddance Mr. Floyd and we'll be happy to "settle" with Mr. Hankins, our own 300-pounder from the state up north.
The Ones Still In The Stable
While Floyd and Anderson have some good talent that we would surely love to have, all is not lost in this class. Currently there are 15 high school seniors committed to the Buckeyes and Carlos Hyde, who attended Fork Union Military Academy after not qualifying in 2009, is enrolled at OSU as of last Monday. There is room for 4-5 more players in the class and the available candidates are certainly not slouches.
The Glenville pipeline may have leaked with Anderson's verbal to the Mountaineers, but his teammate and partner in crime in the Tarblooder secondary, Christian Bryant, is likely to end up a Buckeye. Bryant impressed many while in San Antonio by shutting down elite receiver Kyle Prater during practices and can be the future at either safety or corner for the Bucks. Bryant says OSU leads as of now with Michigan State, UNC, and Miami trailing, and will visit the Tar Heels this weekend. An announcement should come before signing day and it will be surprising if Bryant does not choose to try his trade in The Horseshoe.
Currently the #1 player in the nation, Seantrel Henderson is wanted by many. Henderson, 6-8/330, is an absolute beast and started at left tackle for the West team in the Army Bowl. He says he is down to OSU, USC, Florida, and Notre Dame with Miami, Oklahoma, Iowa, and hometown Minnesota lingering, but last week word came out this was a two horse race between the Bucks and USC once Meyer's situation became cloudy in Gainesville. Seantrel said Pete Carroll leaving USC "will effect a lot of players including myself" in San Antonio, which only means good things for the Buckeyes. Right now you'd have to say OSU leads, but he is taking one more visit to Miami and with the way Urban is convincing these players he will be back, you can't count out the Gators just yet.
Henderson is certainly an important get for the offensive line, but right alongside him is Matt James of St. Xavier in Cincinnati. James is down to OSU, Notre Dame, and Cincinnati, but coaching turnover with the latter two has put the Bucks in the lead as of now. Many feel James will go to South Bend eventually due to his previous relationship with Brian Kelly, but OL coach Jeff Quinn, who he expected to follow Kelly to the Irish, has taken the head gig at Buffalo. The way I see it right now, the Bucks lead with Notre Dame in second and UC in third, but Henderson's decision could have a large effect on James' choice. If Seantrel picks OSU, James could be feeling green, but if not, expect this come down to the end between Tressel and Kelly.
A prospect who didn't play in either game made a visit this weekend and there is a good chance for some good news if you are a Buckeyes fan. Bradley Roby of Suwanee, Georgia is currently committed to Vanderbilt, but decided to open things up a bit when Vanderbilt recruited multiple receivers (where he was supposed to play in Nashville). Roby went to the same high school as Cameron Heyward and their mothers are good friends, good enough that Mrs. Roby was Cam's mothers' guest in Pasadena. This bodes well for the Buckeyes as Roby came to Columbus for his official visit this past weekend and early word is that he will announce the switch from Vandy to OSU this week. The coaches really liked Roby when he came up for their camp this summer and worked out as a cornerback and once they decided to offer later in the process it became apparent the secondary at OSU would be a likely destination. Stay tuned for an official announcement in the coming days.
Another prospect who wasn't deemed gifted enough to play in either elite bowl game is Dominique Brown of Winton Woods, Ohio. Brown was committed to Cincinnati, but has backed off that verbal amidst Kelly fleeing to Notre Dame. Brown was a high school quarterback and apparently wants to at least get a shot there in college, but the Bucks are looking at him as an athlete. He has not officially received a Buckeye offer, but did visit campus this past weekend and things seem to be heating up on this front. I feel Brown would be an ideal fit at either receiver or safety and could be more than just a back-up plan as his talents are being noticed by many now that he is open again. Hawaii, Georgia Tech, Boise State, and Cincinnati are some of the schools in the running as well, but I think if the Buckeyes decided they have room and offer Brown that he will don the Scarlet and Gray.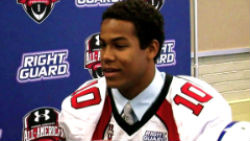 Turning over to the Under Armour Game, the only uncommitted prospect the Bucks have on their radar is Jordan Hicks of Lakota West High School. Hicks is considered to be one of the top ten players in the nation for this class and has narrowed things down to Ohio State, Florida, and Texas. Despite his current home location, Hicks did not grow up in Ohio and thus does not feel the home state ties to the Buckeyes that many in-state players would, and even further grew up rooting for the Longhorns. Despite all that it appeared that Florida was emerging as the favorite, but things seem to be in limbo as Urban Meyer tries to assure the Hicks family that he will be there for Jordan's stay in Gainesville. It has been rumored an announcement could be made within days so that he can enroll early, but Hicks' first love was basketball so it would be hard to see him just pick up and leave his hoops team mid-season. If he does want to enroll early and will not leave his team, it is a good sign for Ohio State, as spring quarter begins after his basketball season ends, while the only opportunities to enroll early at Florida or USC would be this month. I do not think this will have any barring on his decision, though, and we may have to wait until signing day for Hicks' decision.
Rumblings From Troy
Finally, Pete Carroll is indeed leaving USC for the Seattle Seahwaks, leaving some of his former commitments in doubt of their future plans. Two names who are known nationally that are having their qualms are super athlete Dillon Baxter and top receiver Kyle Prater. Buckeye fans are clamoring for Tress and the staff to get involved with these two players, but let me stress that this is not a likely scenario you will see in the coming weeks. I truly believe the staff is content going after the players still on the radar to finish out this class and while Baxter and Prater would be welcome any day of the week, they are not necessarily filling needs in this class. Couple in the fact that Baxter has not had official contact with Ohio State and Prater wasn't even offered before he chose USC and you have a formula that sees the two ending up somewhere not named Columbus. If you are wondering, to nobody's surprise, Florida is hot on Prater while Baxter may take a look at the only other school he visited, The School Up North.