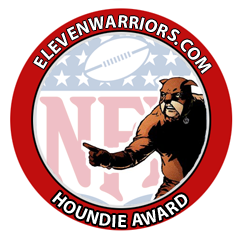 The Houndie is an award formerly known as the Buckeye NFLer of the Week. After 2 years of existence, we searched for a catchier name, so with the help of a well placed typo and the ensuing 11W comments, the current title was created.
Hopefully for most of you, your fantasy playoffs are right around the corner, but if you're like me, they're not and the Buckeye alum are the only thing that keep you watching the NFL.
AJ Hawk got things rolling on Thanksgiving by leading the Packers in tackles with 10, in their 34-12 win over the Lions. Ryan Pickett chipped in with a couple assist, as the Packers have now won 3 straight, creeping back into the NFC playoff race at 7-4.
In the Turkey Day afternoon game, Jay Richardson recorded 3 tackles in Oakland's 24-7 loss to the Cowboys, while his college teammate Kenny Peterson had 1 solo stop and 3 assists in Denver's big 26-6 win over the Giants.
On Sunday, the Panthers took a tough 17-6 loss to the Jets, essentially squashing any potential playoff aspirations. Na'il Diggs registered 4 total tackles and Chris Gamble got his second pick on the year, while adding just a tackle. Gamble now has 39 tackles on the year, which is way off his career high 93 last season.
In Atlanta, Michael Jenkins may want Chris Redman to stick around, as he set season highs with 7 catches for 80 yards in the Falcon's come from behind 20-17 victory over Tampa Bay. Santonio Holmes caught a 33-yard TD in the second quarter, en route to a 6 catch, 74 yard performance in the Steeler's 20-17 OT loss to the Ravens. Holmes now has at least 6 catches in each of the last 4 games and 59 on the year, but his TD on Sunday was his first since week 1.
The 2 receivers down in Miami didn't fare as well, combining for 5 catches for 54 yards. You can't fault them too much though, they do have Chad Henne throwing to them these days. Hartline did reach the end zone for the second time this season, giving the Dolphins a 7-0 lead in the second quarter.
The other offensive rookie, Beanie Wells saw his recent production slip a bit, toting the rock 8 times for 20 yards and catching a pass for another 21 yards. The Cardinals rushed the ball only 20 times in their last second 20-17 loss to the Titans.
Little Animal continued his excellent season, posting another team high 9 tackles, while also recording his first professional sack. JL has moved up to 12th in the NFL with 85 total tackles and if you just take his 75 solo stops, it ranks him 4th in the entire league. He has an outside chance for Rookie of the year, but Brian Cushing (99 Tackles) and Jairus Byrd (8 picks) might have a slight edge.
In the Monday night game, Malcolm Jenkins and Will Smith played major roles in the Saints moving to 11-0, with their 38-17 win over New England. Jenkins lead the Saints with a career high 8 tackles, taking advantage of a banged up secondary and giving him 15 of his 25 tackles in the last 2 games. Will Smith continued his All Pro season with another 1.5 sacks and 4 tackles. Summertime now finds himself 3rd in the league with 10 sacks on the season, just .5 sacks shy of his career high, set back in 2006.
Obviously there were some worthy candidates this week, but one player has returned from injury recently and helped his desperate team win a much needed game. Donte Whitner returned last week after missing 5 of the last 6 games, but put up a modest 2 tackles, this week however, he recorded a team high 10 total tackles, including 7 solo stops and also snagged his first INT since week 2 in Buffalo's 31-14 win over Miami. Whitner's pick came late in the 4th, with the Bills clinging to a 24-14 lead. He returned it 28 yards to the Dolphins 26 yard line and Fred Jackson took it in 3 plays later to seal the victory.