Everyone here knows how the Buckeyes turned another disappointing loss to a high ranked team in USC and an upset loss to an inferior Purdue squad into a trip to Pasadena. It's great to know about your own team and how they have grown throughout the year, but as the saying goes, "Keep your friends close and your enemies closer".
While many of you know of the way Oregon's season started out (with a punch or two) and how it finished (with a conference-clinching win in the Civil War), it is important to know what happened in between that brought the Ducks to Pasadena on January 1 to take on Ohio State in the "grandaddy of them all". Oregon, like OSU, has had long journey and seen their team grow both on and off the field as the season has worn on. Chip Kelly has certainly done a great job in his first season as head coach in Eugene and while he has faced both ups and downs in 2009, his team can now say they are in position to be considered amongst the nation's elite at season's end. With that being said, let's take a look at the 2009 season and journey to Pasadena for the Oregon Ducks.
Game 1: #16 Oregon at #14 Boise State
The Chip Kelly era did not get off to a great start as these two teams opened up big time college football in 2009. Oregon was supposed to have an explosive offense, yet was held to just 8 total points as promising quarterback Jermiah Masoli threw for just 121 yards and star half back LeGarrette Blount had -5 yards on 8 carries. Am I forgetting anything? Oh yeah, this cheap-shot jaw breaker by Blount landed the Ducks' star on the bench for what most thought would be the rest of the season. Things were not looking good in Eugene.
Game 2: Purdue at Oregon
It took stopping a two point conversion at the end of the game, but the Ducks were able to squeak by Purdue 38-36 in Eugene, creating more skepticism around their team. Running back LeMichael James was introduced to the nation as he posted 56 yards rushing on just 9 carries, but it was the defense who prevailed, scoring on a returned interception and fumble to give Oregon the edge. Jermiah Masoli continued to struggle going 11/21 for 163 yards and raising questions amongst Ducks Nation if he or Nate Costa should get the starting nod in week 3 against Utah.
Game 3: #18 Utah at Oregon
The Ducks built an early halftime lead over the Utes, but almost gave it up in the third quarter, before hitting a field goal in the final minutes to seal a 31-24 victory. Walter Thurmond III, who had the interception return for a touchdown in week 2, helped the winning cause with a 78-yard punt return to open up the game for Oregon. Jermiah Masoli couldn't say the same, as he struggled throwing the ball yet again, notching just 95 yards and an interception on 4/16 passing. He did score two TDs on the ground, but it was James who stole the show, rushing for 152 yards and a touchdown in the win. The Masoli doubters were never higher in numbers, but one guy who believed in his signal caller was Chip Kelly, who continued to say that Masoli would be his starter.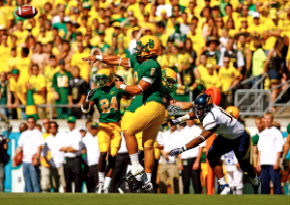 Game 4: #6 California at Oregon
The Ducks were welcomed to the big stage in a game in which they stomped all over the Bears 42-3. In this game Masoli took a step we all expected Pryor to take at some point this season (still waiting....) and went 21/25 for 253 yards with 3 TDs through the air. LeMichael James continued his success scoring a touchdown on 118 yards rushing and the Ducks made a statement to the PAC-10 and the rest of the country that they were "for real".
Game 5: Washington State at #16 Oregon
The Ducks' return to the Top 25 did not disappoint as they did what they should to a bad Wazzu team. Kelly's squad took care of the Cougars 52-6, despite Masoli leaving the game early with a knee injury. Before his departure, the Ducks' lead man threw a score to tight end Ed Dickson, who had a big day catching 7 passes for 103 yards. James came through big again, racking up 81 yards and two scores on the ground. The Ducks were sitting good at 4-1 (2-0), but the future was uncertain as Masoli's status for the next few weeks was up in the air.
Game 6: #13 Oregon at UCLA
Masoli's knee turned out to be worse than initially diagnosed and he was not cleared to start the game against the Bruins. The Oregon offense certainly struggled, but got some help as Kenjon Barner pulled a Josh Cribbs, returning a kick 100 yards for a score and Talmedge Jackson III returned an interception 32 yards for another touchdown en route to a 24-10 Ducks win. James lead the way for the Ducks' offense with 152 rushing yards, but it was Nate Costa who helped put the game away with a 20 yard TD pass to Jeff Maehl to seal the deal in Oregon's first trip to Pasadena this season.
Game 7: #11 Oregon at Washington
In their second straight road game, Oregon rallied around the return of Jermiah Masoli on the way to a 43-19 victory over You-Dubb. In his return, Masoli threw for a score and ran for two more, while LeMichael James added 154 yards and two touchdowns of his own on the ground. Chip Kelly broke out all the stops early in this game as the Ducks successfully converted a fake field goal on a PAT to give the team an 8-3 lead in the first quarter after Tyrell Irvin recovered a blocked punt in the end zone. The defense was solid overall, forcing Jake Locker to throw two interceptions and recovering a fumble as well as they looked to be tuning up for USC the following week.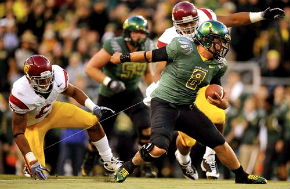 Game 8: #5 USC at #10 Oregon
In a prime-time ABC match-up the Ducks were able to spoil Pete Carroll's season with a 47-20 victory over the Trojans. Stepping up once again on the big stage, Massoli throws for 222 yards and a touchdown and runs for 164 yards and another score. James ran his shoes off as well, tallying a touchdown behind 183 rushing yards. In total, Oregon was able to gain 391 yards and 4 rushing touchdowns against what was thought to be a stout USC rush defense. People are starting to believe this team is a true force to be reckoned with.
Game 9: #8 Oregon at Stanford
A week after looking like a MNC contender, Oregon can't handle Toby Gerhart as the running back clinched a trip to New York after a 233 yard, 3 touchdown performance in a 51-42 win. Oregon's defense was unable to stop the Stanford running game (52-254 for a 4.9 avg.), which set up for Cardinal QB Andrew Luck to throw for 251 yards and two touchdowns through the air on just 12 completions (hint, hint for Tressel). Kelly's offense kept up pace, but just couldn't mount enough for a comeback. Masoli had a solid game with 21/37-334-3 through the air and 10 carries for 55 yards on the ground, while James did his part going 18-125-1. Despite solid performances by their offensive stars, the Ducks' defense failed the team and in the process, opened up the PAC-10 conference race.
Game 10: Arizona State at #13 Oregon
The Ducks returned home on a mission to win the conference title and did some damage on their path to Pasadena, beating the Sun Devils 44-21. The biggest story of this week in Eugene was that LeGarrette Blount returned to the team and was dressed for the game, but did not see any action. Whether Kelly just wanted him to get some rust off or decided LeMichael James' 150 yard, 3 touchdown performance was enough, nobody knows, but the fact was that Blount was indeed back with the team. With a win against ASU, the Ducks were able to head into Tuscon in control of their own destiny and knew that with victories against U of A and Oregon State in successive weeks, they would be facing Ohio State (who beat Iowa earlier) in the Rose Bowl.
Game 11: #11 Oregon at Arizona
Just hours after OSU beat Michigan for the sixth straight time, the Ducks and Cats gave America a thriller. Trailing 31-24 in the fourth quarter, Oregon looked all but done against Mike Stoops' Arizona Wildcats. U of A students were getting ready to storm the field, and some prematurely did, but Jermiah Masoli had an answer for them as he tied the game with 6 seconds left on a touchdown pass to Ed Dickson, his second of three scores through the air on the evening. After throwing a touchdown to Jeff Maehl in the first overtime to tie the game at 38-38, Masoli's heroics took over again as he scampered into the end zone for his third rushing touchdown of the game and helped Oregon edge Arizona 44-41 in double overtime. In addition to his 6 total touchdowns, Masoli had 284 yards passing and 61 yards rushing, helping him contribute to all of Oregon's touchdown strikes on the night. The win set up a de-facto conference title game against rival Oregon State in "The Civil War" the following week.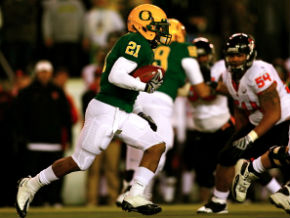 Game 12: #16 Oregon State at #7 Oregon
In what may have been the greatest edition of "The Civil War" in the history of the rivalry, Oregon overcame a halftime deficit to clinch a spot in the Rose Bowl with a 37-33 win over Oregon State. Throwing against the Ducks' defensive backs with ease, Beavers' quarterback Sean Canfield racked up 306 yards and 2 touchdowns through the air on 24/36 passing, but his efforts were not enough as the tandem of LeMichael James and LeGarrette Blount proved to be too much in the second half. James notched 25 carries for 166 yards (6.6 ypc) and 3 scores, while Blount contributed 51 yards on just 9 carries (5.7 ypc) and a touchdown in his return to the gridiron. Masoli threw for 202 yards and a score, but his 40 yard performance with his legs, coupled with James' and Blount's efforts showed the country just how dangerous the Oregon zone-read attack could be. Morgan Flint (15/17 on the year) kicked a 34 yard field goal to seal the game and conference title up in the fourth quarter, as the Ducks outscored the Beavers 16-10 in the second half to claim the victory.
Summary
Heading into the Rose Bowl, you can see the long journey the Ducks have made to get to Pasadena. Overcoming the Blount sucker punch in game one against Boise State and suffering defeat at the hands of Stanford just a week after demolishing USC were big obstacles the team had to overcome to get to where they are now. Oregon will certainly prove to be a difficult game for the Buckeyes as their zone-read, spread option offense may give the Silver Bullets their toughest test of the season. Many feel Oregon could be the best team in the country when it's all said and done, but we shall find out just how good they are on January 1 as they make their second trip to Pasadena of the season. This time they'll have Masoli, but their competition will be a lot fiercer than that of the Bruins of UCLA.