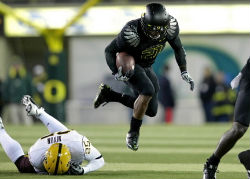 The Buckeye defense hasn't allowed a 100-yard rusher all season and give up just 83 yards rushing per game, but that could change Friday, as they face their toughest challenge to date.
Oregon has one of the nation's most potent rushing attacks, especially now that LaGarrette Blount is back from his "season long" suspension. The Ducks finished the regular season ranked 6th in rushing at 236 yards per game, in comparison, OSU was 19th at 199 YPG.
After redshirting in 2008, LaMichael James came into this season ready to spell starter LeGarrette Blount in certain situations, but when Blount went postal after the season opener, James took advantage and caught the PAC-10 and nation by surprise.
James posted just 9 carries for 78 yards in the first 2 games against Boise St. and Purdue, but exploded for 1,398 yards in the next 10, setting both school and PAC-10 records for rushing yards by a freshman. He became the first player ever to win both freshman and player of the year in the conference.
At 5'9", 185 pounds, most schools shied away from the native Texan due to his size, but he has shown that anytime one possesses 4.4 speed, it makes up for any lack of size that is perceived. He compliments his speed with great vision, a much needed trait in Oregon's up-tempo, spread to run offense.
Overall on the season, James averaged 6.9 yards per tote and has had only 1 game (Washington State) in the last 10 where he didn't top the 100 yard mark. His season high came against USC, where he ran 24 times for 183 yards and followed that with a 214 total yard performance in the loss to Stanford. He tallied at least 150 total yards in 7 of the last 10 games.
Though he didn't catch many balls out of the backfield (13/143), Ohio State has had troubles in recent years defending the pass in the flats, so this could be an adjustment the Ducks make in their game plan.
By now, we all know the story of LaGarrette Blount. After coming to Oregon from East Mississippi CC, the 6'2", 246 pound tailback was set to recreate his 1,038 yards and 17 TD performance from last year, but his Rocky imitation in Boise cost him that chance. He returned from his suspension in time for the Civil War, when Oregon realized they had a chance at the PAC-10 title.
In 2008, Blount topped the 100-yard mark 4 times, but had 90+ in 3 other games. He has had double digit carries just 6 times in his Oregon career, but his 17 TD's were a school single season record. He is not a threat to catch any out of the backfield.
He is the opposite of James, looking to run through defenders instead of around them. Though I don't think he'll steal too many carries away from James and Masoli, he will give Chip Kelly another rushing option, if the Bucks can snuff out the speed of James.
According to Buckeye Football Analysis, Oregon runs the ball on 62% of their offensive plays, averaging 5.5 YPC on their 514 totes this season. The article goes on to talk about Oregon's 2 favorite run plays, the inside zone and outside zone read plays, which consist of about 55% of their run plays. They will also mix in counter and draw plays.
From BFA, Coach Kelly on the inside zone play:
The inside zone play is our "go to work" play. We want to get off the ball and be a physical downhill running football team. This is not a finesse play. This is physical football. The offensive lineman play with confidence because they know they have help from their teammates in their blocking scheme. This is the offense we run and everyone knows that. We have great players but we also execute it well. We ran this play 202 times this past season. We averaged about seven to eight yards per carry with this play.
And the outside zone play:
The outside zone play is a complement to the inside zone play. The inside zone is a hole to cutback play. The outside zone is more of a hole to bounce play. The reason we run the outside play is to circle the defense. When you get good at running the inside zone the defenders begin to tighten their techniques and concentrate on squeezing the inside gaps. If we feel that is happening or we start to get many twists and blitzes inside we run the outside zone play. It gives you speed in space and the offensive line can play with confidence when you have something to change the focus of the defense. We ran the outside zone play 122 times last season for 6.8 yards per carry. It is a good compliment to the inside zone play.
From the quotes above, Ohio State knows exactly what is coming their way in Pasadena and it is just a matter of stopping it. The PAC-10 hasn't been labeled as a run stopping conference, in fact 3 of the nation's top 9 rushers hail from West Coast, but the Buckeyes have always prided themselves on stopping the run and this game will come down to which team can hold the other's rushing attack in check. The speed of James makes me a bit nervous, but if the Buckeyes can tackle in space, they should win the game. If they put on a tackling display like the other OSU did in the Civil War, it will be another long BCS game for the Buckeye faithful.