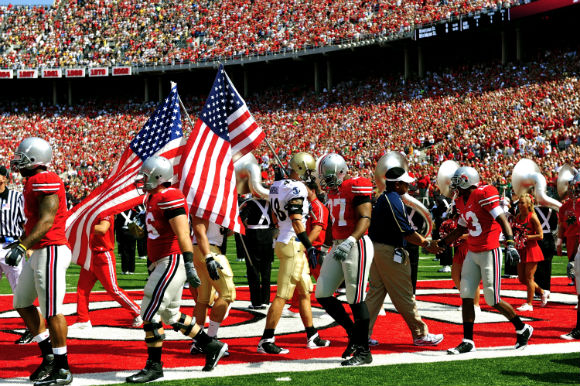 While Jim Tressel and the rest of the coaching staff handed out awards to the 2009 football team yesterday, us here at the 11W headquarters had a banquet of our own. Unlike JT and the gang, the awards we handed out weren't all about seniors, and we rightfully gave the hardware to those that deserved it.
While we will touch on conventional awards such as Offensive and Defensive MVP, we will also add some new awards for your viewing pleasure. Please note my opinion carries only so much merit and I most likely forgot about 3-5 players when considering each on of these awards. With that disclaimer said, here it goes, your Eleven Warriors 2009 Football Banquet Awards:
Offensive MVP
While the offense sputtered tremendously this year, they definitely did some good things especially on the ground post-Purdue game. It's easy to sit here and give the award to Terrelle Pryor, who played a lot smarter in the second half of the season, but this award will go to someone who proved to be the most valuable to the team throughout the course of the season. That is why this year's Offensive MVP Award goes to Brandon "Zoom" Saine. Saine racked up 694 yards and 4 TDs on the ground and 165 yards and a TD through the air this season, but his numbers are just a mere reason why he wins this award. Saine stepped up big time in the absence of Boom Herron (injury) and fought through minor bangs and bruises to always help the team move the chains. It took a little while for The Vest to trust #3, but in time Saine emerged as the top back for this team and was a catalyst for the offense. Other candidates included Terrelle Pryor (3rd place voting) and runner-up DeVier Posey.
Defensive MVP
The defense was the strength of this team and there are many viable candidates, but one that stands out to us is Cameron Heyward. Kurt Coleman, the runner-up and MVP in the real team awards, did a great job this year, but it was Heyward's play in the trenches that forced errant throws by opposing quarterback and stopped running backs dead in their tracks. The play of the front seven this year enabled a overrated secondary to ultimately get by unscathed for most of the season and a guy always around the ball was #97. Heyward claims he wants to come back next year, but if you were a first round NFL Draft pick would you stay? We sure hope so. Runner-up was the aforementioned Coleman, with Ross Homan, Brian Rolle, and Thaddeus Gibson all receiving votes.
Special Teams MVP
Not many to choose from in this pool, but throughout the year there were multiple return men, many gunners, two kickers, and two punters used by JT's favorite unit. In the end, the award has to go to Ray Small, who may have disappointed a receiver during his career in Columbus, but will get a shot at the next level due to his return skills. Handling punt return duties and taking over some kick-off duties as well, Small's season came a long way after the troubled senior missed some of fall camp due to academic issues. He basically wrapped this award up with his performance against Penn State, which allowed the Buckeyes to get prime field position and lead to key scores in a game many expected OSU to lose. Runner-up for the award was Donnie Evege who did a great job in coverage all year long, and third place was Devin Barclay who stepped up big time when Aaron Pettrey went down with an injury.
Most Improved
This award is unique in that many players develop throughout their careers, but it was hard to be a candidate for this award if you weren't seen on the field too often. The hedgehog on crack may be a victim of this, but we felt it necessary to give the award to Bryant Browning this year. Browning moved offer to right guard after playing right tackle this season, and it seemed the move worked as he did a very good job clearing running lanes and protecting the quarterback. Guard is definitely a more natural fit for BB and I never thought I'd say this, but it will be a pleasure to have him back next season. Runner-up was Brian Rolle, with Devon Torrence and Doug Worthington receiving votes.
Least Improved
This award is given to the individual who should have made strides to take his game to the next level, but didn't thus leaving us all disappointed. The winner of this award was Chimdi Chekwa. Chekwa was given all the opportunity in the world after Malcolm Jenkins graduated and Donald Washington departed early for the NFL, but did not make the most of the #1 cornerback position. Chekwa's lack of development was hidden most of the year by a good defensive line, but as you saw towards the end of the year (see: Iowa game), Chekwa's covering skills were average at best. Nobody expected him to be the player Jenkins was, but we definitely expected more, and his coverage against Oregon's spread offense does not make me feel any better about the Rose Bowl. Receiving votes were Anderson Russell, Lamaar Thomas, Etienne Sabino (thought we'd see more of him), Boom Herron, and (gasp) Terrelle Pryor.
Offensive Freshman Of The Year
This award is self explanatory, but due to a veteran laden unit, there were not many candidates for this award. Zach Boren, who started at full back won the award given by Ohio State, but in 11W's awards, this hardware goes to Marcus Hall. Many expected Hall to red-shirt this season, but after poor offensive line play, injuries, and the swine flu, he was thrust into some valuable minutes and did not disappoint. One moment that comes to mind is his play in the PSU game when JB Shugarts left the game with a leg injury. Hall played flawlessly, protecting Pryor's strong side and did a good job in clearing out running lanes as well. Hall should be a valuable asset to the team next year as someone who could play right or left tackle and if Mike Adams doesn't get his act together, big #79 could be in for some starting action. Other vote getters were Zach Boren and Duron Carter.
Defensive Freshman Of The Year
We won't disagree with OSU here, as John Simon or All Flannel Tops as we like to call him around these parts was dominant as a frosh. Whenever he was in, Simon owned the trenches and used his athleticism and strength combination to do damage against the run and the pass. Other vote getters were Storm Klein for his play on special teams, and, oh wait no other freshman really played too much.
Heart Attack Waiting To Happen
This award goes to the player that gave you a heart attack every time he stepped onto the field and was called upon to do something for the team. There were some good options for this award but the winner was Aaron Pettrey. Coming into the year, Buckeye fans were very confident in Pettrey's abilities, but a missed chip shot and extra point against Indiana lead to him becoming a mental head case on short kicks all year. Maybe it was a blessing in disguise he got hurt, as we don't know if he would have nailed the short kick Barclay hit against Iowa to clinch the Big Ten. Other vote getters were Ray Small (receiving punts), Terrelle Pryor (throwing the ball), and Anderson Russell (whenever he was in one-on-one coverage).
Thaddeus Gibson Next To Emerge Award
This award, named after Thaddeus Maximus, is given to the player who is next to emerge out of nowhere to be a star. Nathan Williams would have won this award last season and this year the award goes to Travis Howard. Malcolm Jenkins has raved about Howard's abilities in the past and while he didn't see the field much this year, the red-shirt freshman is in prime position to snag a starting spot next season with the disappointing play of the secondary in 2009. Howard won the award over Andrew Sweat (whose injury may have prevented him from clinching this award), Etienne Sabino (everyone's waiting), Jake Stoneburner (will we ever throw to the TE?), and Dorian Bell.
Play Of The Year
This final award goes to the play of the year. This didn't have to necessarily be the most clutch play or game winning play, but just a memorable and awesome play we will all remember from this year. The winner goes to DeVier Posey's WR pass to Dane Sanzenbacher for a TD. This play was just flat out awesome and who cares that it was against New Mexico State. This was new-age JT, if one exists, and Posey's pass may have been the best thrown toss of the year by any player. I'd love to see more of this in the future, but I'm not going to hold my breath. Other vote getters were Barclay's kick against Iowa in overtime, Rolle's INT against Navy's two-point try to seal the game, and Saine's accidentally called zone read touchdown against Michigan.