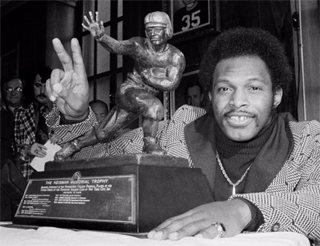 I've felt it since mid-season, but didn't want to mention it because I was afraid of jinxing Archie. Luke touched on it last week and now that we're staring down the final meaningful week of pre-bowl football, I'm comfortable saying Griffin's distinction of being the only two-time winner of the Heisman trophy looks to be safe.
Consider the circumstances heading into this season when, for the first time in history, two former winners were taking the field with a chance to bag a second. But injuries stole Bradford's season from him and pushed him to the NFL, while Tebow has stumbled a bit in Addazio's offense with numbers well below his output of the previous two seasons.
Gerhart, McCoy and, depending on how he shows Saturday, Ingram, appear to be your frontrunners right now. Ingram has had a solid year and Gerhart is the feel-good story of the moment, but my money is on McCoy, fresh off his 304/175 performance against the Aggies and a date with Nebraska to come. If you're counting, he'll be the 9th quarterback to win the award this decade.
Knock on wood.
The BCS and All That is Wrong With Humanity
The BCS has been a flurry of PR-musterin' activity lately. On the 17th, they promoted Bill Hancock to a newly created Executive Director position (irony alert: Hancock ran the NCAA men's basketball tournament for 13 years). Two days later, the BCS launched a Twitter account that was promptly slapped around the tubes and then topped it all by hiring the PR firm run by former Bush press secretary Ari Fleischer. Regardless of party, a press secretary knows a thing or two about deflecting heat.
Wonder if all of this activity could have something to do with the six teams sporting unblemished records on the eve of December. The last time something like this happened was 1973 -- when Miami (OH), Notre Dame and Penn State all finished with perfect records and the Buckeyes, Wolverines and Sooners each carried a tie.
This is the BCSocalypse.
Florida and Alabama will meet Saturday, but the odds are more than good that the four other teams will close out their seasons with wins, leaving five teams for two slots. Typically, it's only one team getting screwed. This year, we have the potential for three times as many angry congressmen and three more disillusioned fanbases.
At what point do you stop telling unbeaten teams they can't play for the championship?
And, Finally
Had a chance to take another look at the AP photos from The Game over the long weekend and I just had to figure out a way to give this one a little bit of love. That's some fine work, Tony Ding!