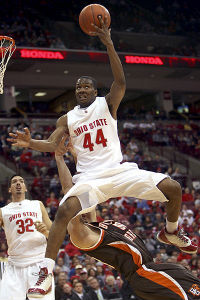 After stomping 2 inferior teams, it's time for the Big Boys, as the Buckeyes travel to NYC tonight to take on the defending National Champs at Madison Square Garden in the 2K Sports Coaches vs. Cancer Classic.
Both teams come in undefeated, taking down lesser opponents with pretty good ease, although UNC has shown their team is still trying to adjust to each other, after losing most of their scoring punch and leaders from last year's squad.
There is no doubt this should be an exciting game, an up and down affair similar to the early season game played by these 2 schools in 2006, when UNC took down the Greg Oden-less Buckeyes, 98-89.
| # | Name | PTS | REB | ASST | POS | # | Name | PTS | REB | ASST |
| --- | --- | --- | --- | --- | --- | --- | --- | --- | --- | --- |
| 21 | Evan Turner | 19.0 | 17.0 | 7.0 | G | 1 | Marcus Ginyard | 11.3 | 2.0 | 4.0 |
| 33 | Jon Diebler | 15.5 | 3.0 | 2.5 | G | 11 | Larry Drew II | 8.3 | 1.7 | 6.0 |
| 44 | William Buford | 14.5 | 3.0 | 2.5 | F | 13 | Will Graves | 6.3 | 3.3 | 1.0 |
| 23 | David Lighty | 11.0 | 2.5 | 5.0 | F | 21 | Deon Thompson | 17.7 | 8.3 | 1.7 |
| 52 | Dallas Lauderdale | 2.0 | 4.0 | 0.0 | C | 32 | Ed Davis | 11.7 | 8.3 | 1.7 |
Opponent
North Carolina has beaten their foes by an average of 25 PPG this year, although Valpo lost by just 11 on Sunday. The Heels will be lead by Deon Thompson, the silky smooth 6'8" senior, who has posted 20 point games in 2 of the 3 played. Also across the front line will be sophomore Ed Davis, a 6'11" athletic center, who has hit 74 percent of his shots thus far. Throw in Tyler Zeller, a 7' sixth man, who comes in averaging 12 points and the Buckeyes could see trouble inside the lane.
The back court will be just as lethal, with senior Marcus Ginyard and sophomore Larry Drew II controlling the pace of play. Like OSU, North Carolina will look to push the ball up the court, looking for quick scores. The Tar Heels have scored 88, 89 and 88 points in their 3 games and average 40 total boards and 12 offensive caroms a game. The achilles heel thus far have been TO's, recording 26 in their first game, 19 the second and 14 against Valpo.
The Heels will go at least 10 deep, with 9 players averaging more than 10 minutes a game and 2 more getting just above 9 minutes of time. Plain and simple, they push the ball up the court, look to get offensive rebounds and continue to come at you in waves. I like the depth and athleticism the Buckeyes have this year, but it will take their best effort to pull the upset tonight.
Buckeye Breakdown:
Mark Titus put it best yesterday via Twitter, "Y'all need to call Batman cause The Villain's about to take over Gotham City." Evan Turner has been unstopable this year and will get his chance to shine in America's greatest basketball arena, against one of the most talented teams in the country. Obviously, he won't be able to do it alone and the game will come down to the scoring abilities of Diebler, Buford and Lighty. If these 3 guys can each get close to 15 points a piece tonight, the Bucks have a chance.
One key tonight will be if they can get to the bucket. With the height of UNC's front line, they can't be intimidated to drive the ball inside and end up settling for the outside jumper. They have to take it right to the Heels front court and worst case, get their bigs in some foul trouble. Chucking up nothing but 3 pointers could spell doom, of course unless they are draining most of them.
Another key for tonight, as has been the case for the last 2 years, is rebounding. The Heels will have at least 2 players above 6'9" in the game at all times and there aren't too many teams that crash the boards better then the Heels. This should be Lauderdale's first start of the season, but we still don't know what his conditioning level will be and if he gets into early foul trouble because he is laboring up and down the court, Madsen and Big Z have to log most of the minutes, which doesn't give me the warm fuzzy I would like to have going into this game.
The last key for pulling off the upset tonight will be the play of PJ Hill and Jeremie Simmons. Hill has yet to show his shooting stroke he worked so hard on over the summer, going 0-7 this year, including 0-6 from behind the arc. Simmons is averaging 10 points a game, but scored just 5 in the last contest and has dished out only 2 assists on the season. The pace should be so frantic, that these 2 have to give Thad some quality minutes off the bench.
The aspect that will be most interesting to me tonight, is the pace the Buckeyes will play at. Will Thad let them run like they have thus far and take his chances on outscoring the Heels? Or will he try to slow the pace just a bit and run some set offensive plays in the half court? Regardless, it should be one of the best games this season, so get an after work nap in, if your normal bedtime is before 9:30.
On a side note, we would like to help promote a worthy cause over at ClubTrillion.com and more importantly, A Kid Again. For those of you that don't know, A Kid Again was recently known as Adventures for Wish Kids, a charitable organization that helps kids with life threatening illnesses feel like, well a kid again. I personally got to know the foundation this past summer, as my company helped publish their fundraising book and quite simply, they are amazing people with huge hearts, who volunteer all their time to these kids in need. Now it's ClubTillion's turn.
We make no bones about the fact ClubTrillion is one of our favorite blogs and now when you visit his site, you can make a $25 donation to A Kid Again and you'll receive a free ClubTril tshirt. The shirts appear to be made by our friend Ryan over at Homage, who always puts out quality work on super comfy shirts. Now do your part and follow 11W's lead, by making a donation towards this worthy cause and filling Columbus with ClubTril shirts this hoops season.
Etc
UNC leads the series 9-2 and has won the last 4.
Turner ranks 4th nationally with 17 rebounds a game.
Ohio State will play either #24 Syracuse or #12 California tomorrow at 5 or 7:30.
Luke will be liveblogging the game around these parts at 9:00. Feel free to stop on by.