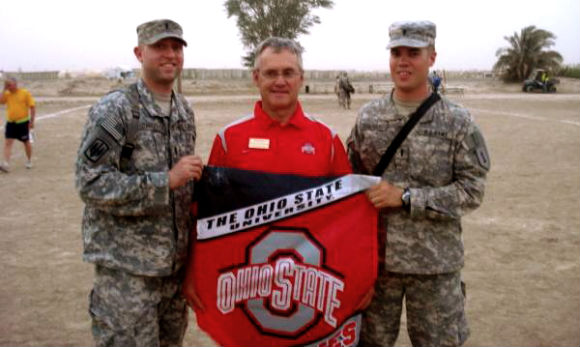 Coming off a dominating performance in Happy Valley, the Buckeyes are in the driver's seat to Pasadena and can smell roses, along with their fifth straight conference title, if they can take care of a Ricky Stanzi-less Iowa team this weekend.
Buckeye fans have certainly experienced a new found pride in the team after the big win in Beaver Stadium, and that pride has not only drifted amongst the fans, but the coaching staff as well. Jim Tressel addressed the media at his weekly press luncheon and discussed the hard fought battle against the Nittany Lions and the tough road ahead to clinch that Rose Bowl birth:
We thought our kids went over ready to go to State College last weekend. They prepared hard and they knew that they were against a very, very good team in a great atmosphere and that it would be an afternoon that they would remember because, A, it was part of November and November is always a time that you remember vividly; and also it was just a great electric environment, two teams going at it very physically and they knew that a play here or a play there would make the difference in the ball game. And I thought as we've talked many times, the thing you have to do if you want to have a chance on the road is see if you can do something with your special teams and I thought Ray Small's returns were huge. I thought we had solid play along the way in our special teams. Devin Barclay stepping up and hitting a good field goal, stepping in for Aaron Pettrey was a real plus. Jon Thoma's first punt kind of set the stage for the field position for the whole first quarter which was very, very important. So that was something that we were able to, we thought, do fairly well. And then from a defensive standpoint, we knew we would have to be relentless and keep going no matter what they got going, no matter how much their crowd got behind them or whatever it would be, we'd have to handle all comers and I thought our defense kept coming after them.

And offensively we always say whether home or away, but maybe more important on the road, is that you've got to make sure you don't make mistakes and you've got to take advantage anytime you do get an opportunity and I thought our guys did a pretty darn good job in both those categories. And finally, when you have a chance to run the ball a little bit, you're going to have a much, much better chance of being successful in the game. So I thought our guys put together pretty darn good effort. They knew once the ball game was over that although that was awfully tough, what lies ahead is even tougher and they're going to prepare hard this week and get ready for an excellent Iowa team.
This is Jim Tressel football. Dominant defense, excellent special teams, a efficient and mistake free offense. If you had to describe Jim Tressel's football philosophy that would be how it would go, and that is indeed how it went on Saturday. You take in to account that we are in November and you can see how JT turns it on a bit during this month. Conference championships are won in November, and even if he hasn't won the big out of conference games in a while, one thing Tress is good at is winning conference championships.
Tressel did not cut Penn State short when praising the quality of team they are, of course the politically correct answer, but may have been a bit more sincere when discussing the Iowa team coming up. When discussing the match up with the Hawkeyes this week, The Senator said:
Iowa, I think, is as solid as anyone in our conference across the board on the special teams. Their specialists are very good, but as important and maybe less discussed, the people that do all the other jobs in the special teams, the protecting guys, the coverage guys, the blockers and so forth do an excellent job with what they do. Everyone is very tuned into their defense. Their defense is rock solid. You're not going to get any free yards. You're not going to get any free first downs. They don't give up big plays for the most part, and they're a very, very good defense. Going into their ninth game, they had 11 guys started all nine games, and then they had one different starter last week, not sure if he'll be back or not, and so they've got a ton of experience, and they're very, very good. Offensively they've been banged up a little bit. Their offensive line they've had to shuffle around a couple different times, I believe. And not unlike many, many people in the country, when you're playing on that offensive front, it's a physical place to practice and it's a physical place to play on Saturdays and you're going to get some guys banged up and they have, we have, they've done a good job of rearranging whatever the best combination would be and they've got a very good offensive line group. Quarterback-wise, obviously the word we have is that Stanzi is out. We're going to prepare for what Iowa does because they're not going to change who they are if indeed they do change quarterbacks, they're still going to be who they are. That's what, in our estimation, has made Iowa such a solid program is that they know what they believe in, they know what they teach, their young people do a good job of learning what they teach, so I don't know that they'll change dramatically if indeed they have a difference at quarterback. Receiver-wise, they've really come along.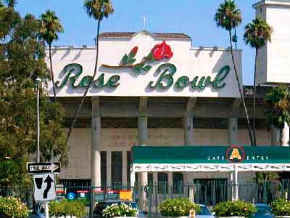 Basically, summing up Tressel's thoughts, Iowa's defense is one of the best in the nation, their special teams gets the job done when needed, and their offense is the reason they have trailed in all but one of their games. The defense will certainly be a tough match up for the Buckeye offense, but if they can take care of the ball like they did against Penn State and the offensive line gives Terrelle Pryor the protection he had last week, the Bucks should be just fine. On defense, the Silver Bullets certainly get a break, as Stanzi will be out until at least the bowl game, making James Vandenburg Iowa's version of Jonathan Moxon. Vandenburg will have his hands full of Cameron Heyward (just ask Darryl Clark), and the Bucks' defense should have a field day once again.
Speaking of quarterbacks, the Buckeyes' own Terrelle Pryor may have played the finest game of the season thus far. Even though he only threw for 125 yards on 8/17 passing, he did throw two touchdowns, ran for another, and more importantly, did not turn the ball over. Tressel was asked about how Pryor graded out on the film and said:
His decision-making grade was, I think, one of the best he's had. It was in the high '80's. He needs to do some of the little things better, things like carrying out fakes and this and that, but his decision-making grade was very good.
Pryor's decision making was definitely tops of the season and quite possibly of his career in terms of big games, but I agree with JT that he can do some of the smaller things better. He did throw for less than a 50% completion rate and missed Sanzenbacher on a sure touchdown late in the first half, but overall I will take his performance any day of the week, especially against Iowa. If he wants to be a great quarterback, he will need to do those little things, enabling to make a bigger impact on the game, but for now I think we will all settle for a good quarterback. This past game could be the stepping stone to greatness for TP, and this week against Iowa will tell us a lot.
When talking about having a big impact on last week's game, nobody did that better than Ray Small. The senior wide receiver/return man has two big punt returns that put the Buckeyes in prime field position to put points on the board in what was a defensive battle for most of the night. Tressel talked about Small's journey at OSU and said this about the senior:
Ray has grown and hung in there and taken it right in the nose and made it very obvious to everyone involved that he wants to figure out a way to help and even if it was -- you know, he took the long road. He's, in his own way, I think shown some guys, and I've heard him in whether team settings, unit settings, whichever say to guys, you don't want to do some of the things I did and that takes a little bit of leadership in its own rite.
And when asked how many shots he has given him in his OSU career, Tress said:
More than LeBron takes.
You have to love the comedian that comes out in Tressel when the Buckeyes are rolling good, but he has a point that Ray Small has certainly grown up a bit this season. After we thought he may not make it into fall camp, it seems Small has matured and we haven't hear a peep of trouble from #82, a big feat considering who we are talking about. He has taken his role as the third receiver in stride and has made the most of his return opportunities (sans Purdue), while giving us at home at least one heart attack per game. I hope Ray Small takes the momentum from last week and runs with it, as we can certainly use some good field position this week.
Finally, this week marks a chance for the Rose Bowl, Senior Day at the 'Shoe, and the week away from the Michigan game. Tressel was asked about if the three are going to be a bit of a distraction, and senatorially replied:

Either that or it's a good week to get focused because, I mean, you only named two of the things you named are relevant, the other, I'm not sure that that's relevant right now because that's 10 days from now or whatever, and the picture is very clear, you're playing against a good team, as you said, with a lot at stake. The fact is, the seniors are playing their last ball game here and their last two in their whole career, regular season-wise, you know, so to me it's maybe even less distracting than sometimes when there's more time out there, there's more mind wandering. When you get a little closer to the edge of the diving board it becomes more apparent that, there's the water, you know, so –
You know that Michigan game is on Tressel's mind the same way it was in week one against Navy. That is the most important game of the year no matter what and if they win, the team will be relieved that they can finally concentrate on the maize and blue. Of course, this week can clinch at least a share of the conference title and a trip to the Rose Bowl, so they will certainly not lose focus on Iowa, but I think if you asked the seniors what the two most important things on their minds are this week it would be clinching the Rose Bowl and getting ready for six in a row.